This post may contain affiliate links, which won't change your price but will share some commission.
This was a pretty quick and easy weeknight meal. The scampi sauce was bright and citrus-y, and the shrimp were perfectly cooked. We love orzo, too, so it was a great choice!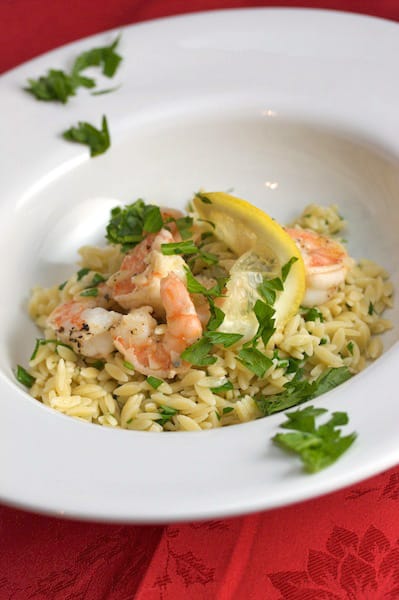 Lemon Pepper Shrimp Scampi
Cooking Light March 2009
Sautéed asparagus makes a fine accompaniment.
Yield: 4 servings (serving size: ½ cup orzo mixture and about 7 shrimp)
1 cup uncooked orzo
2 tablespoons chopped fresh parsley
½ teaspoon salt, divided
7 teaspoons unsalted butter, divided
1 ½ pounds peeled and deveined jumbo shrimp
2 teaspoons bottled minced garlic
2 tablespoons fresh lemon juice
¼ teaspoon black pepper
1. Cook orzo according to package directions, omitting salt and fat. Drain. Place orzo in a medium bowl. Stir in parsley and ¼ teaspoon salt; cover and keep warm.
2. While orzo cooks, melt 1 tablespoon butter in a large nonstick skillet over medium-high heat. Sprinkle shrimp with remaining ¼ teaspoon salt. Add half of shrimp to pan; sauté 2 minutes or until almost done. Transfer shrimp to a plate. Melt 1 teaspoon butter in pan. Add remaining shrimp to pan; sauté 2 minutes or until almost done. Transfer to plate.
3. Melt remaining 1 tablespoon butter in pan. Add garlic to pan; cook 30 seconds, stirring constantly. Stir in shrimp, juice, and pepper; cook 1 minute or until shrimp are done.
Nutritional Information:
Calories: 403 Fat: 10.4g (sat 4.8g,mono 2.2g,poly 1.4g) Protein: 40.1g Carbohydrate: 34.7g Fiber: 1.7g Cholesterol: 276mg Iron: 4.3mg Sodium: 549mg Calcium: 97mg
MacGourmet Rating: 4 Stars