This post may contain affiliate links, which won't change your price but will share some commission.
Ladies and gentlemen, I have died and gone to dessert heaven. I spied this post over on Spoon Fork Bacon and thought it would be the perfect way to end our mini-potluck. These were pretty easy to put together (although I did overstuff them a bit - it made 12 for me and they did burst a bit), and they filled our house with the most wonderful aroma. The cardamom whipped cream is something that blew me away. I would eat that on just about anything. Seriously. It was that good. Anyway, these really impressed our friend, and were a wonderful way to end the meal. I'll definitely be making them again, and I look forward to trying more desserts in eggroll form!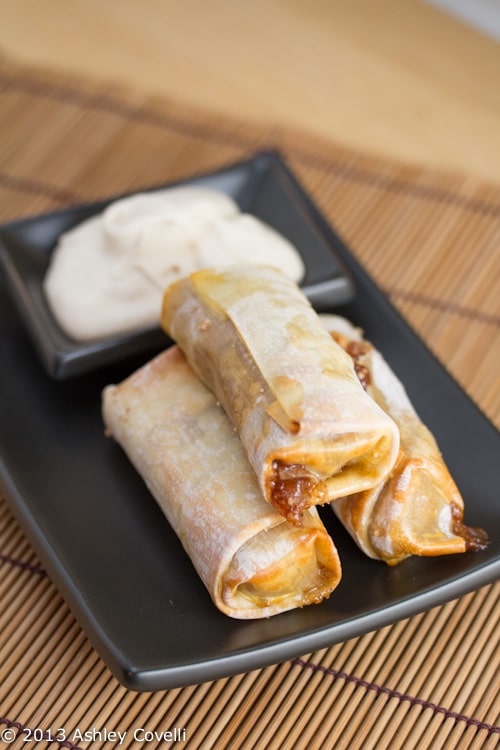 Baked Apple Pie Egg Rolls
Spoon Fork Bacon
Makes 16
Ingredients:
apple pie filling:
2 green apples (abut 2 heaping cups), peeled and diced
1 lemon, juiced
⅓ cup granulated sugar
3 ½ tablespoons instant tapioca pearls
2 teaspoons ground cinnamon
½ teaspoon ground nutmeg
¼ teaspoon ground all-spice
⅛ teaspoon salt
1 egg, lightly beaten
16 egg roll wrappers
sweetened cardamom whipped cream:
¾ cup heavy cream
¼ cup superfine sugar (granulated is fine)
2 teaspoons vanilla extract
½ teaspoon ground cardamom
1. Preheat oven to 375°F.
2. Place filling ingredients into a mixing bowl and stir together until well combined. Allow mixture to sit for about 10 minutes.
3. Lay 1 egg roll wrapper onto a clean surface and brush edge with a 1 inch perimeter of egg wash.
4. Spread 3 tablespoons of the filling across one side of the prepared egg roll wrapper.
5. Fold the sides over and brush with egg wash. Carefully roll filling tightly in the wrapper and press gently to seal.
6. Place onto a baking sheet lined with parchment and coat with a thin layer of cooking spray. Repeat until all the filling and wrappers have been used.
7. Bake egg rolls for 20 to 25 minutes or until golden brown and crisp. Serve immediately with sweet cardamom whipped cream (recipe follows).
8. sweet cardamom whipped cream: Place cream in a mixing bowl and whip with a hand mixer, on medium-high speed. As the mixture thickens, slowly add sugar until fully incorporated. Add vanilla and cardamom and continue to whip until medium to stiff peaks form. Serve with baked apple pie egg rolls.
Big Flavors Rating: 5 Stars