This post may contain affiliate links, which won't change your price but will share some commission.
This is a quick and flavorful way to enjoy greens. I love the depth of flavor that fish sauce adds to dishes, and it really brings this one to life. I served this with another recipe from her book, Savory Broiled Tofu, quinoa and a few mini bell peppers that I broiled as well. It was a great meal!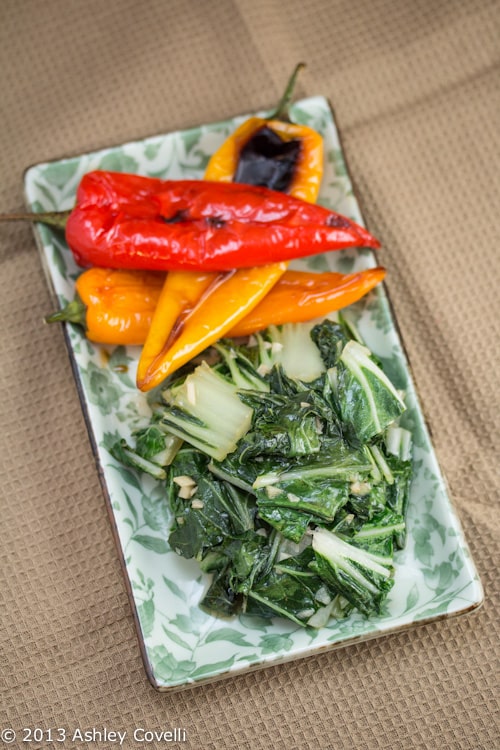 Asian Greens with Garlic, Ginger + Fish Sauce
It's All Good – Gwyneth Paltrow
Serves 4
½ cup water
1 ½ teaspoons soy sauce*
1 teaspoon fish sauce
2 tablespoons neutral oil (like canola, grapeseed, or safflower oil)
3 garlic cloves, finely minced
3 teaspoons finely minced fresh ginger
1 pound Asian greens (tatsoi, bok choy, etc.), roughly chopped or left whole, whichever you prefer
A pinch of coarse sea salt
Whisk together the water, soy sauce, and fish sauce in a small bowl and set aside.
Heat the oil in a large nonstick pan over high heat. Add the garlic and ginger and cook until they just begin to sizzle, tilting the pan so the aromatics and the oil get a little bath, all in just 30 seconds. Immediately add the greens along with the pinch of salt to the pan and stir to coat the greens with the garlic and ginger. Add the reserved soy sauce mixture and cook just until the greens begin to wilt, about 3 minutes. Serve immediately.
*Optional: use Gluten Free
Big Flavors Rating: 4 Stars