This post may contain affiliate links, which won't change your price but will share some commission.
Crispy spring veggies, fresh mint and lemon brighten up this light-yet-hearty seafood meal.
Cod is such a versatile fish. It doesn't have a very strong flavor, so it's really good at taking on the other flavors in a dish. And it cooks up so beautifully flaky.
In this dish, cod is coated with almond flour and pan-fried in a mix of oil and butter. There's just something about giving something a butter bath in a pan that soothes my soul...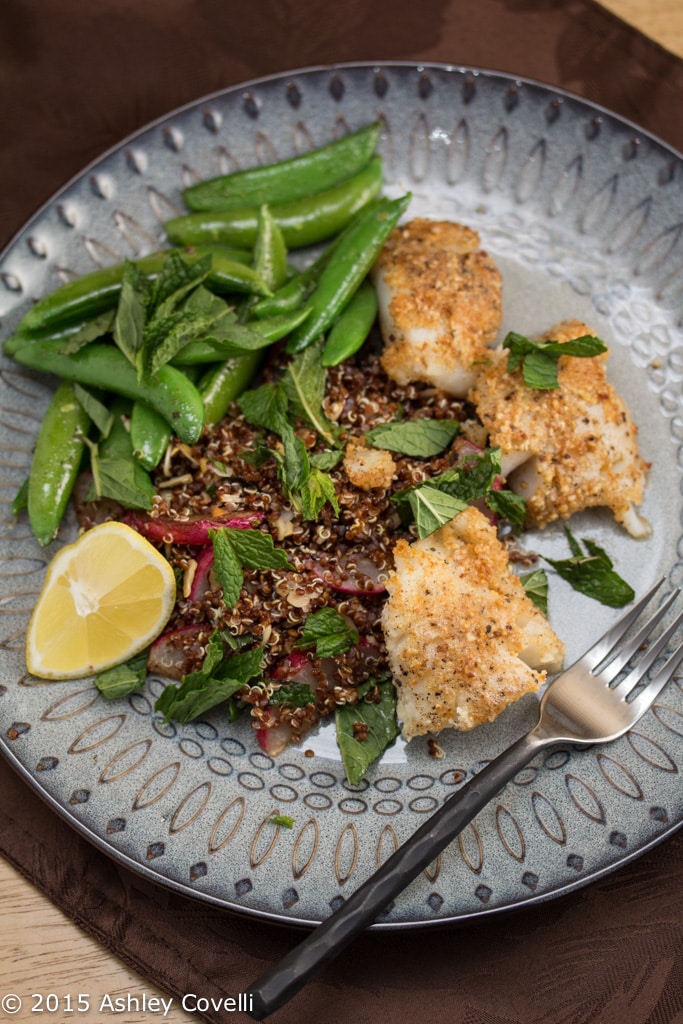 The cod is served over red quinoa that has sautéed radishes and mint mixed in, as well as bright, crispy, quick-cooked sugar snap peas. Fresh lemon ties it all together perfectly.
We really enjoyed this meal. It was fresh and bright and didn't leave us feeling like we ate a heavy plate of fried fish. Definitely a tasty meal that we'd enjoy again.
2 Cod Fillets
3 Ounces Radishes
2 Cloves Garlic
1 Lemon
¼ Pound Sugar Snap Peas
1 Large Bunch Mint*
2 Tablespoons Butter
2 Tablespoons Sliced Almonds
¼ Cup Almond Flour
¼ Cup Red Quinoa
¼ Teaspoon Crushed Red Pepper Flakes
See Blue Apron for the full recipe.