This post may contain affiliate links, which won't change your price but will share some commission.
Dinner party appetizers don't have to kill your healthy-eating mojo! This list of 15 healthier bite-sized party food recipes will leave you satisfied without feeling like you over-indulged.
This post may contain affiliate links.
The Super Bowl is right around the corner, and for many people, those New Year's resolutions are slipping farther and farther away.
And while I don't really care for sports, I'm all about indulging in a fun appetizer spread - game day or not! But with the holidays in the not too distant past, I feel like there needed to be some more healthy options added into the mix.
Don't get me wrong, I love a good over-the-top, decadent appetizer, too, but sometimes I.just.need.a.break.
It's all about options here, people.
So, without further ado, here are 15 healthier options for your next game day spread, Super Bowl party, dinner party, or cocktail party. There's a nice mix of recipes here that are sure to impress your guests.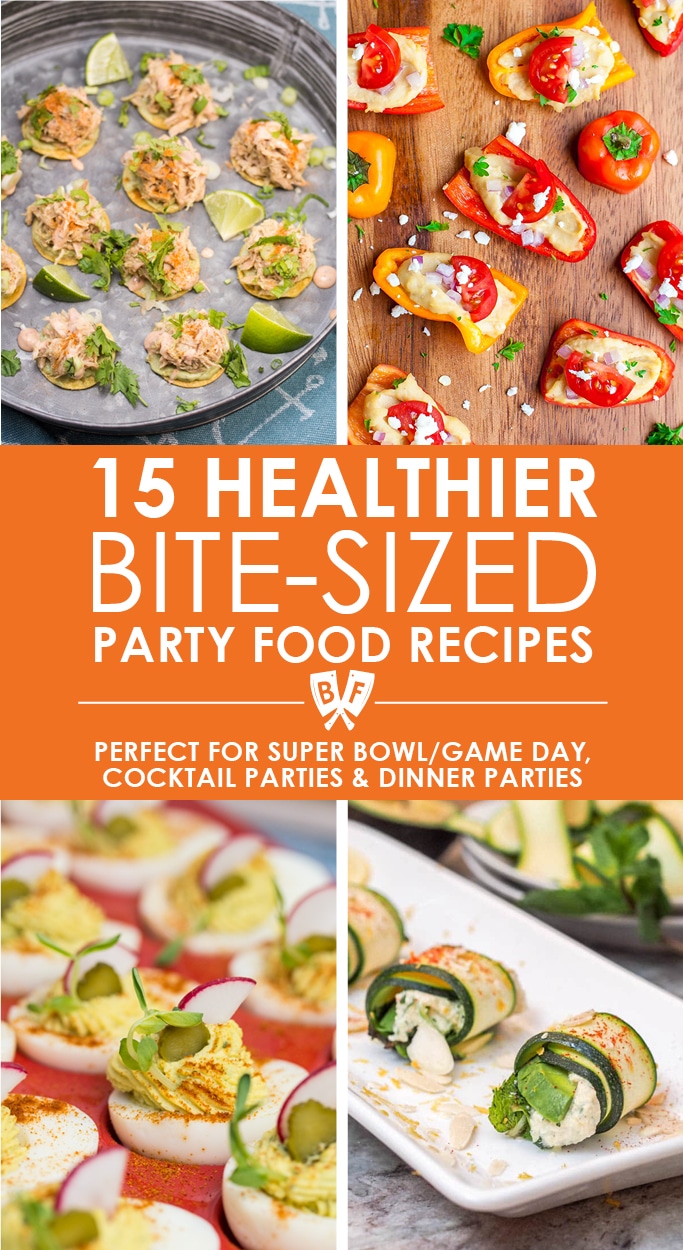 Caprese Eggplant Roll Ups
Just 4 ingredients and some quality olive oil is all you need for these gorgeously grilled vegetarian skewers.
Cheesy Broiled Endive Appetizer
A quick trip to the broiler makes the edges of these low-carb, cheese-covered bites a crispy, golden brown treat.
Endive Beet Bites
Crumbled walnuts, fresh herbs, and a drizzle of Caesar dressing are the perfect toppings for these vibrant bites.
Falafel-Spiced Cucumber Bites
A healthy party appetizer with major Middle Eastern flair! These bites are quick & easy to assemble and are perfect for Super Bowl Sunday, game day, holiday meals and last minute cocktail parties.
French-Inspired Deviled Eggs
These mayo-free beauties get a big boost of flavor from fresh tarragon, cornichons and dijon.
Garlicky Goat Cheese + Herb Stuffed Peppadews
Sweet and a little spicy, these addictive stuffed peppers are the perfect accompaniment to any appetizer spread!
Healthy Hummus Stuffed Peppers
Because sweet mini bell peppers make everything more adorably delicious!
Low Carb Taco Bites
Cheddar cheese forms the bowls for these itty bitty, low-carb treats.
No Mayo Deviled Eggs
No mayo? No problem! This easy to make, classic deviled egg recipe is a party appetizer favorite made with pantry staples.
Prosciutto Wrapped Apple Bites
You're just 4 ingredients away from these simple, elegant, sweet-and-salty bites.
Sesame Soy Smoked Salmon Crostini
Upgrade your crostini game by incorporating avocado, smoked salmon, and a mix of black & white sesame seeds.
Smoked Salmon Roll-ups
This 5 ingredient party food recipe is simple and delicious and easy to make ahead of time – perfect for game day!
Tuna Tartare with Avocado
Lentil crackers serve as the base for these upscale raw seafood bites.
Tuna Tostada with Avocado Dressing + Chipotle Sour Cream
These bite-sized beauties have a Mexican flair that will wow your dinner party guests. You'll love how easy this tuna tostada appetizer is to put together!
Vegan Zucchini Rolls with Herbed Cashew Ricotta, Mint and Avocado
Roll up the fun with these deliciously elegant, no-cook appetizers.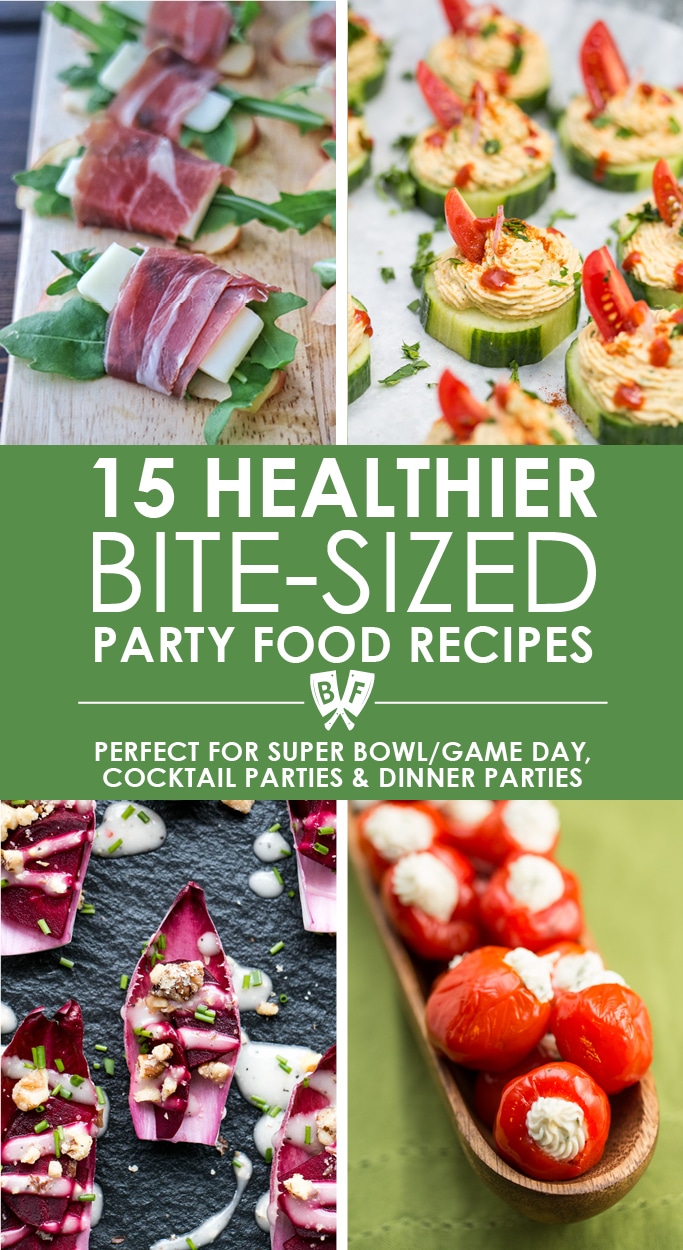 Looking for even more bite-sized favorites? Check out some of our top-rated appetizer recipes: