This post may contain affiliate links, which won't change your price but will share some commission.
Ring in the New Year with our favorite party food starter recipes from the past year!
Looking for small bites to serve at your New Year's Eve gathering? Here are our newest, savory faves. Guaranteed to be elegant, memorable ways to get your party started!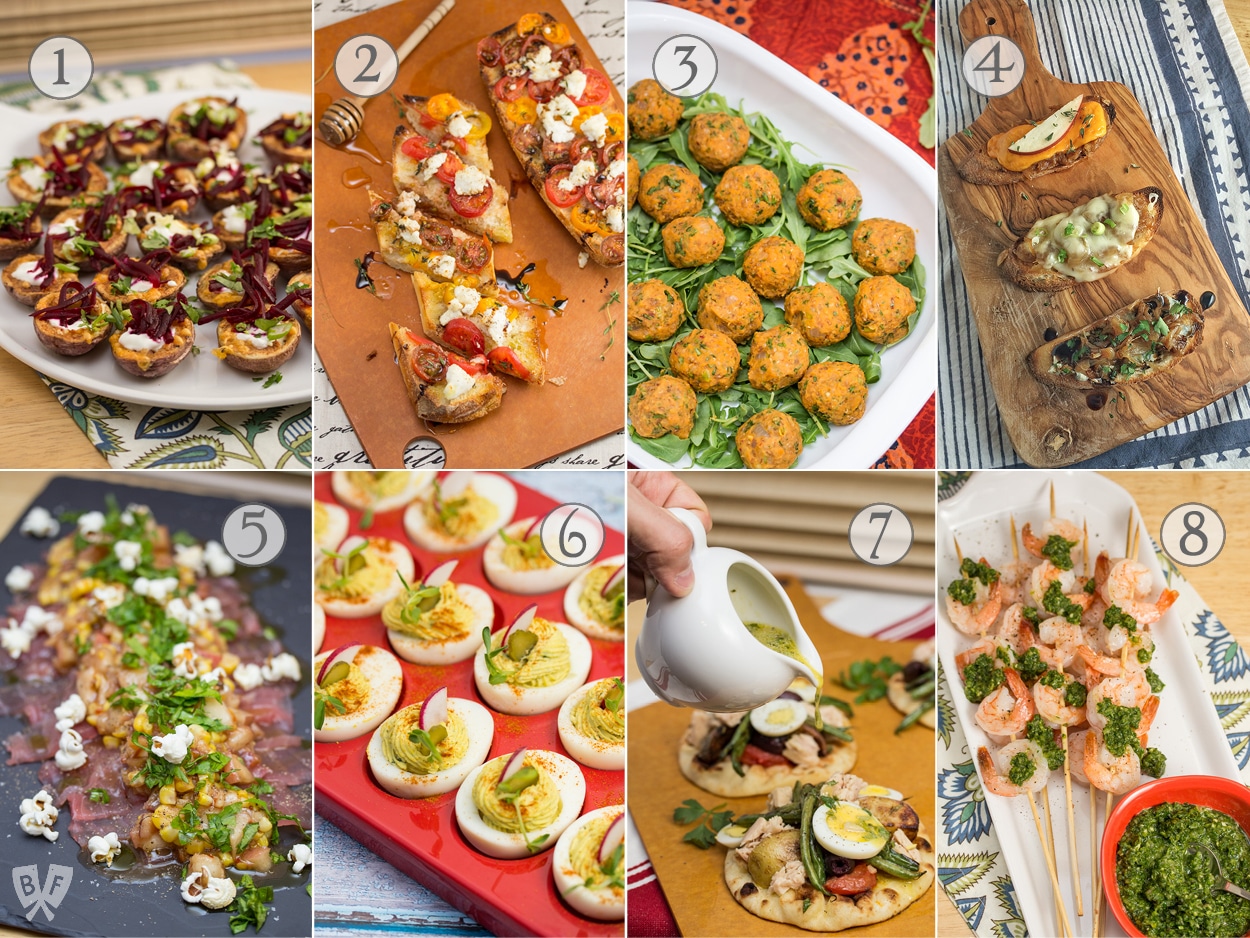 Cheesy Potato Skins with Smoky-BBQ Shredded Beets - Bite-sized potatoes are stuffed with cheddar cheese and baked till crispy, then topped with a vibrant array of toppings in this healthier spin on a party classic.
Garlicky Tomato, Ri(goat)ta Cheese, Thyme, Honey + Aged Balsamic Toast - A colorful, sweet-yet-savory addition to any meal that's also perfect on its own as a light lunch.
Mercimek Koftesi (Lentil Balls) - Turkish red pepper paste adds deep, rich flavor to these hearty vegan bites!
French Cheese + Caramelized Onion Crostini Trio - Dress one baguette up 3 different ways with this simple, elegant starter that showcases 3 of my favorite French cheeses.
Bluecoast's Raw Tuna with Pickled Peach & Corn Relish - Freshly popped popcorn is a fun, slightly crunchy topping for this silky smooth seafood starter.
French-Inspired Deviled Eggs - These mayo-free beauties get a big boost of flavor from fresh tarragon, cornichons and dijon.
Grilled Niçoise Salad Flatbreads - Fire up the grill and take this classic French salad to the next level! No grill? No problem! A quick trip under the broiler will also yield delicious results.
Chimichurri Shrimp - Because food on a stick is always perfect party food!
And while we're at it, let's not forget to bring our cocktail A-game to the party!
We'll be spending the evening with some good friends, and I've been asked to bring dessert. I'm still figuring out exactly what I'm going to make, but you better believe I'm also going to be bringing a platter of Pickle Treats, too!
What's on your NYE menu? I'd love to hear about it in the comments section below.