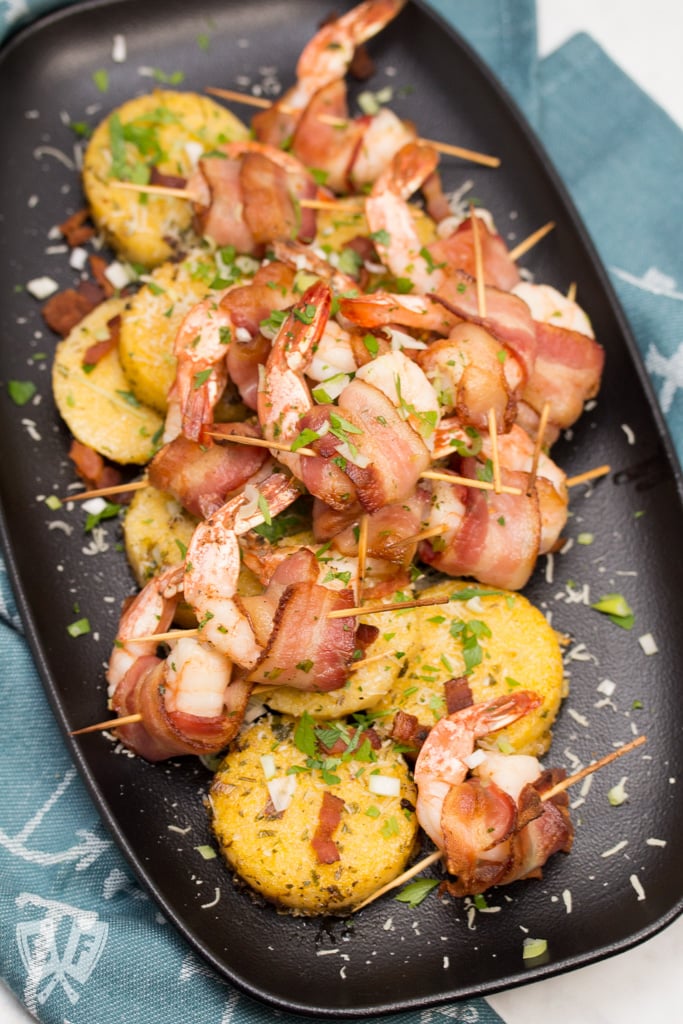 Big Shrimpin' Bacon-Wrapped Shrimp and Grit Cakes
This post may contain affiliate links. Thank you for supporting the brands that keep me creative in my tiny kitchen!
Classic shrimp and grits gets an upscale makeover in this over-the-top, bacon-wrapped presentation. Easy, delicious, and sure to impress your dinner guests!
This post may contain affiliate links.
It all started with some socks that I found at Target a while back. I bought them because they were ridiculous, bright yellow socks with a shrimp pattern all over them.
It wasn't until I got home that I noticed that one sock said "Big" and the other said "Shrimpin'".
And I could not stop laughing!
So when Pun Pantry reached out to me to ask if I'd be interested in collaborating on a pun-tastic recipe post, I knew that I wanted to do something with Big Shrimpin'.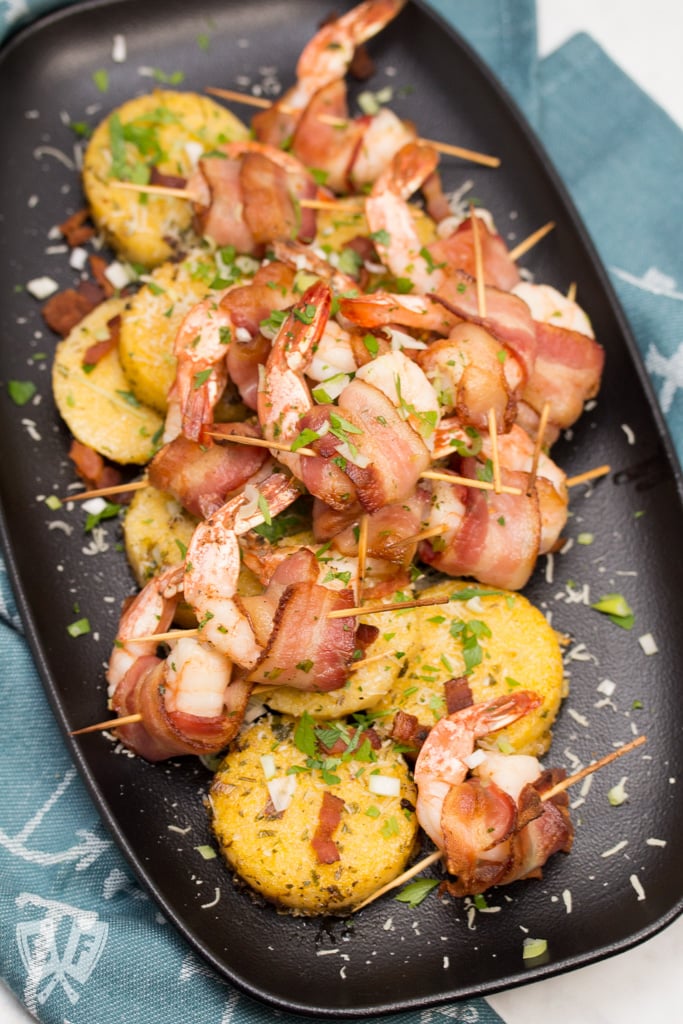 Pun Pantry is doing some hilarious, food-tastic things, creating lots of recipes with pop-culture based puns thrown into the titles (like Fleetwood Mac and Cheese, The Fresh Prince of Eclair, and Chicken Kebob Dylan).
I looooove me a good pun. Especially when you throw in a pop culture reference for good measure. So this was a natural fit for me. Let's examine some evidence, shall we?
Exhibit A: My go-to trivia team name is The Big Kapowski.
Exhibit B: My family dressed up as the Belcher family from Bob's Burgers for Halloween back in 2013. I even pun-ified my son's name to work with a "Burger of the Day" special.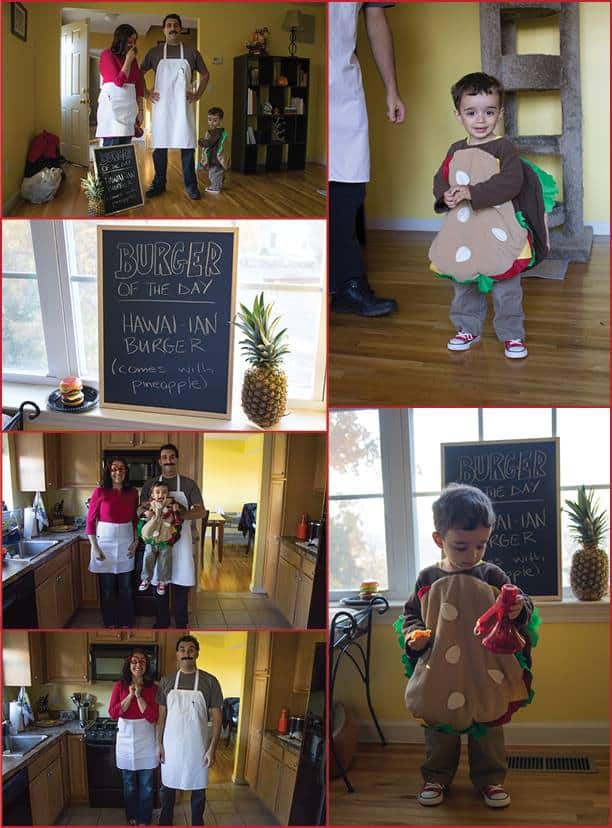 And when I realized that this post would coincide with the final Bacon Month post for 2017, I figured I needed to do some bacon-wrapped shrimp goodness.
So in the spirit of Jay Z's Big Pimpin', I decided that I wanted to to use the biggest shrimp I could find and bling this recipe out, pulling out all the stops and going over the top with the decadence factor.
Truth be told, I wanted to use colossal shrimp, which are so large that there are usually only about 10 of them per pound, but I couldn't track any down in time to make this dish. I went with the largest my store had, which was jumbo. Not quite as big pimpin' as I'd like, but it worked out just fine.
Another thing that I thought would make shrimp and grits more upscale would be to use polenta instead of grits. Even though they're very similar, polenta just sounds fancier, and with the pre-made tubes of polenta available at most grocery stores, prep was a snap.
One thing that I needed to think about was how to make sure the bacon was cooked all the way through without overcooking the shrimp. I found an awesome tip for par-cooking bacon over at Inspired Taste, and it worked like a charm!
I tossed the jumbo shrimp in a garlicky-herb butter situation, wrapped them up in that par-cooked bacon, then skewered and baked them till the shrimp was cooked through and the bacon was golden brown.
While they were in the oven, I cut the polenta into rounds and sautéed them to make a gorgeous base for my shrimp.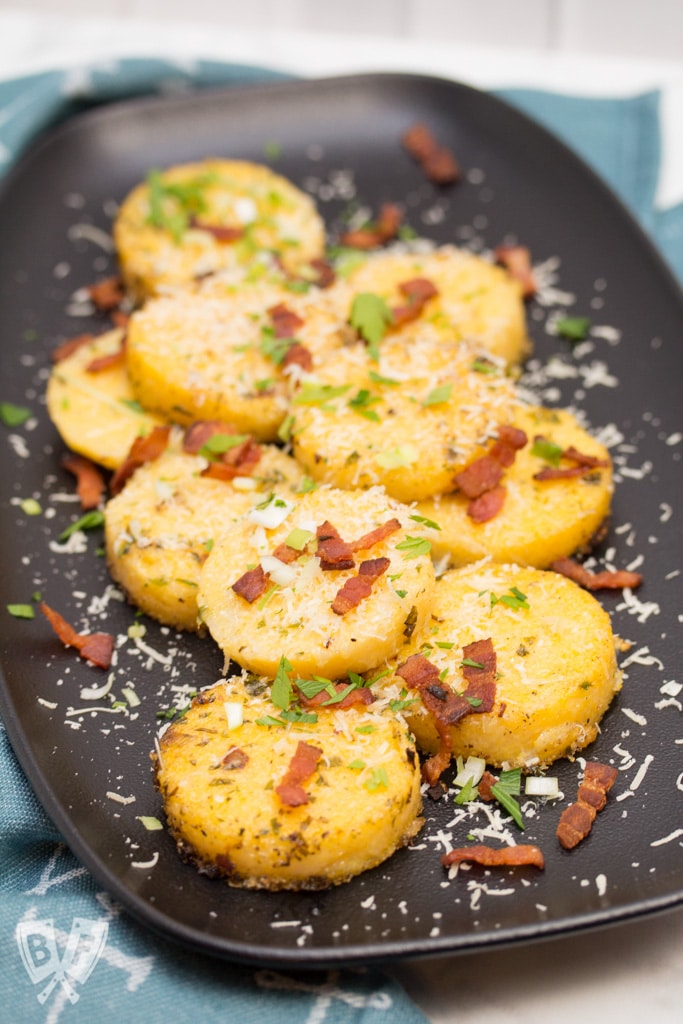 Of course, this is Bacon Month, and we're going over-the-top here, so I took the extra bit of bacon that I didn't need for the shrimp, crisped it up in the pan, and sprinkled it over the polenta cakes.
A generous dose of freshly shredded Parmesan cheese was the perfect topping for this first layer.
You know, cuz it's Big Shrimpin', shredded cheese…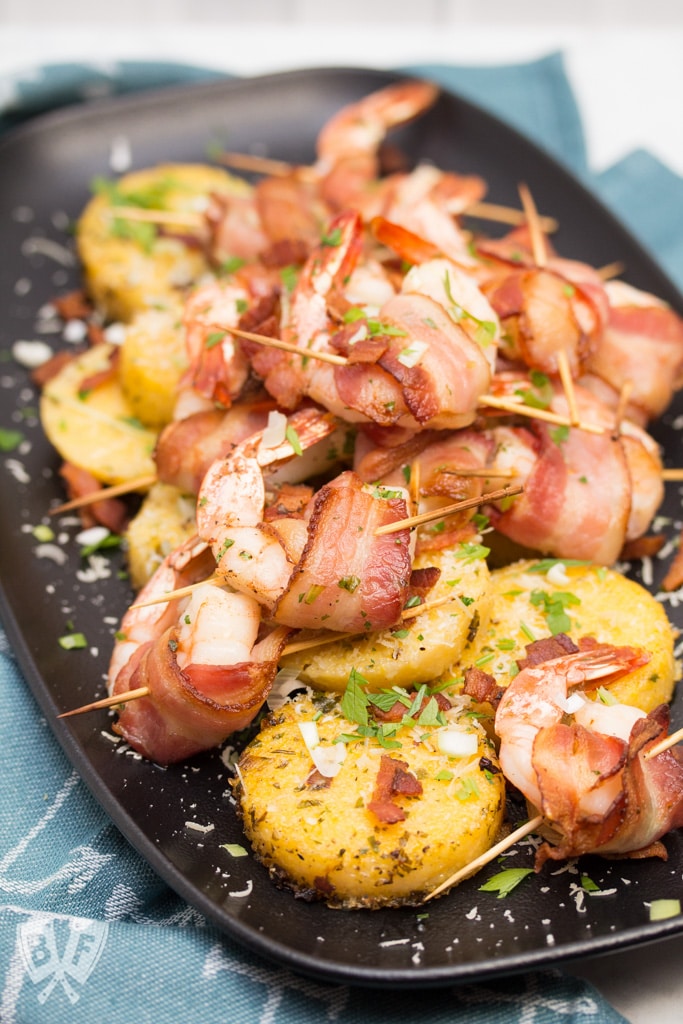 The dish turned out so incredibly well. The polenta got nice and crispy and was the perfect textural contrast to the bacon-wrapped shrimp.
It was eyes-rolling-back-into-your-head good.
My 5-year-old couldn't get enough. He was all about that bacon, and probably ate more than me and my husband combined. Hey, and with that metabolism, he can afford it!
This was so luxurious and would make a great cocktail party appetizer. I think Hova would approve…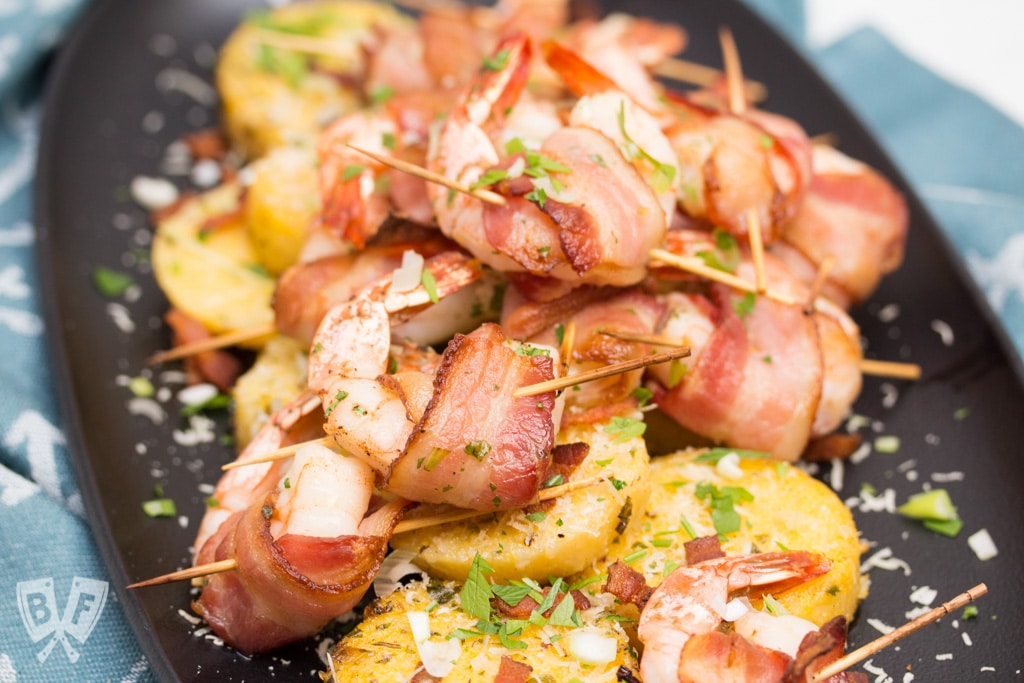 Wanna check out what everyone else is whipping up for this installment of Bacon Month?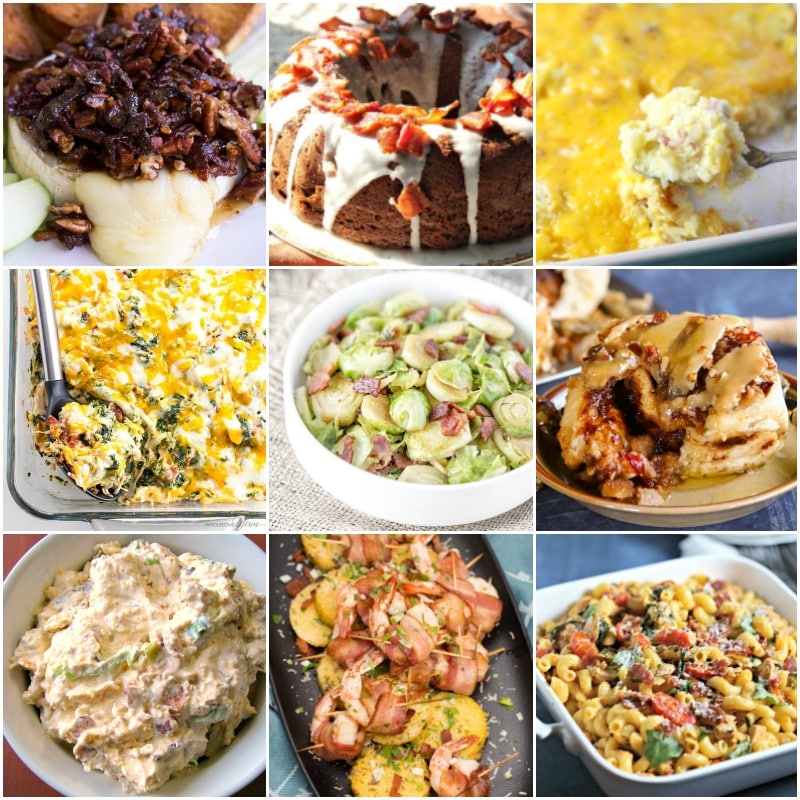 Cheesy Bacon Hashbrown Casserole
Big Shrimpin' Bacon-Wrapped Shrimp and Grit Cakes
Looking for more seafood favorites? Check out these 5-star recipes:
Print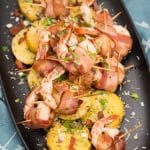 Big Shrimpin' Bacon-Wrapped Shrimp and Grit Cakes
Cook Time:

30 minutes

Total Time:

45 minutes

Yield:

4

-

6

Servings

1

x
---
---
---
---
Recipe Card powered by
Note: This post includes affiliate links for items that I genuinely enjoy. Big Flavors will receive a tiny commission from purchases made through affiliate links on this site at no added cost to you. This allows us to cover site-related expenses and helps to keep us cooking up a storm!