Things have changed a lot since I started a food blog back in 2006. I'm sharing 13 valuable lessons I've learned in those 13 years in this BTS post.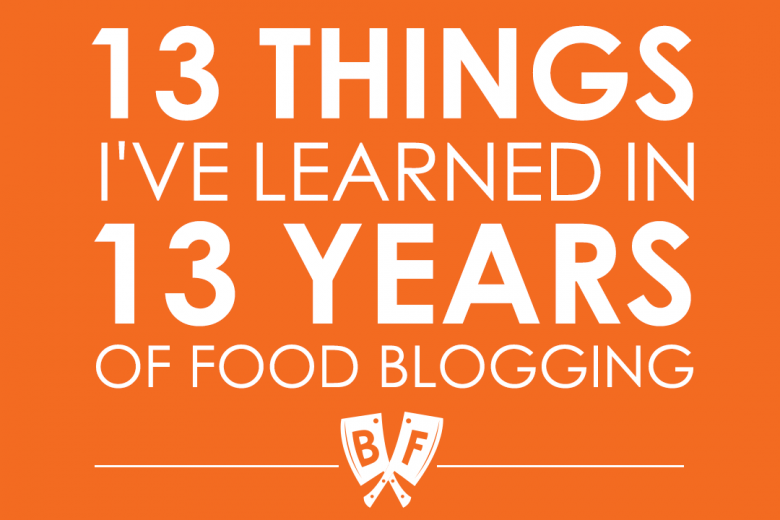 This post may contain affiliate links.
Today, my baby became a teenager! No, my son is not 13 yet (though I know that'll be here before I know it!), but my website is!
Big Flavors from a Tiny Kitchen has been around for 13 years now, and I am so proud of what it has become. Not to mention all of the delicious things that have found their way into my life because of it.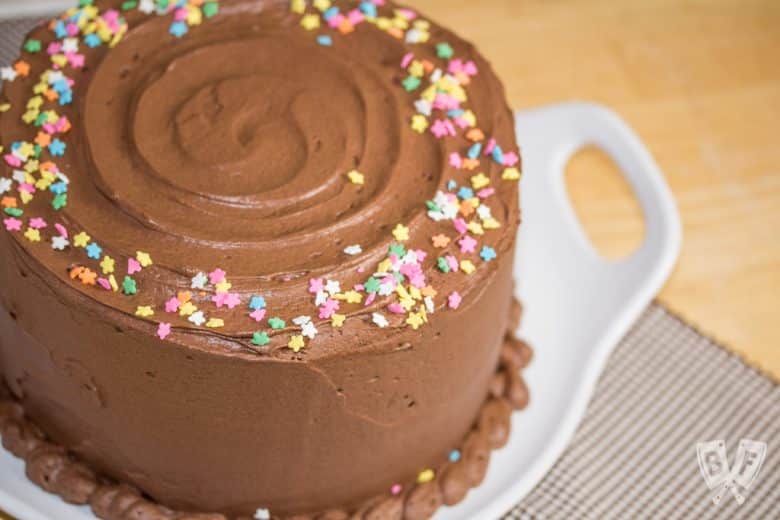 I surveyed my Instagram and Facebook fans earlier this week to see if there was interest in more of a behind-the-scenes peek at what I've learned from being in the food blogging world for so many years instead of my typical roundup or recipe post for my "blogiversary".
I figured it might be of interest, but I was blown away when 100% of the respondents said yes.
So, buckle up - here are 13 lessons I've learned in my 13 years of food blogging. I hope you enjoy this post - I'd love to hear your thoughts on it in the comments section below!
You can also subscribe to Extra Helping: The Big Flavors from a Tiny Kitchen Newsletter if you're interested in 1-2 tasty emails per month.
1. Many people will not understand what exactly it is that you "do"
It's like that scene in Office Space with "the Bobs":
Everyone in the field of food blogging has their own motivations and approach to the work that they do. And since "blogging" as an actual career is a fairly new idea, it can really confuse people.
Some people are "influencers" who work with brands to share products and services with their audience. Some people do restaurant reviews. Some are cookbook authors. Some do product photography, cooking classes and demos, or restaurant collaborations. Some are on social media only with no website.
And many food bloggers are some combination of several of these things.
It really varies a LOT depending on the person, their location, whether it's a full-time or part-time gig for them, and so many other factors.
I don't even tend to call myself a "blogger" because to me it makes it sound more like the hobby that it began as versus where I am and what I do today. The work I do on a daily basis for Big Flavors encompasses so much more than it did even a few years ago.
So usually when people ask me what it is that I do for a living, I tell them that I run a food and recipe website. Or that I'm a food writer and photographer. Or that I develop recipes for brands and products to share online and in print. All of these things feel more accurate than "food blogger" to me.
Some people will still think that all you do is take a photo of your dinner plate and post it online, but it really is so, so much more than that.
2. A lot of work goes into every.single.blog post
Back in 2006 when I started posting photos and recipes online, things were much simpler.
I'd cook dinner, take a quick photo of my plate, then write 1 or 2 sentences on what I thought of the dish. I'd pop onto LiveJournal (my handle there was "Chopaholic"), upload the photo and quickly type up the recipe and hit publish.
Boom. Done.
But after I started honing my skills and writing my own recipes, not to mention moving from LiveJournal to Blogger and most recently to a self-hosted WordPress site, I needed to add more steps into the process.
Luckily for me, my professional training is in graphic design and my husband is a tech guy. This means that I can design all of my own graphics and have been trained in things like color theory, photography, and composition.
It also means that I have 24/7 access to a tech support guy that I pay in food.
Delicious, delicious food.
But seriously, people have to outsource design and tech jobs and all of that can add up to quite a hefty amount of money. Although my situation is more work for the two of us, it's nice to be able to do things in-house, both figuratively and literally.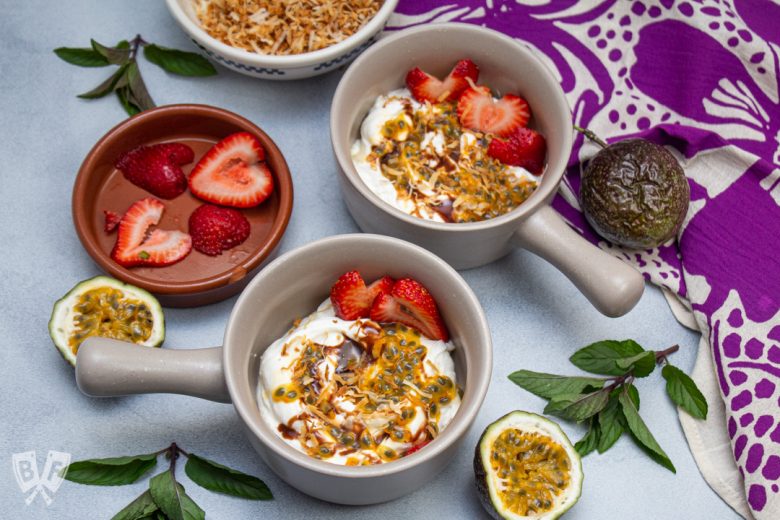 When I decide I'm going to post a new recipe, there are a lot of steps.
Recipe ideas come to me in a variety of ways but generally speaking once I have my recipe idea I'll write up a quick guideline for the recipe either in my phone or in my bullet journal.
I'll figure out amounts of ingredients and very basic instructions, knowing that I'll be going in there to edit/tweak while I'm actually cooking. I then have to go to the grocery store to shop for ingredients.
Once I'm ready to cook the recipe, it's "go time".
I take photos during the prep and cooking process sometimes, share behind-the-scenes peeks of the cooking process on my Instagram channel, and get ready to plate it for final dish photography with my "real" camera.
I use a Canon Rebel T3i that's many years old - they're up to the Canon Rebel T5i now.
My house doesn't get a lot of natural light, so I need to use artificial lighting. I experimented with several different options over the years and have been using a Lowel Ego lightbox for many years now.
I'd love to get a second one or even a different type of light kit, especially since video requires much more light than still photography. It's on my (always growing) list.
So once I have my light set up, I put up my backdrop and any props I may need on my photography surface, place my plate down, and start shooting.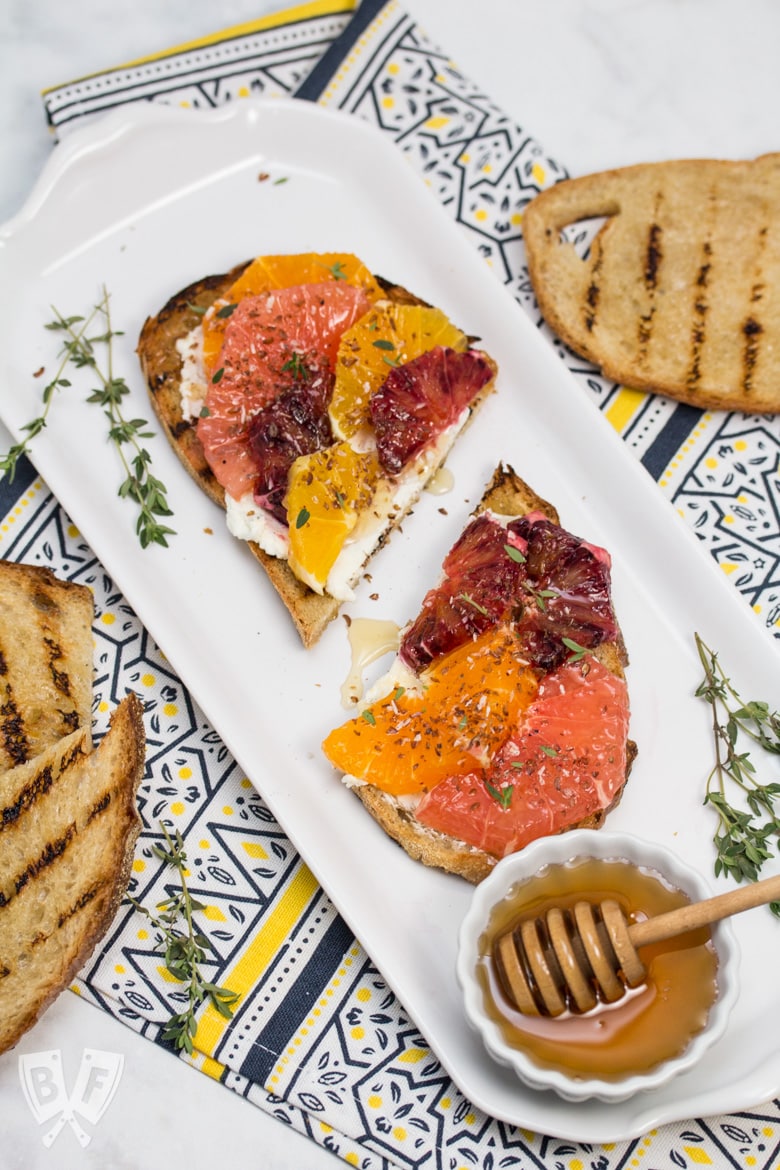 I most often shoot food photos, especially close-ups, with my Canon EF-S 60mm f/2.8 Macro USM Fixed Lens. I have a Vanguard Alta Pro Tripod that I use occasionally (and it's great for shooting overhead angles and flat lays) and an older, more lightweight tripod that I use to hold up my light kit and angle it.
It took me years to realize that I could attach my light to a tripod and that has been a total game-changer for me, since I have limited surface area to shoot photos on, and I used to have the light sitting there taking up ⅓ of my space.
After I shoot the photos, it's time to eat! My family eats 100% of the food that I post. I've streamlined my process and gotten much better so I can shoot quickly and then eat together, but I do spend more time on it when it's client work.
When I'm ready to edit the photos, I import everything from my phone's memory card into Adobe Lightroom and sort through the photos to see which ones are the best for my post. I then edit them and export them with my logo in the corner and upload them to my website's media library.
Once the images are in the media library, I have to go in and add metadata to different fields so that when people see my images, or they show up on Pinterest or other social media sites, the information about what's in the picture goes along with them.
Next, it's on to actually writing up my post! I try to think of helpful tips and tricks so that anyone making my recipes can have success with it in their own kitchen. I show process shots of the recipe steps when it makes sense.
All of this helps people find my recipes, so optimizing my posts using SEO (Search Engine Optimization), keywords, and answering questions within my post are all things that will help build a better post.
Then I transfer the recipe I've written up from my recipe storage app (I use Paprika on both Mac OS & iOS) into my recipe card plugin. I use WP Tasty's Tasty Recipes as my recipe card plugin - it's something that I've had for a few years now, and it allows people to scale a recipe and print it out really easily.
It also has formatting so that Google can see which things are ingredients versus steps, cooking times, serving size, etc.
After I hit publish on a post, I also need to promote it on social media. This can be tedious but it's an important step of the process. I try to rotate what I'm sharing on which social media platforms so it isn't all the same thing on all of my channels.
It's a ton of work, but I really do enjoy it, and I think that my thoughtful approach shows in the final product.
3. Things change and that's OK
As someone who does well with having schedules and checklists, it can be a bit unnerving when things change. But change happens. And that's OK!
Equipment changes, technology changes, algorithms change, the things people are searching for online changes, your aesthetic changes, your tastes and preferences change... just go with the flow!
It's OK to try new things. Try out new ingredients, cuisines, and techniques. If they don't work out, at least you know you gave it a shot.
Sometimes I'll go back and make an old recipe and I've learned things since the original post date that would make the cooking process easier now. Or I only had one photo and my skills have improved since then, or I want to add more images to a post to refresh it.
If you find yourself considering making changes like this, do it! It adds value for your readers, and Google likes seeing that you're actively keeping your site content fresh and up-to-date.
And it just feels good to give an old post a facelift.
I've been revamping lots of old posts lately. Some get minor tweaks or new photos and some get a massive overhaul. Some recent examples of posts that I've updated are my Spicy Turkey Three-Bean Chili, Balsamic Marinated Pork Tenderloin, Grandpa Henderson's Beef Stew (a long-time family and reader favorite!), Curried Pumpkin Soup, and Falafel-Spiced Chickpea Flatbreads (probably the one that has the most rave reader reviews!).
I have plenty more in the works, and I can't wait to share the new and improved versions with you!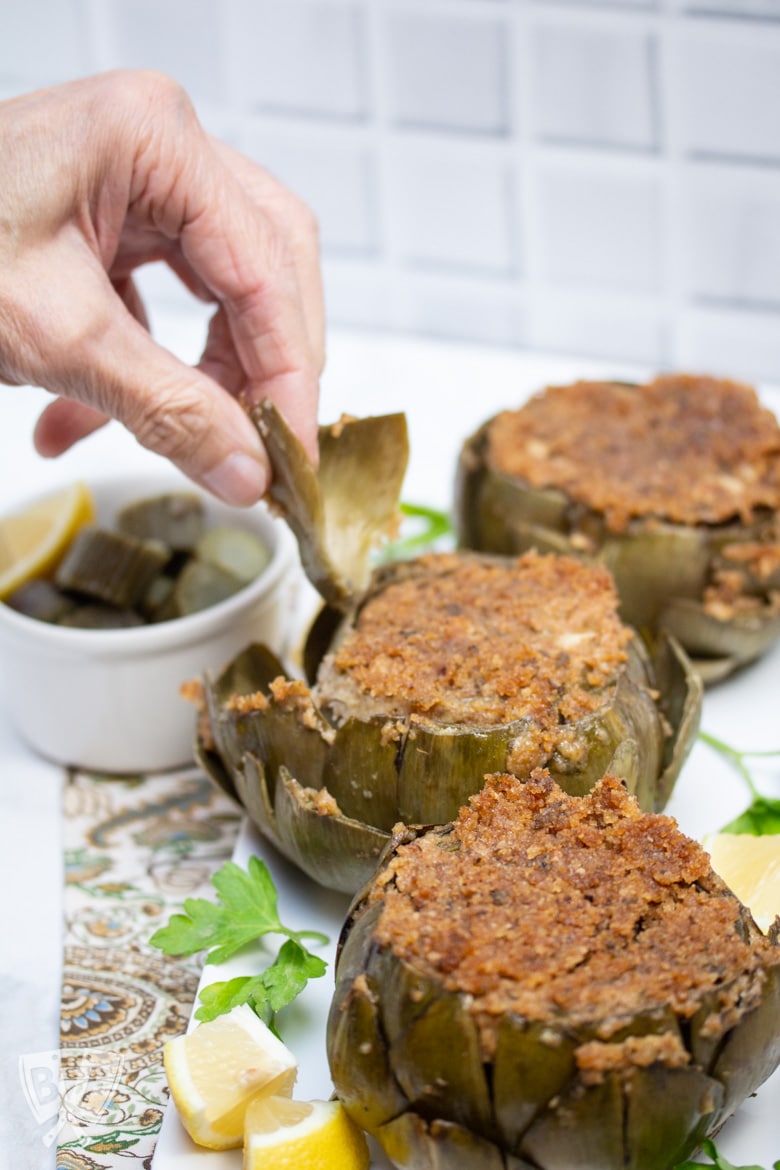 4. Not everyone will like everything that you create - don't take it personally!
Everyone has their own tastes and preferences. Some people are more vocal about the things that the like and dislike.
Recipes won't necessarily turn out the same way for everyone who cooks them. There are lots of variables at play here.
I personally approve comments/ratings on my recipes when moderating them even when they aren't great because I want my ratings to be an honest reflection of people's experiences with my recipes.
Some people will make all sorts of crazy substitutions... "I didn't have beef so I substituted ketchup" and they'll still complain that it didn't turn out, but sometimes they follow a recipe exactly and something still went wrong.
Or they just didn't like it. And again... that's OK!
I like to take comments like that as an opportunity to grow. I can help troubleshoot to see where things went wrong for the person, or even go back and look at my recipe and see if there's something that can be done to improve it and avoid potential pitfalls for others in the future.
I'm all about encouraging people to get into the kitchen without fear, to cook for themselves and their loved ones.
And just know that some people are just trolls. I moderate comments and don't let trolls get through. Always remember: don't feed the trolls.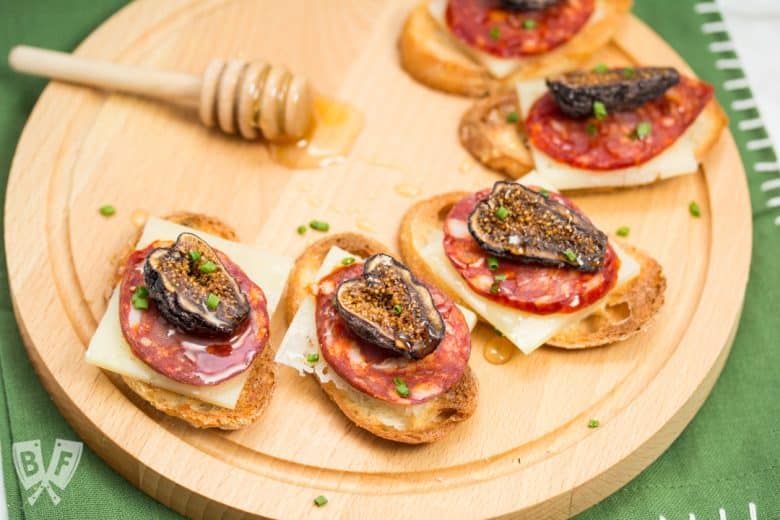 5. You won't be a good fit for every brand/sponsored opportunity
Sponsored work is a big part of my job. I partner with brands who have products and services that I believe in to create content that will serve you, the Big Flavors readers.
Sometimes brands will reach out to me, sometimes I reach out to brands, sometimes I apply for opportunities... each situation is unique.
I work with a wide range of clients to create recipes that can introduce my audience to products or ingredients that I love. Or showcase new ways to use them! I only work with brands that I actually use at home, and things that I feel are a good fit for my audience.
Sometimes I'm not able to work with a brand because I don't fit the criteria that they're looking for. This usually comes down to numbers, pageviews, and/or social media following.
This can be frustrating when it's a brand that I love or have a great recipe idea for, but can't get to the next step in a working relationship with them because of metrics.
It boils down to the fact that not everything is a good fit, either on your end, the client's end, or both. Focus your efforts elsewhere. There's plenty of work out there that's a better fit.
6. There are people who use morally questionable methods to increase/inflate their metrics
So this is one that a lot of people who aren't in the industry are surprised by.
As I mentioned above, sometimes a brand won't work with you unless you have, for example, 10k followers on Instagram.
And, speaking of 10k followers on Instagram - that's the number you have to hit in order to get the "swipe up" link feature in Instagram stories, which is the bane of many food bloggers' existence.
That feature allows you to put a direct link to a URL in the post. So If I'm making chicken fajitas for dinner on Instagram stories, I could put a link right there so people could swipe and get directly to the recipe post.
But I can't. Because I don't have 10k followers. And that number doesn't account for "fake" followers.
I have a workaround right now, where I have a LinkTree in my profile to share pertinent links with my audience, but it's an extra step for me and them and is really frustrating, especially when you know that some people with larger audiences have fake followers.
What are fake followers, you ask? Well... there are bots and services that some people choose to pay to use to acquire followers on their social media accounts. Some of these "followers" are real accounts, some are not.
Some bloggers and influencers use a follow/unfollow method where they'll go and follow people to get those people to follow them back and then they will unfollow them a few days later in order to keep the cycle going with more and more accounts.
Instagram currently limits the number of accounts that you follow to 7k I believe, so the tactic is to constantly play this follow/unfollow game to keep being able to add new accounts to the cycle that they're running.
Luckily, many brands now are using "engagement" as a metric. So this means that seeing a post that's getting likes, shares, and comments that are actually meaningful are of value.
This is one reason why it's important to leave thoughtful comments, share, or interact with content that you like. It helps weed out the fake stuff and supports people that are working to provide content that resonates with you or can help you address a need or concern in your life.
But some clients still require big numbers.
Some bloggers use other people such as Virtual Assistants or even bots to comment on other people's posts for them. I remember one time I was at a food blogger conference sitting next to a friend who I had known for years and I got a notification on my phone that she had just commented on an Instagram post of mine.
It was really disheartening because she definitely did not do that. I was right next to her and her phone was away while she was watching a presentation.
I was hurt at first because in my mind, commenting on a post is a personal thing that you do to express your feelings on its content to someone else. But that's not the case for everyone. Some people are in it for the numbers. I'm not one of them.
There are also threads in groups where food bloggers help to share and promote other bloggers' recipes, posts, etc. Years ago, I really liked this idea. Sometimes you can't get eyes on your work unless other people share it.
But then some of these groups require comments on posts. Again, I was all for it at first. Whenever I'd participate in something like that, I'd leave a meaningful comment and/or thoughts on each person's post/recipe.
But then people started asking for 5-star recipe ratings, too.
Recipe ratings are a fairly new feature on Big Flavors. It's part of my current recipe card plugin, and I love that people can leave their honest feedback on my recipes using that system.
On a related note: if you've made one of my recipes, I'd appreciate it if you would leave a rating and comment on it! It helps my recipes show up in search results on Google, Pinterest, etc.
In my mind, a recipe rating is for what I think of a recipe after I've made it. How can you rate a recipe you haven't tried? What if the ingredients are terrible? What if it's bland? How could you know if you haven't made it?
And then it made me realize that I can't necessarily trust the "5-star" ratings I've seen on recipes when *I* am searching the web for things to cook.
Again, it was disappointing to me and feels dishonest, but I understand why other people do it.
Everyone has their own moral compass and makes their own decisions about what they feel is right and fair. Some people don't care if it's fair or not. And some people do care but they do it anyway because they want to increase numbers so they don't miss out on opportunities that they're otherwise qualified for.
There are many sides to it, and you can't presume to know anyone's motivation for the choices that they make.
And you know what? What other people choose to do for their brand or business shouldn't affect what I do in mine. There's room for so many people in this business. Some people stick around longer than others. Some have more passion for it than others. Some treat it more as a business than a hobby.
So while I still see things going on that feel unfair or seem a bit morally questionable to me, I just recognize that what's OK for someone else isn't necessarily OK for me and vice versa.
And that's totally fine.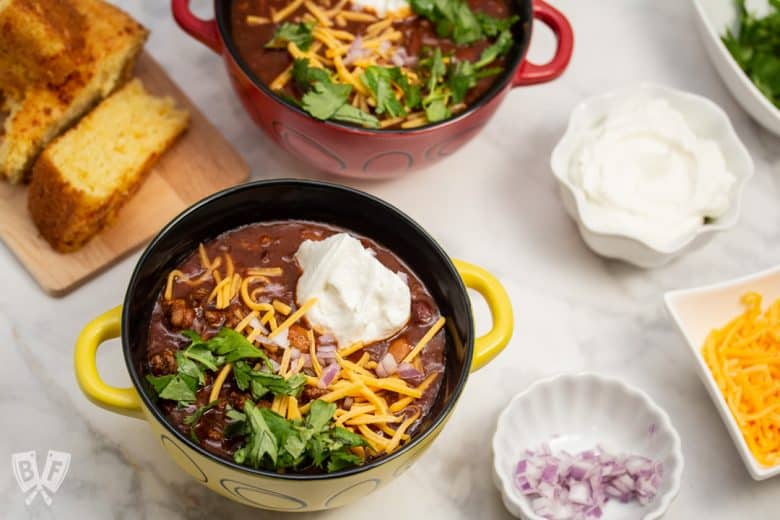 7. Say no and don't apologize for making the decisions that are right for you
Saying no can be hard. Especially when there's money involved.
I like helping people. I love answering questions. I like sharing fun things that I find. But you can't always do it and you shouldn't always do it.
There's a saying that I heard years ago that really stuck with me, "you can't set yourself on fire to keep other people warm".
Just think about that for a moment. If you're so busy trying to make everyone else happy, you'll totally neglect yourself and could end up doing more harm than good.
Don't overextend yourself trying to get an "in" somewhere, or overpromise if you can't deliver. Don't say yes when your plate is already too full.
An example of when I say no is when pitches come in from brands who want me to share their products with my audience for free, or for product alone, and are asking a LOT in return.
Let's say, for example, that an applesauce company wants you to create a recipe using their applesauce.
They send you coupons to cover the applesauce. They ask you to create a recipe, post it on your food blog, including well lit 3-5 photos. The brand name needs to be featured in at least 2 of the images with product shots. They also want you to share it on your social media channels using their campaign hashtag, or a string of hashtags.
They tell you that you'll get "exposure".
Exposure doesn't pay the bills.
Now, don't get me wrong. When I started out, I was SO thrilled that people wanted to send me things like "free" BBQ sauce that I was happy to do all this work for them. But it wasn't "free". Each post I created took me time and thought to put it together.
But I do think that it was good to do that a few times at first to get used to working with products and incorporating them into a recipe post that I'd want to create anyway.
Once I built up a bit of a portfolio of sponsored work, even though the payment was just product or coupons, I felt more comfortable knowing what I needed to ask for when working on a full-fledged sponsored post.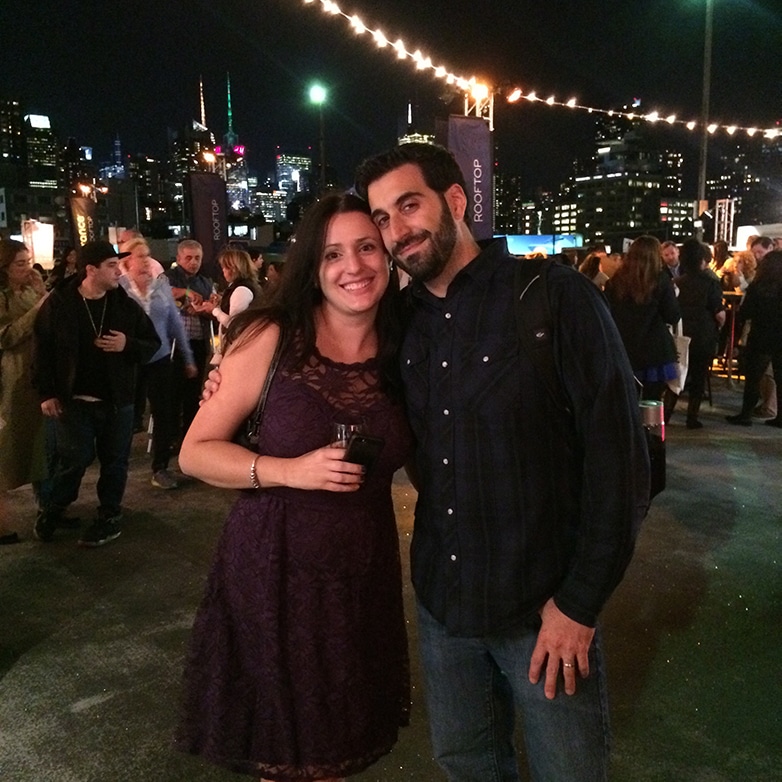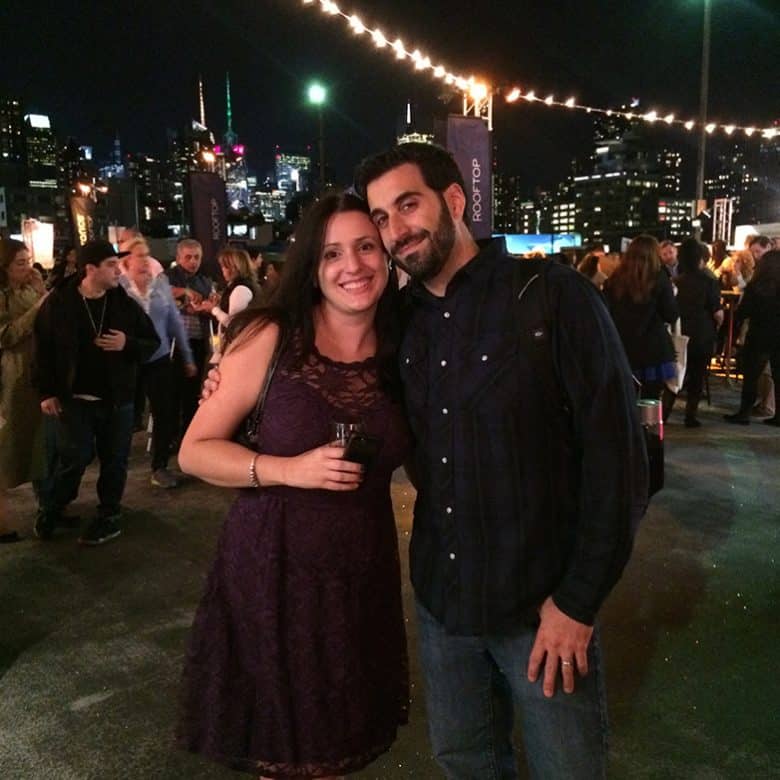 As someone who lives close to New York City, I receive a lot of event invitations. Again, I used to say yes to every.single.one. But commuting to and from the city, being out and about, arranging childcare... it ended up stressing me out a lot more than it should have sometimes.
So now, I pick and choose which sponsored posts and events I take on. Sometimes the money would be good for a sponsored post but it just isn't doable for me, or it doesn't feel authentic to my brand. Or it's a product I dislike or would never actually use.
So I say no. And I don't apologize for it.
8. Always disclose sponsored content and affiliate links
I think that one of the reasons a lot of people find sponsored content offputting is because they assume that you're only saying nice things because you got paid to do so.
This is definitely the case for some people. Here on Big Flavors from a Tiny Kitchen, I'm always honest about my thoughts and will only take on paid work that I believe in. And whenever I do have a post that was sponsored - I will let you know.
Aside from it being part of the FTC guidelines, it's the honest thing to do. And I always want to be honest with you!
I put a clear disclosure bit at the top of any sponsored post, whether I received money or simply a free product for review. I want to be transparent about those things to maintain a level of trust with my audience.
This isn't to flaunt that I've been paid to talk about, say, one of my favorite yogurt brands, but to be crystal clear that I was paid for my work on that post.
I do my best to create sponsored posts that are valuable to my audience, and that are legitimately delicious things that my family loves. Or fun products that I use, such as things that are linked on my Amazon shop page.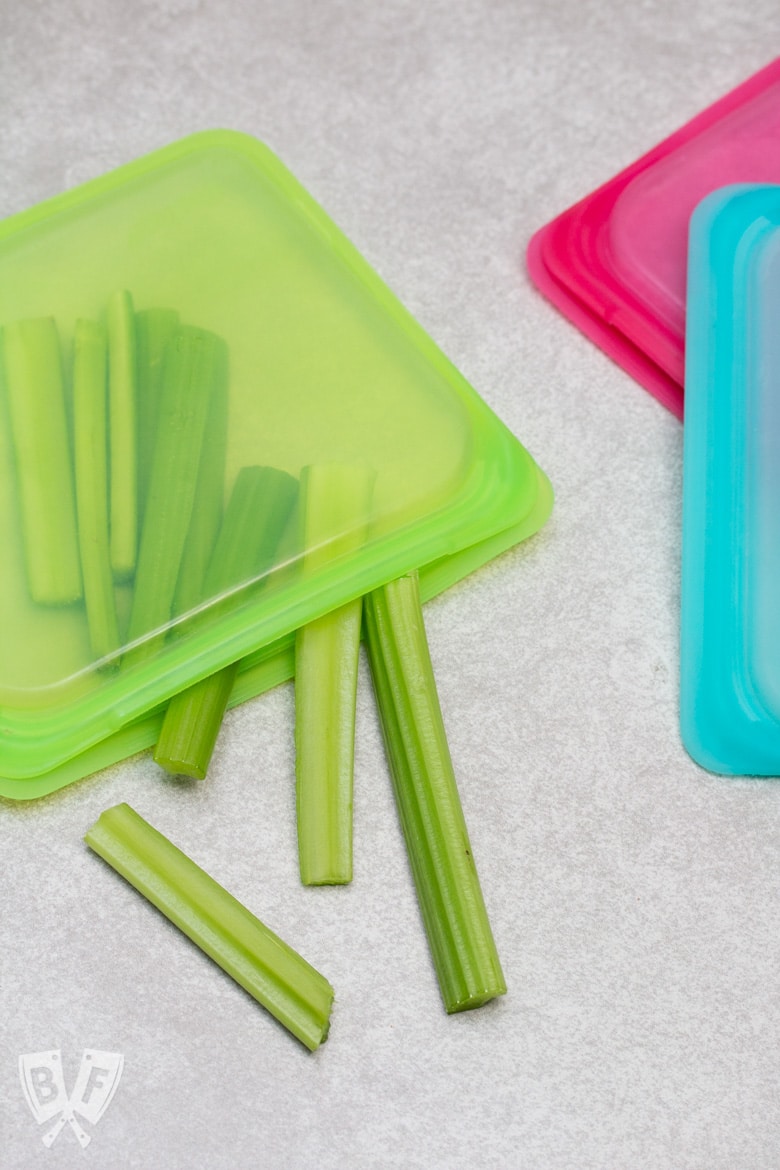 When it comes to things like Amazon, I make a small commission on the things that people purchase through my links. It doesn't cost you, the buyer, any more than it would if you found it on your own. I just did the leg work of finding it and testing it out for you.
I try to make recommendations on things that are helpful to the particular recipe or post when I include a link. And I'm always happy to help you find the perfect kitchen product or accessory.
Using affiliate links is also a great way for me to make a little bit of extra money to help pay for site costs such as web hosting, maintenance, and domain-related expenses.
When you shop through my links, it really makes a difference for me and my family, because it helps me continue to provide free, delicious content here on Big Flavors!
9. You have to spend money to make money
I started Big Flavors as a hobby but over the last several years, it has turned into so much more than that. When I decided that I wanted to actually turn it into a job, I had to start spending some of my own money.
If you're actually interested in turning your food blog into a business, you're going to have to invest in yourself and your brand. There are so many different ways that you could go about this, so choose wisely.
I've invested in training for things like Google Analytics, and SEO in the past. If you aren't trained in photography or photo editing, those are great ones to brush up on, too.
One subscription that I've found incredibly helpful is Food Blogger Pro. You can pay monthly or annually, and there are perks to each. I was a member several years ago and then just recently re-joined because they have such wonderful masterclasses and training videos.
I also use Tailwind to help schedule my Pinterest pins. I love that I can spread my pins out throughout the day rather than posting a bunch all at once. It's also helpful for scheduling your own content to pin to different boards. There are tons of great features, and you can check it out for yourself and get a free month with my referral link.
I also use Hootsuite to help schedule Twitter posts. This is so that I can batch some of my work and spend more time interacting and enjoying each platform in real-time without worrying about whether or not I'm posting content.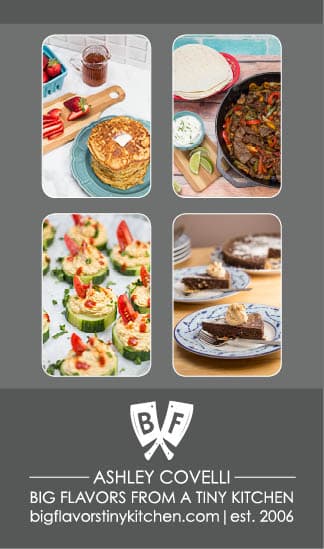 There are other costs associated with bringing your business to the next level - whether it's printing business cards, getting an SEO site audit, upgrading your photography and videography equipment, or becoming an LLC (which I did a few months ago - hooray!) and opening a business banking account.
You can start with small things, just make sure you're keeping track of what you're spending so you don't go overboard. It can be tempting to want to take alllll of the courses that you come across but remember to do your research and make an educated choice.
A lot of sites offer free trials, too, so you can test things out to see if they'll suit your needs before you take the plunge to buy them. I find that really helpful when there are so many options.
Again, there are tons of free resources out there as well. One that I really love is the Food Blogger Pro Podcast.
There are also lots of helpful Facebook groups specific to creatives, food bloggers, entrepreneurs, and small business owners.
Your local library has lots of free resources, and the librarians are more than happy to help you out! Some even give you free access to the training courses on Lynda.com. I know that my local library has loads of options, and I use them often!
And, of course, you can find tons of free info on YouTube and Pinterest or just by googling things that you want to learn more about.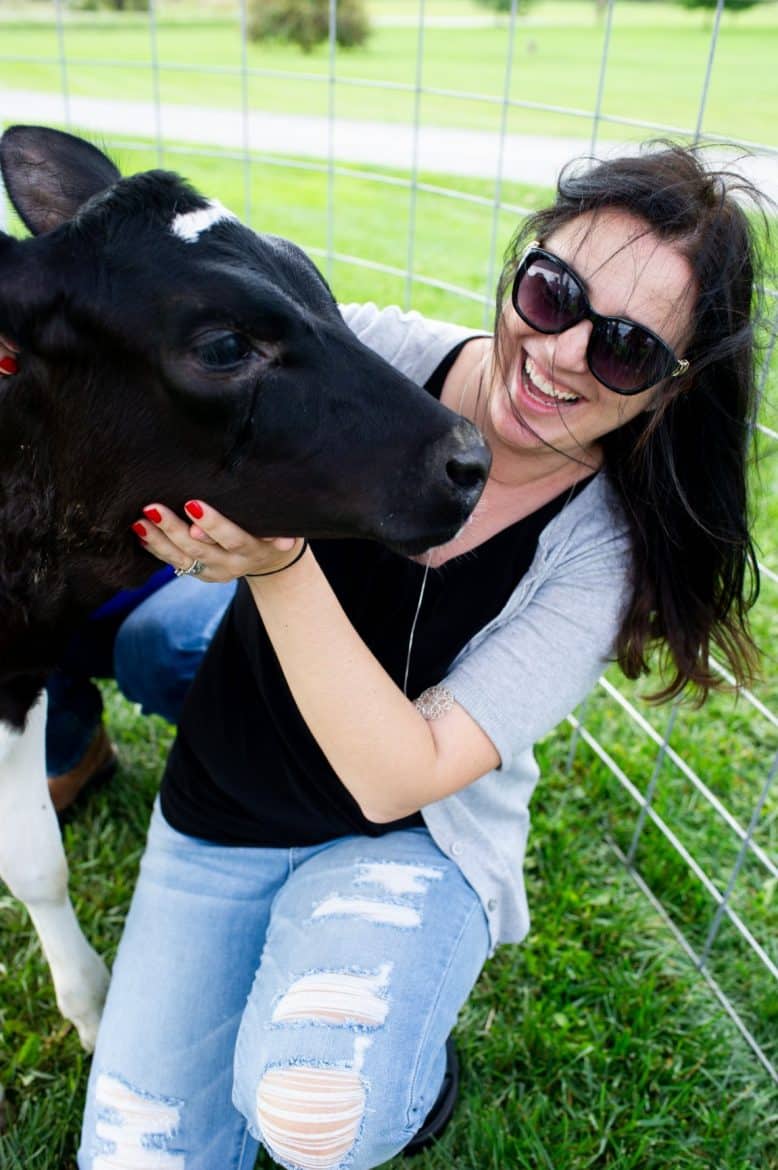 10. Network with other people in and outside of your industry
You know that saying about it not being what you know but who you know? It really is true. Some of the best connections I've made have been from people who I never would have expected to hit it off with. And they aren't all in the food/online industry!
There are tons of different conferences out there - ones I've attended in the past are ShiftCon, WOMMA Summit, TechMUNCH, and Advertising Week New York. I sometimes attend local entrepreneur and blogger meetups.
I also just put myself out there and talk to people wherever I am. I show genuine interest in what people are talking about, and if that ends up turning into a business relationship at some point - cool! If not, it's all good.
11. Take time off to avoid burnout
I know, this can be easier said than done. Especially when you're a one (wo)man show.
But sometimes you're so busy working that you just overdo it. Or you get stuck in a creative rut. Or you have things going on in your personal life that are making work difficult and/or tedious.
Take a break. Take a step back and do things that you enjoy. Even getting outside and taking a walk can really help your mindset.
If a vacation (or staycation) is possible, do it! You can always explore and look for inspiration in new places.
Read books or listen to podcasts outside of your usual repertoire. You can learn a lot from people in other fields, or even brush up on your writing skills by reading books from different genres.
Don't stress yourself out more than necessary especially when it comes to self-imposed deadlines. I was guilty of that BIG TIME but have learned to really work on prioritizing my neverending list of to-do items.
I also try to build some flexibility into my schedule and editorial calendar so that I can take a break if and when I need to without feeling too guilty about it.
Sometimes my best ideas come to me when I'm not doing anything related to cooking/writing/creating, so taking time away can be a very good thing.
12. Push yourself to do things that are out of your comfort zone
You get in a groove doing things the way you're doing them, and then a new platform emerges. Or a new style. Or a new cuisine.
Don't be afraid to give new things a try! Sometimes those butterflies in your stomach are a sign that it's a good way to push yourself!
For me, a big one here was video. I've always been a behind the scenes type of person. I've been taking photos for as long as I can remember. I even did film photography classes in high school and college. But I didn't have any desire to be in front of the camera.
And then I found myself being interviewed for The Brazilian Trade and Investment Promotion Agency, and although I was nervous, it didn't feel that scary once the camera was actually rolling.
Last fall I was part of a cooking competition judged by none other than Next Food Network Star Chef Jason Smith.
He was walking around the kitchen interviewing people, and it was a lot of fun talking to him, even with cameras all up in our faces.
You can check out the video on the American Dairy Association North East's Facebook post - my part starts around the 4:30 mark, and again around the 22-minute mark.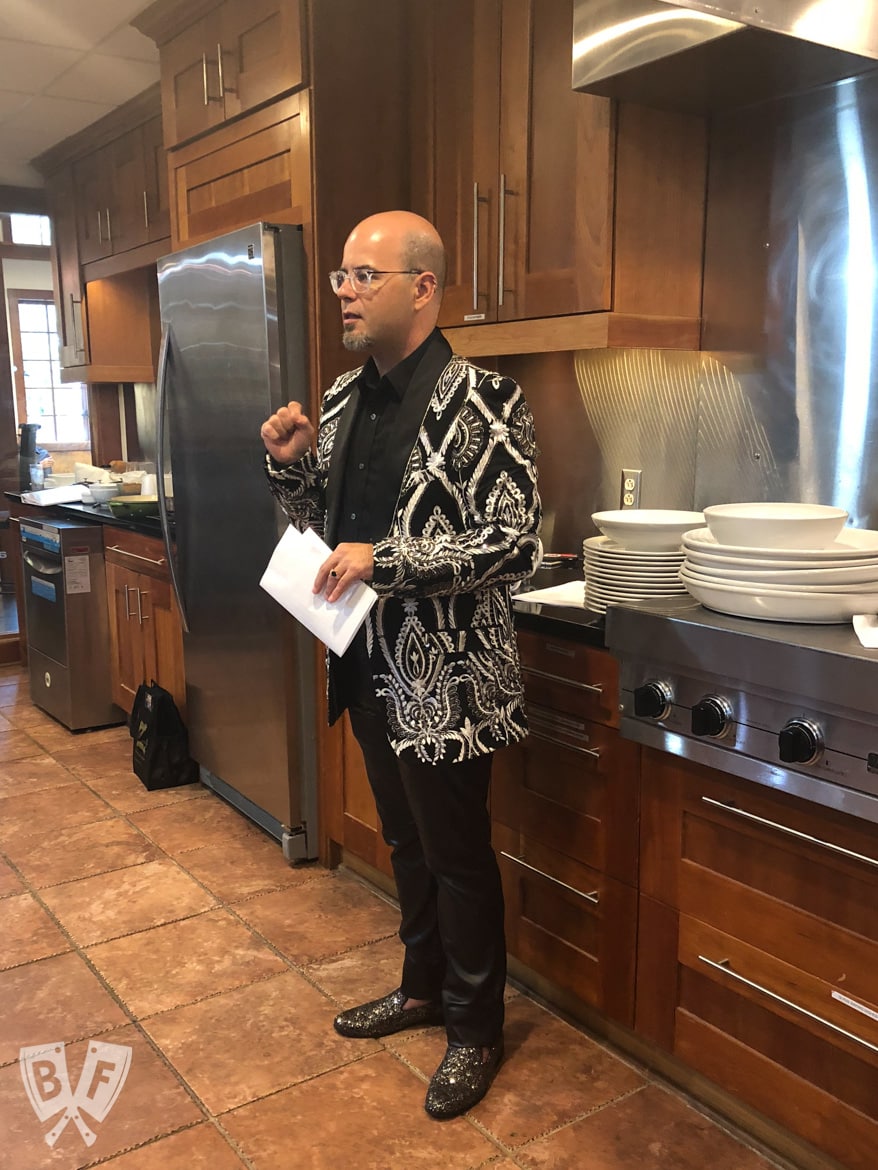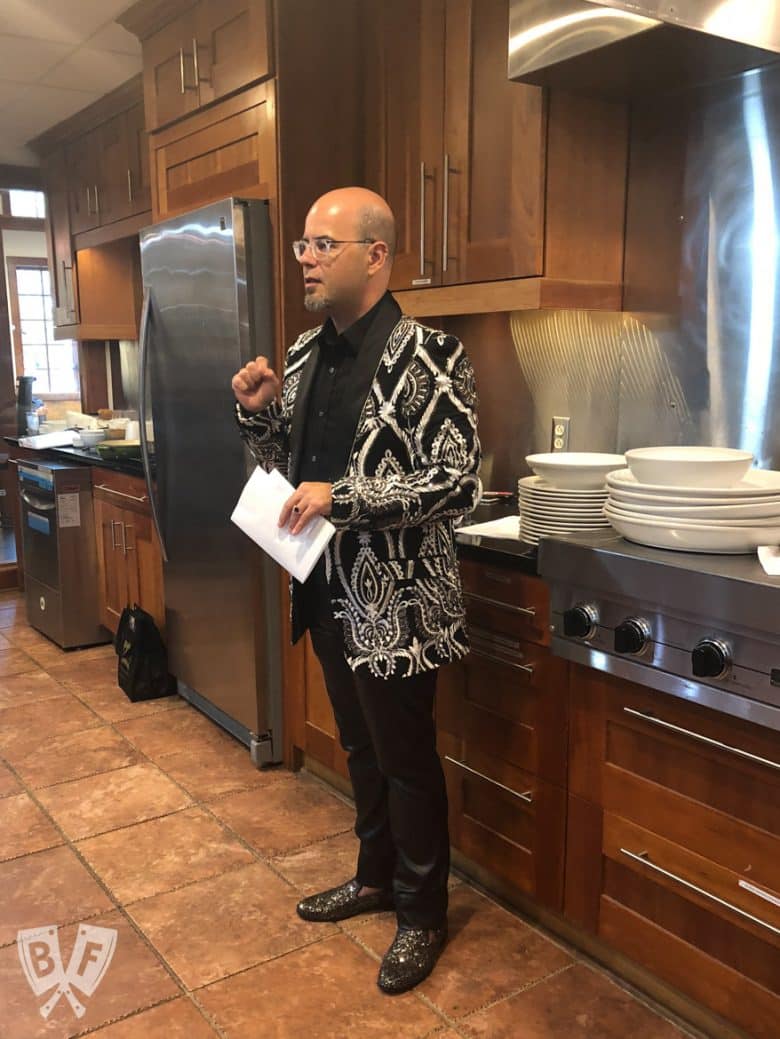 Being in a cooking competition AND being interviewed live while I was cooking - it was all new to me, but I realized that it was a lot of fun.
So after I returned home from my press trip, I asked my readers if they'd be interested in me going on Facebook LIVE to cook my grandma's sugar cookie recipe. There was a LOT of interest, so I went for it!
I like the LIVE video thing because I don't have to spend time to sit and produce, edit, etc., which is what was causing me to overthink "regular" cooking videos.
I wanted everything to be perfect, so I just never got things shot, edited, and put out into the world.
Perfect is overrated. LIVE video forces me to just go with the flow.
And it helps that I'm totally fine laughing at myself. A lot.
Since I started that, I've done a (mostly) weekly Facebook LIVE on Fridays. I'm currently doing them at 11am EDT over on my Facebook page. It's a great way to interact with my audience and show them how recipes actually come together.
I love being able to take and answer questions on the fly, and also showing people that sometimes even professionals forget things or goof up, and it still works out OK in the end.
Everything doesn't have to be perfect, and you'll learn more as you go. Try new things. You may just end up loving them!
13. Listen to your audience and help them where they are today
One of the most important things I've learned over my 13 years of food blogging is to really listen to what your audience is looking for.
Surveys are a great way to do this. Sometimes I'll do a poll over on Facebook or Instagram if I'm looking for quick feedback on what types of recipes and content my audience is interested in.
I've also done more in-depth surveys when I have more specific questions that I'd like to ask. Both methods can be really eye-opening and can show you what you're doing right, what you could improve upon, and maybe even spark ideas for new recipes and content down the line.
Things change. Food trends come and go. What worked in the past may not work today, and what works today might not work a week from now... and that's fine. Take it as an opportunity to grow. Just embrace the chaos and have fun!
PHEW.
I believe that more than wraps it up. Thanks for sticking around, and here's to many more years of deliciousness here on Big Flavors!
Doing some online shopping? Check out my Amazon Shop page for recommendations!