This post may contain affiliate links, which won't change your price but will share some commission.
I got a zucchini from a friend's garden a few days ago, so when I saw this listed in the "New uses for zucchini" section of the current issue of Cooking Light, I knew I wanted to try it out. This was a great chance to use my mandoline - I usually forget that I have it until I slice a bunch of things super thinly. On a side note...always use the hand guard on your mandoline. I stupidly didn't and I nicked my thumb. It could have been much worse, but it was still pretty nasty.
Anyway, this is a great spin on traditional pickles, and it only has to sit in the fridge for a day. The red pepper flakes make them nice and spicy, and the sugar sweetens the vinegar up just the right amount. I'll definitely make these again - they're great! The other suggestions for new ways to use zucchini in the same article include reinventing coleslaw and moistening lean meatloaf.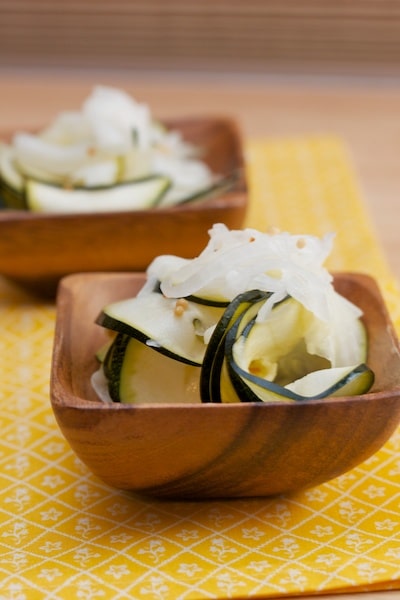 Zucchini Pickles
Cooking Light August 2010
Combine 4 cups ⅛-inch zucchini slices, 1 cup slivered sweet onion, and 3 thinly sliced garlic cloves in a glass bowl. Bring 1 cup white vinegar, ½ sugar, ¾ teaspoon crushed red pepper, 1 teaspoon mustard seeds, and ¾ teaspoon kosher salt to a boil; pour over zucchini mixture. Cover and chill 24 hours.
MacGourmet Rating: 5 Stars