This post may contain affiliate links, which won't change your price but will share some commission.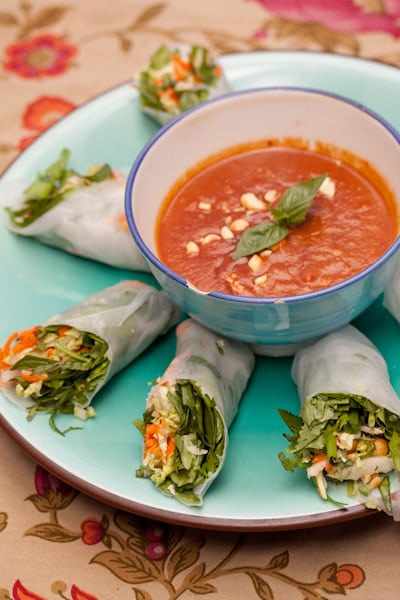 We went to visit the Garden Fairy's cottage so we could help her out in her garden as a thank you for all of the wonderful produce she's been giving us. It was a beautiful day, we got a lot done, and we decided to cook some Vietnamese food together. Everything turned out great! These summer rolls are pretty labor intensive, but my oh my are they tasty! There are a lot of ingredients, but once you get them all prepped, assembly goes pretty quickly. We were so excited to be cooking together after a long day of working outside that we may have missed a few steps, but everything was delicious. You may be asking yourself where the noodles are in these beautiful summer rolls. We forgot about them until after we assembled all of the rolls, so we used those noodles for the main course instead. No harm. I do need to point out that this peanut sauce is seriously amazing...and it definitely helped that a lot of the veggies and herbs were picked just minutes before we started cooking from her wonderful garden. Yum!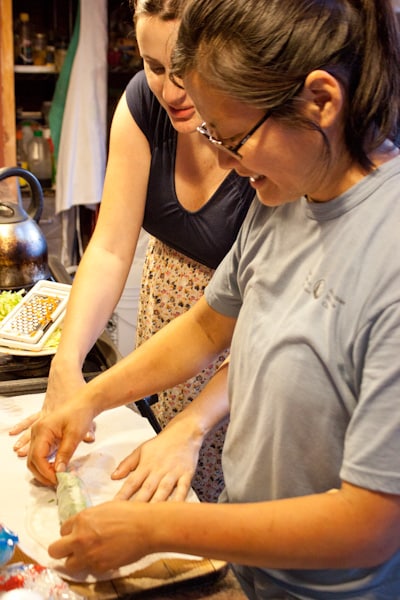 Vegetable Summer Rolls
Gourmet May 2001
yield: Makes 4 servings
active time: 50 min
total time: 1 hr
For peanut sauce:
3 tablespoons finely chopped onion
1 small garlic clove, minced
¾ teaspoon dried hot red pepper flakes
1 teaspoon vegetable oil
3 tablespoons water
1 tablespoon creamy peanut butter
1 tablespoon hoisin sauce
1 teaspoon tomato paste
¾ teaspoon sugar
For summer rolls:
1 ounce bean thread noodles (cellophane noodles)
1 tablespoon seasoned rice vinegar
4 (8-inch) rice-paper rounds, plus additional in case some tear
2 red-leaf lettuce leaves, ribs cut out and discarded and leaves halved
¼ cup fresh mint leaves
¼ cup fresh basil leaves (preferably Thai)
½ cup thinly sliced Napa cabbage
¼ cup fresh cilantro leaves
⅓ cup coarsely shredded carrot (1 medium)
Make sauce:
Cook onion, garlic, and red pepper flakes in oil in a small heavy saucepan over moderate heat, stirring, until pale golden, about 4 minutes. Whisk in remaining sauce ingredients. Simmer, whisking, 1 minute, then cool.
Make summer rolls:
Cover noodles with boiling-hot water and soak 15 minutes, then drain well in a sieve. Pat dry between paper towels and toss with vinegar and salt to taste.
Put a double thickness of paper towel on a work surface and fill a shallow baking pan with warm water. Soak 1 rice-paper round (make sure there are no holes) in warm water until pliable, 30 seconds to 1 minute, then transfer to paper towels.
Arrange 1 piece of lettuce on bottom half of soaked rice paper, folding or tearing to fit and leaving a 1-inch border along edge. Spread one fourth of peanut sauce over lettuce and top with one fourth each of mint, basil, cabbage, and noodles. Roll up rice paper tightly around filling and, after rolling halfway, arrange one fourth of cilantro and carrot along crease. Then fold in sides and continue rolling. Transfer summer roll to a plate and cover with dampened paper towels.
Make 3 more rolls in same manner. Serve rolls halved on the diagonal.
Cooks' note: Summer rolls may be made 6 hours ahead and chilled, wrapped in dampened paper towels in a sealed plastic bag. Bring rolls to room temperature before halving and serving.
Big Flavors Rating: 5 Stars