This post may contain affiliate links, which won't change your price but will share some commission.
I wanted to make a shrimp dish tonight, and I figured Tyler Florence would have some good options for me. I came across this recipe and thought it would be perfect. I had some shallots that I needed to use up anyway, so all I needed to pick up was a lemon and some parsley. Easy enough! This was really tasty. My only complaint with it is that the breading gets soggy from stirring them back into the sauce. But the flavor is great. Definitely a nice, easy main course for a busy day.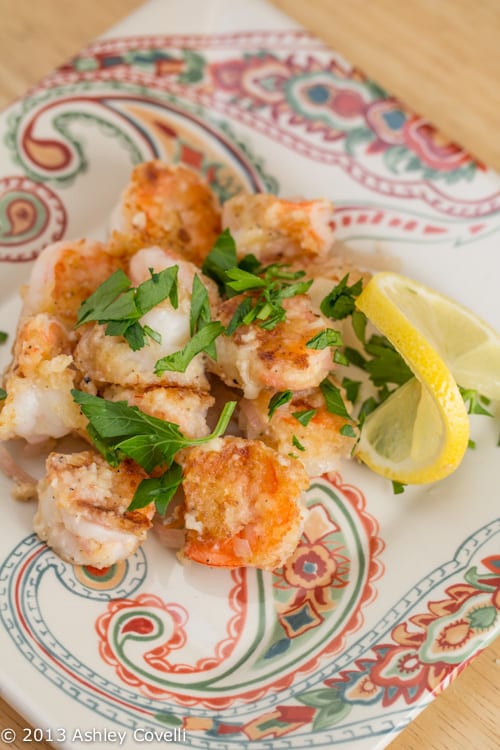 Sauteed Shrimp
Food 911 - Tyler Florence
Yield: 4 Servings
½ cup all-purpose flour
Sea salt and freshly ground black pepper
1 pound jumbo shrimp, peeled and de-veined
2 tablespoons unsalted butter
2 tablespoons olive oil
2 garlic cloves, finely chopped
2 shallots, finely chopped
1 lemon, juiced
½ cup chicken broth
Chopped fresh flat-leaf parsley, for garnish
Put the flour on a plate and season with a healthy amount of salt and pepper; mix with a fork to combine evenly. Dredge the shrimp in the seasoned flour to coat all sides.
Heat the butter and oil in a heavy bottomed pan over medium heat until butter stops foaming and just starts to turn a light brown. Add the shrimp, and give it a toss, saute for 5 minutes until the shrimp is firm and there is a crispy coating on the outside. Remove the shrimp to a side plate and cover to keep warm.
Put the pan back on the heat and add the garlic and shallots. Cook and stir for 1 minute until soft. Add the lemon juice and chicken broth, give it a stir and let it cook down for 1 minute to thicken slightly. Put the shrimp back in the pan and coat in the lemon sauce. Season with salt and pepper and garnish with chopped parsley before serving.
Big Flavors Rating: 4 Stars