This post may contain affiliate links, which won't change your price but will share some commission.
In honor of this blog turning 5 on August 1st (woah!!), I wanted to make something with Chinese Five Spice powder. It's a flavor that I only recently started enjoying, and I thought it might be fun to try to crust some tofu with it. I wasn't going to be around to cook dinner on my actual Blogiversary, so I decided to make it the night before instead. It turned out pretty well! The crust on the tofu was great, and the fried rice was spicy and filling. It could definitely be tweaked to be better, but we were happy with it.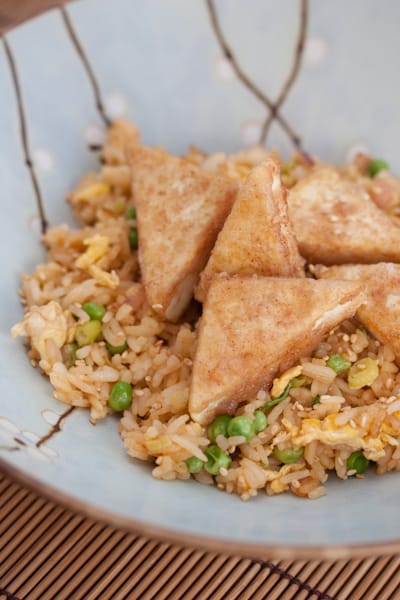 Chinese Five Spice Crusted Tofu over Fried Rice
Ashley Covelli
Serves 4
2 cups white rice, cooked according to package directions (and preferably leftover)
1 lb extra firm tofu cut into half-inch thick slices
¼ c cornstarch
1 t Chinese five spice powder
peanut oil, for frying
½ c green onion, chopped
⅓ c red onion, diced
2 eggs, beaten
¾ c frozen sweet peas
Sauce:
¼ c low sodium soy sauce
1 T sriracha
2 t Dijon
1 t sesame oil
1-2 t garlic, minced
1 t freshly grated ginger
Mix sauce ingredients together in a small bowl. Set aside.
Place tofu slices on a cutting board between a few layers of paper towels and press for at least 15 minutes to get extra moisture out. I like to cover it with another cutting board and place a few cans of veggies on top to weigh it down. a heavy skillet on top would work, too. Cut into cubes or triangles.
Heat peanut oil over medium-high heat in a large nonstick skillet or wok. Mix cornstarch and five spice together in a bowl and toss tofu to coat. Dust off excess cornstarch and add to the hot oil. Fry until golden brown on one side, and then flip to cook the other side. When tofu is done, remove from pan onto a paper towel-lined plate to drain off excess oil.
Add a little more oil to the skillet if you need to, and sauté red onions until translucent. Add eggs and stir-fry until cooked through. Add in leftover rice, stirring frequently. Once rice starts to heat through and get a little brown, add green onions, peas and sauce. Stir to mix everything together and heat peas through.
Serve tofu over rice and enjoy!
Big Flavors Rating: 4 Stars