This post may contain affiliate links, which won't change your price but will share some commission.
I made this recipe with some turkey cutlets that we had in the freezer. It turned out good, but there wasn't enough sauce. It's super easy, though, so it scores some points for that. I served it over egg noodles, which were the perfect accompaniment.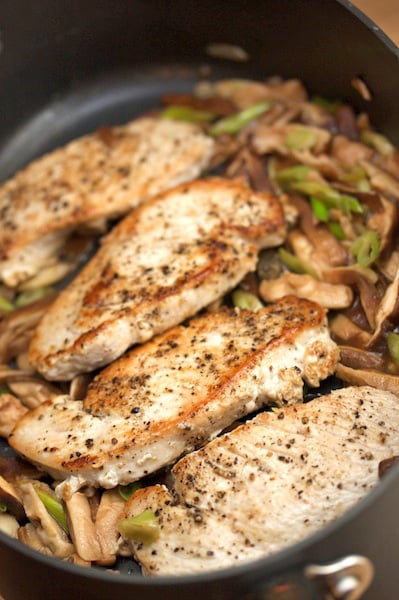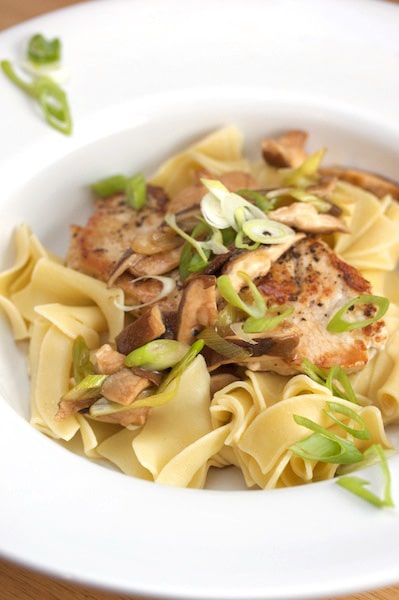 Chicken and Shiitake Marsala
Cooking Light April 2009
Marsala, a fortified Italian wine recognized for its golden brown color and sweet, nutty flavor, is used in both sweet and savory dishes. Along with the smoky mushrooms in this recipe, the wine creates a rich, aromatic sauce. Dry sherry is a good substitute for Marsala.
Prep: 1 minute; Cook: 14 minutes
Prep Time: 1 minute
Cook Time: 14 minutes
Yield: 4 servings (serving size: 1 chicken breast half and about ¼ cup mushroom sauce)
4 (6-ounce) skinless, boneless chicken breast halves
Cooking spray
¼ teaspoon salt
¼ teaspoon black pepper
2 (3 ½-ounce) packages shiitake mushrooms, sliced
½ cup Marsala wine
2 green onions, finely chopped (about ⅓ cup) and divided
2 tablespoons butter
1. Place each chicken breast half between 2 sheets of heavy-duty plastic wrap; pound to ½-inch thickness using a meat mallet or small heavy skillet.
2. Heat a large nonstick skillet over medium-high heat. Coat pan with cooking spray. Sprinkle chicken evenly with salt and pepper. Add chicken to pan. Cook 5 to 6 minutes on each side or until done. Remove chicken and drippings from pan; set aside, and keep warm.
3. Heat pan over medium-high heat; coat pan with cooking spray. Add mushrooms. Coat mushrooms with cooking spray; cook 2 minutes or until tender, stirring frequently. Add wine and 3 tablespoons onions. Cook 30 seconds over high heat. Reduce heat; add butter, stirring until butter melts.
4. Add chicken and drippings to pan, stirring gently. Place chicken on platter. Spoon mushroom sauce over chicken; sprinkle with remaining onions.
Nutritional Information
Calories: 291 (24% from fat)
Fat: 8g (sat 4.2g,mono 2g,poly 0.7g)
Protein: 40.9g
Carbohydrate: 6.2g
Fiber: 0.6g
Cholesterol: 114mg
Iron: 1.6mg
Sodium: 303mg
Calcium: 40mg
MacGourmet Rating: 3 Stars