This post may contain affiliate links, which won't change your price but will share some commission.
Growing up, I never ate seafood. My mom didn't like it, so she never made it. I thought I didn't like it until I started to try new things once I moved east. Canned tuna is something that I'm still not crazy about, but for some reason, I was craving tuna noodle casserole. I've never had it before... I just wanted to try it. So I found this recipe - one that didn't call for a can of soup, and made this for dinner. It was really tasty! I used whole wheat breadcrumbs on top and threw a little parsley on for a bit of freshness on top. It was a big hit!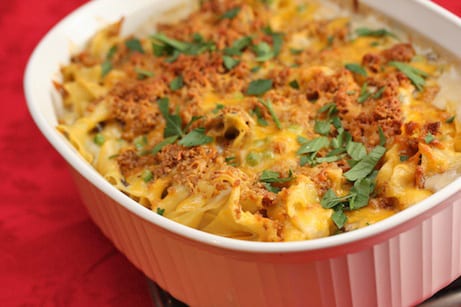 Tuna Noodle Casserole from Scratch
Allrecipes MVANWINKLE
"No canned soup mix in this recipe! Mushrooms, onions, celery, and peas all go into this comfort casserole."
Prep Time: 30 Min
Cook Time: 45 Min
Ready In: 1 Hr 15 Min
½ cup butter, divided
1 (8 ounce) package uncooked medium egg noodles
½ medium onion, finely chopped
1 stalk celery, finely chopped
1 clove garlic, minced
8 ounces button mushrooms, sliced
¼ cup all-purpose flour
2 cups milk
salt and pepper to taste
2 (6 ounce) cans tuna, drained and flaked
1 cup frozen peas, thawed
3 tablespoons bread crumbs
2 tablespoons butter, melted
1 cup shredded Cheddar cheese
1. Preheat oven to 375 degrees F (190 degrees C). Butter a medium baking dish with 1 tablespoon butter.
2. Bring a large pot of lightly salted water to a boil. Add egg noodles, cook for 8 to 10 minutes, until al dente, and drain.
3. Melt 1 tablespoon butter in a skillet over medium-low heat. Stir in the onion, celery, and garlic, and cook 5 minutes, until tender. Increase heat to medium-high, and mix in mushrooms. Continue to cook and stir 5 minutes, or until most of the liquid has evaporated.
4. Melt 4 tablespoons butter in a medium saucepan, and whisk in flour until smooth. Gradually whisk in milk, and continue cooking 5 minutes, until sauce is smooth and slightly thickened. Season with salt and pepper. Stir in tuna, peas, mushroom mixture, and cooked noodles. Transfer to the baking dish. Melt remaining 2 tablespoons butter in a small bowl, mix with bread crumbs, and sprinkle over the casserole. Top with cheese.
5. Bake 25 minutes in the preheated oven, or until bubbly and lightly browned.
Nutritional Information:
Amount Per Serving Calories: 562 | Total Fat: 31.3g | Cholesterol: 125mg
MacGourmet Rating: 4 Stars