This post may contain affiliate links, which won't change your price but will share some commission.
I've heard about using fresh corn raw, but didn't want to try it until the season was right, and I was able to pick up some really fresh corn from the Farmers' Market. I also used that giant heirloom tomato and some leaves from my new basil plant in this recipe. It's fresh and sweet, and tastes amazing! The vinegar adds a nice tang, and the basil brightens the salad up. This was a huge hit!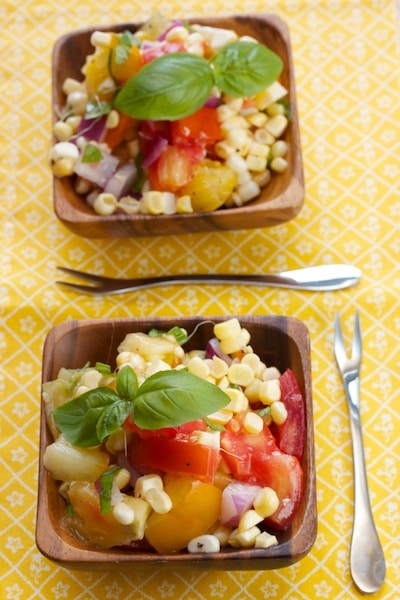 Tomato-Corn Salad
Sunset August 2006
Fresh corn is often so sweet and tender that there is no need to cook it. Prep Time: 15 minutes. Notes: Chef Bart Hosmer uses basil flowers in this dish. Just pull the flowers from the stalks and sprinkle them like confetti into the salad in place of (or in addition to) the chopped basil. They add a light, floral note.
Makes 4 to 6 servings
3 ears sweet corn
1 pound tomatoes, diced
¼ cup diced torpedo onion or red onion, rinsed in cold water and patted dry with paper towels
1 tablespoon rice wine vinegar
¼ cup chopped basil
Salt and pepper
1. Over a large bowl, cut kernels off corn cobs and stir in tomatoes and onion. Toss with vinegar and basil; season with salt and pepper to taste.
Tomatoes with wine: Parcel 104's Master Sommelier, Randall Bertao, likes wines with clean, focused flavors and a medium acidity to balance the tomatoes--such as Charles Melton Rosé 2004 (Barossa Valley, Australia; $12) and Merry Edwards Sauvignon Blanc 2005 (Russian River Valley, CA; $27).
Nutritional Information
Calories: 58 (12% from fat)
Protein: 2.3g
Fat: 0.8g (sat 0.1)
Carbohydrate: 13g
Fiber: 2.4g
Sodium: 14mg
Cholesterol: 0.0mg
Big Flavors Rating: 5 Stars