This post may contain affiliate links, which won't change your price but will share some commission.
I've been wanting to try one of Rachael Ray's MYOTO (Make Your Own Take Out) recipes for a while now. I love the idea of having food like that but homemade. This was really good with one caveat - it NEEDS a drizzle of soy sauce at the end. It really boosts the flavor. I'd probably use rice noodles next time, too. Something like bean sprouts or peanuts on top would add some nice texture, too. I couldn't find shell steaks, so I used a flank steak, and I broiled it (I didn't have enough room for a soup pot, a pasta pot AND a grill pan on my stove. Needless to say, this was a meal that made us really glad we finally got a dishwasher!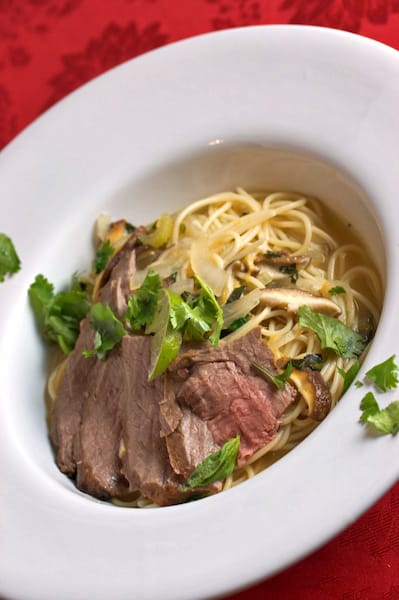 Thai-Style Grilled Beef in Broth with a Lot o'Noodles (MYOTO)
Express Lane Meals - Rachael Ray
Thai-style food made with ingredients available in any grocery store. If you're not into beef, try it with pork or chicken, instead.
4 Servings
Salt
½ pound thin pasta, such as vermicelli*
3 inch piece fresh ginger, peeled and grated
2 tablespoons Worcestershire sauce
4 tablespoons vegetable oil
4 ½ inch thick shell steaks
1 teaspoon ground coriander
½ teaspoon ground cumin
1 large onion, thinly sliced
1 medium carrot, peeled and grated
2 celery ribs, thinly sliced
1 jalapeño or serrano pepper, seeded and finely chopped
12 shiitake mushrooms, stems removed and discarded, caps thinly sliced
Black pepper
5 cups chicken stock
¼ cup fresh cilantro leaves, chopped, a generous handful
¾ cups basil, chopped, about 15 leaves
Juice of 1 lime
Preheat an outdoor grill or grill pan over high heat.
Bring a large pot of water with a tight-fitting lid to a boil over high heat to cook the pasta. Once it comes to a boil, add some salt and the pasta. Cook the pasta according to the package directions until it is al dente, drain, and run it under cold water to rinse off some of the starch. Let the noodles sit in the colander for a few minutes to dry off.
While the water is coming up to a boil, in a shallow dish combine half of the ginger, the Worcestershire sauce, 2 tablespoons of the vegetable oil, and the hot sauce. Add the shell steaks and let them marinate while you get everything else working.
Preheat a soup pot over medium-high heat with the remaining 2 tablespoons of vegetable oil, twice around the pan. Add the coriander and cumin and toast them for about 30 seconds, stirring constantly. Add the onions, garlic, carrots, celery, the remaining ginger, the jalapeño or serrano pepper, shiitake mushrooms, salt and a little pepper; cook, stirring every now and then, for 3 to 4 minutes. Add the chicken stock and bring it up to a bubble; reduce the heat and then let it simmer for 10 to 15 minutes.
While the broth is cooking away, get the steaks cooking. Season the steaks with a little salt, transfer them to the hot grill, and cook on each side for about 2 minutes. Remove them from the grill and let them rest for a few minutes. Thinly slice the steaks on a sharp angle (this is always easier to do when you are using a sharp knife). Cut the thin slices in half.
Once the broth is simmering, add the cooked drained noodles, the cilantro, and basil. Reheat the noodles, 1 minute. Add the lime juice to the pot and then taste for seasoning; add salt and pepper accordingly. To serve, use kitchen tongs to transfer 4 servings of the noodles and veggies to soup bowls. Top each noodle pile with some of the grilled sliced steak, then ladle some of the broth over the top.
*Optional: use Gluten Free
MacGourmet Rating: 4 Stars