This post may contain affiliate links, which won't change your price but will share some commission.
These burgers are really different from any other burgers we've had. I cut the recipe in half, and it made the burgers too airy, and we lost some of the meat into the grill. But they were really tasty, and the glaze was sweet and delicious. I didn't have any big tomatoes, so I used some grape tomatoes, and I served it with a pea shoot salad.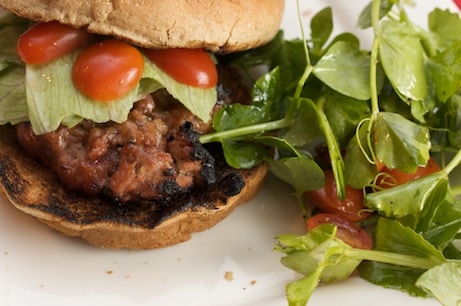 Tamarind-Glazed Turkey Burgers
Bon Appétit July 2006
As culinary director for Balducci's, Katy Sparks brought take-out food to a whole new level. Instead of the typical fried chicken and heavy potato salad, the market offers horseradish-crusted salmon and grilled fingerling potatoes with lemon. In this recipe she's taken the often-bland turkey burger to a higher plane, with the addition of tamarind.
Makes 8
Glaze
2 tablespoons canola oil
1 tablespoon minced peeled fresh ginger
½ cup tamarind concentrate*
½ cup honey
¼ cup water
2 tablespoons fresh lime juice
Burgers
½ cup mayonnaise
1 tablespoon minced peeled fresh ginger
2 teaspoons salt
1 red jalapeño chile with seeds, minced
1 teaspoon ground black pepper
½ cup chopped green onions
2 ½ pounds ground natural turkey
8 4-inch-diameter rolls (such as potato or kaiser), split horizontally
8 large thin red onion slices
8 large ⅓-inch-thick tomato slices
8 lettuce leaves
For glaze:
Heat oil in heavy medium saucepan over medium-high heat. Add ginger and sauté 2 minutes. Add tamarind concentrate, honey, and water and bring to boil. Reduce heat; simmer until thick enough to coat spoon and reduced to 1 ¼ cups, stirring often, about 8 minutes. Cool completely (volume will reduce as glaze cools); mix in lime juice.
Do ahead: Can be made 2 days ahead. Cover and chill.
For burgers:
Stir mayonnaise, ginger, salt, jalapeño, black pepper, and 4 teaspoons glaze in large bowl to blend; mix in green onions. Add ground turkey; blend gently (do not pack tightly). Shape mixture into eight ½-inch-thick patties. Arrange patties on small baking sheet.
Do ahead: Can be made 8 hours ahead. Cover and chill.
Prepare barbecue (medium heat). Grill rolls, cut side down, until golden, about 2 minutes; transfer to work surface. Grill burgers until cooked through and thermometer inserted into center registers 160°F, about 8 minutes per side. Brush each burger with glaze. Place 1 burger, glazed side down, on each roll bottom; brush each burger with more glaze. Top each with onion, tomato, lettuce, and roll top. Serve, passing remaining glaze separately.
*Sometimes labeled tamarind paste, tamarind concentrate is a dark, seedless paste with a tart-sweet flavor. It's available at Middle Eastern and Indian markets, and at some Asian markets.
Test-kitchen tip: Combine and shape the turkey mixture gently to ensure turkey burgers. Meat that is overworked becomes too compact and results in dry burgers.
MacGourmet Rating: 4 Stars