This post may contain affiliate links, which won't change your price but will share some commission.
This spicy tofu dish was a great way to end the week. I wasn't able to find black bean sauce that had garlic, so I added a minced clove into the sauce. There's a generous amount of sambal oelek, so it's nice and spicy. It's not quite a vegetarian dish because of the chicken broth, but I'm sure you could substitute vegetable stock instead. I ended up broiling the tofu for a few extra minutes to get it nice and golden brown, and I really liked the texture that way.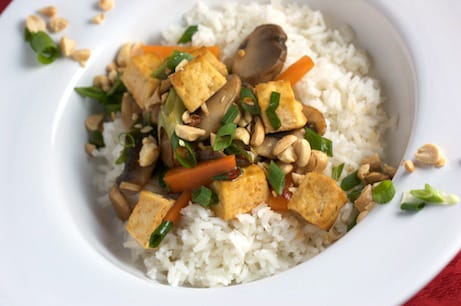 Szechuan-Style Tofu with Peanuts
Cooking Light March 2010
Yield: 4 servings (serving size: ¾ cup rice, about ¾ cup tofu mixture, and 1 tablespoon peanuts)
2 (3 ½-ounce) bags boil-in-bag jasmine rice
1 (14-ounce) package water-packed firm tofu, drained and cut into 1-inch pieces
Cooking spray
½ cup fat-free, less-sodium chicken broth
1 tablespoon sambal oelek (ground fresh chile paste)
1 tablespoon less-sodium soy sauce
1 teaspoon cornstarch
2 teaspoons black bean garlic sauce
1 tablespoon canola oil
¼ teaspoon salt
1 (8-ounce) package presliced mushrooms
½ cup matchstick-cut carrots
1 tablespoon bottled ground fresh ginger (such as Spice World)
½ cup chopped green onions
¼ cu unsalted dry-roasted peanuts, chopped
1. Preheat broiler.
2. Cook rice according to package directions, omitting salt and fat.
3. Arrange tofu in a single layer on a foil-lined jelly-roll pan coated with cooking spray; broil 14 minutes or until golden.
4. While tofu cooks, combine broth and next 4 ingredients (through black bean sauce), stirring with a whisk; set aside.
5. Heat oil in a large nonstick skillet over medium-high heat. Add salt and mushrooms; sauté 4 minutes or until mushrooms begin to release liquid, stirring occasionally. Stir in carrots and ginger; cook 1 minute. Add broth mixture; cook 30 seconds or until sauce begins to thicken. Remove from heat; stir in tofu and onions. Serve over rice; sprinkle with peanuts.
Calories: 389
Fat: 14.3g (sat 2.1g,mono 5.5g,poly 6.2g)
Protein: 17.2g
Carbohydrate: 51.6g
Fiber: 2.4g
Cholesterol: 0.0mg
Iron: 4mg
Sodium: 619mg
Calcium: 92mg
MacGourmet Rating: 4 Stars