This post may contain affiliate links, which won't change your price but will share some commission.
This was a pretty easy meal to make. I didn't have any soba noodles, so I used whole wheat spaghetti instead. This was nice and spicy and we really enjoyed it.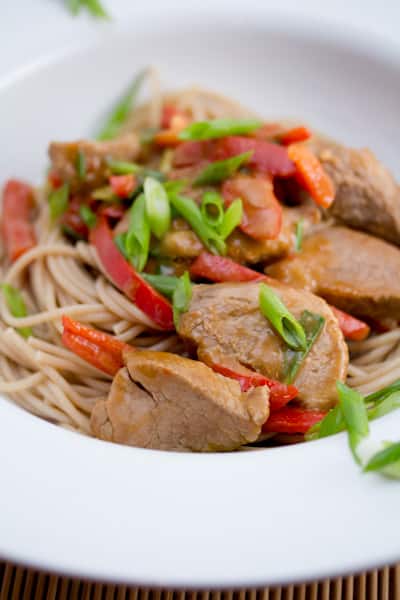 Szechuan Pork
Cooking Light June 2008
Fresh sliced pineapple makes a nice companion for this one-dish meal.
Yield: 4 servings (serving size: 1 cup pork mixture and ½ cup noodles)
6 ounces soba (buckwheat) noodles, uncooked
2 teaspoons dark sesame oil
1 (1-pound) pork tenderloin, trimmed and cut into 2-inch strips
1 tablespoon chili garlic sauce (such as Lee Kum Kee)
1 teaspoon bottled ground fresh ginger (such as Spice World)
¾ cup red bell pepper strips (about 1 small pepper)
¼ cup fat-free, less-sodium chicken broth
1 ½ tablespoons low-sodium soy sauce
1 tablespoon peanut butter
¾ cup (2-inch) diagonally cut green onions (about 4 green onions)
1. Cook noodles according to package directions. Drain and rinse with cold water; drain.
2. Heat oil in a large nonstick skillet over medium-high heat. Add pork, chili garlic sauce, and ginger to pan; stir-fry for2 minutes. Add bell pepper to pan; stir-fry 2 minutes. Add broth, soy sauce, and peanut butter to pan. Reduce heat to low; cook for 1 minute or until sauce is slightly thick. Stir in onions. Serve over noodles.
Amount per serving:
Calories: 338
Calories from fat: 23%
Fat: 8.6g
Saturated fat: 2.2g
Monounsaturated fat: 3.5g
Polyunsaturated fat: 1.9g
Protein: 30.4g
Carbohydrate: 36.8g
Fiber: 1.7g
Cholesterol: 63mg
Iron: 2.9mg
Sodium: 693mg
Calcium: 40mg
Big Flavors Rating: 4 Stars