This post may contain affiliate links, which won't change your price but will share some commission.
This tangy side was our other contribution to this month's Swiss themed Supper Club dinner. The way the recipe was originally written wasn't very clear, and had a few errors, so I've revised it below.
Apples and brown sugar add the sweet while vinegar and lemon juice add the sour to this warming side dish while red wine and butter make it nice and rich.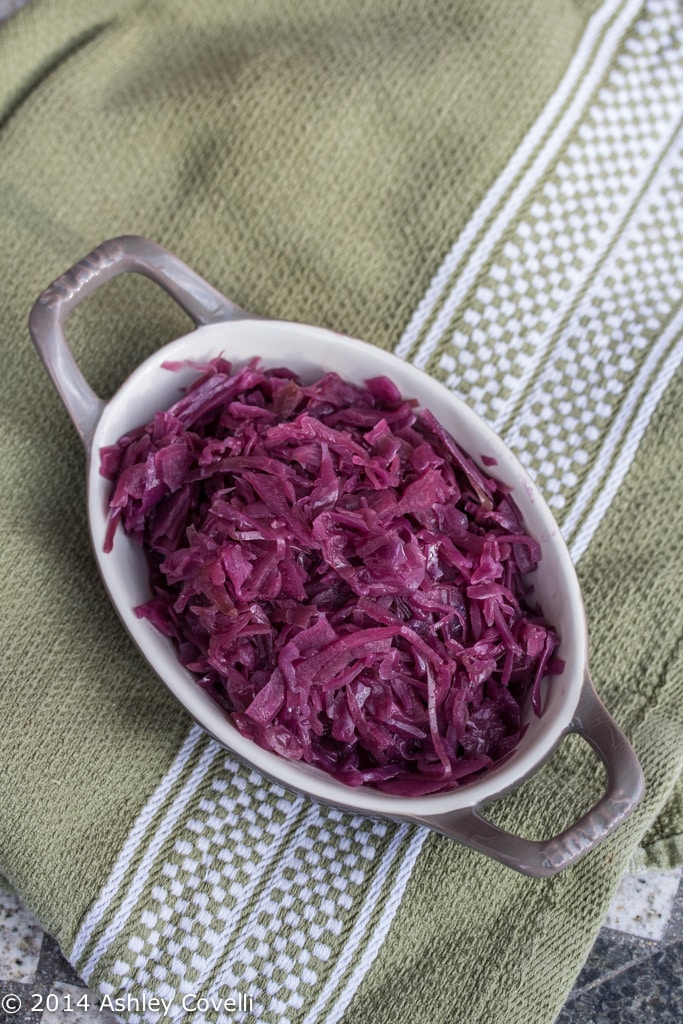 This went great with all of the other Swiss dishes that we enjoyed that evening. The tanginess was perfect to cut through some of the richer dishes. I'll definitely be making this one again!
The prep work on this dish will go much faster if you shred the cabbage with the shredder blade on a food processor. My head of cabbage was gigantic, and I couldn't fit it all into the Dutch oven, so I didn't use it all. I think I see a red cabbage slaw in my future!
Suss-Saures Rotkraut (Sweet-And-Sour Red Cabbage)
Adapted from Food.com
½ cup unsalted butter, divided
4 medium apples, peel, slice
½ red onion, chopped
1 head red cabbage, finely shredded
1 cup red wine
4 whole cloves
⅓ cup brown sugar
2 bay leaves
¼ cup apple cider vinegar
Juice of 1 lemon
1 Melt ¼ cup butter in 4-quart dutch oven.
2 Add apples and onions, sauté slightly.
3 Add finely shredded cabbage, red wine, cloves, sugar, and bay leaves.
4 Simmer, covered, for 1 hour.
5 Add vinegar and lemon juice and stir to combine.
6 Add remaining ¼ cup butter and continue to cook until melted. Stir well to combine. Remove bay leaves and cloves (if you can find them) and serve.
Big Flavors Rating: 4 Stars