This post may contain affiliate links, which won't change your price but will share some commission.
We finally got back to our Supper Club this month for the first time since our baby arrived. The theme was Bobby Flay recipes. I chose one that turned out really well, but it didn't make a whole lot. Everything in this recipe cooks down, so it feels like you start out with enough, but it shrinks a lot. The crispy pancetta and the tang of the lemon juice at the end really make this dish special. I'd definitely make this again!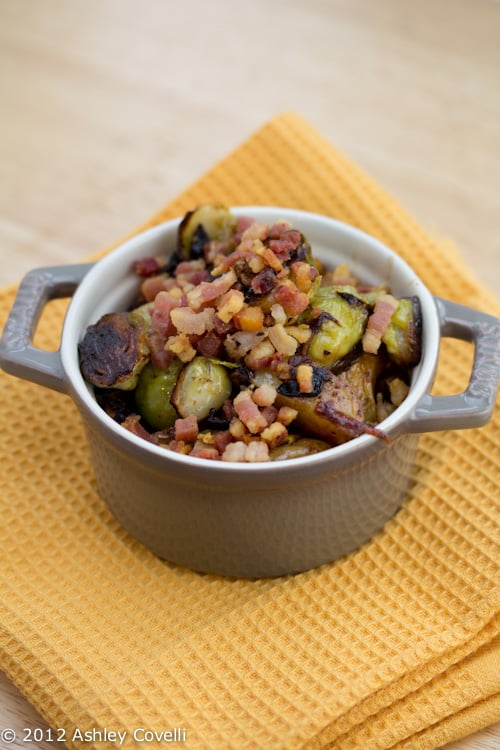 Roasted Brussels Sprouts with Pancetta
Bobby Flay
Total Time: 40 min
Prep: 10 min
Cook: 30 min
Yield: 4 servings
3 tablespoons olive oil
½ pound sliced pancetta, diced
4 shallots, thinly sliced
1 pound Brussels sprouts, trimmed and halved
8 baby Yukon gold potatoes, quartered
Salt and freshly ground pepper
2 tablespoons unsalted butter
1 lemon, juiced
Preheat oven to 425 degrees F.
Heat oil over medium heat in a roasting pan or large skillet. Add the pancetta and cook until golden brown and crisp. Remove the pancetta to a plate lined with paper towels. Add the shallots to the pan and cook until soft. Add the Brussels sprouts and potatoes and toss to combine. Season with salt and pepper and roast in the oven until the vegetables are cooked through and golden brown. Remove the vegetables from the oven and stir in the butter and lemon juice. Transfer to a platter and top with the reserved pancetta.
Big Flavors Rating: 5 Stars