This post may contain affiliate links, which won't change your price but will share some commission.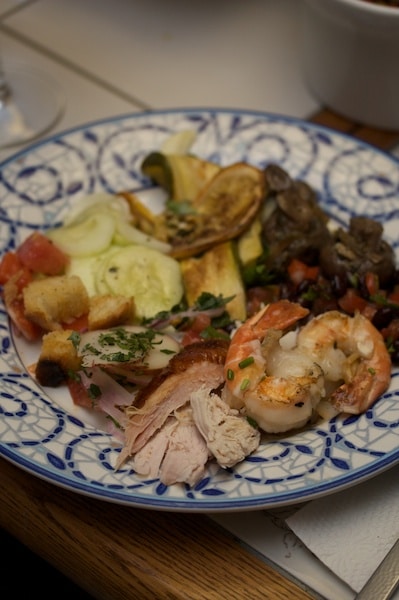 Here's a shot of this month's Supper Club dinner. It was fantastic, as usual! The other dish that we contributed this time around was a marinated mushroom recipe that I found over on Allrecipes. The only change we made was to use baby bellas instead of button mushrooms, because the white mushrooms at the grocery store were really big. This recipe stood out because of the large number of 5 star reviews, but I was skeptical until we actually tried these gems. They were awesome! They absorb all of the tanginess from the vinegar, and the onion and herbs really add an extra zing. This was a great, easy side dish!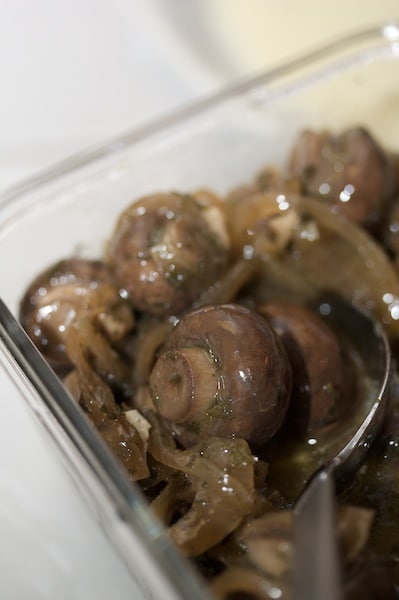 Marinated Mushrooms II
Allrecipes - Cristi Zbella
"This recipe was handed down to me from my Grandma. Little mushrooms are marinated in a zesty mixture. They're great for buffet style gatherings. They keep well for a long time in the fridge, or you may can them in mason jars and store in cupboard."
Prep Time: 15 Min
Cook Time: 12 Min
Ready In: 27 Min
Yield 4 cups
⅓ cup red wine vinegar
⅓ cup olive oil
1 small onion, thinly sliced
1 teaspoon salt
2 tablespoons dried parsley
1 teaspoon ground dry mustard
1 tablespoon brown sugar
2 cloves garlic, peeled and crushed
1 pound small fresh button mushrooms
1. In a medium saucepan, mix red wine vinegar, olive oil, onion, salt, parsley, dry mustard, brown sugar and garlic. Bring to a boil. Reduce heat. Stir in mushrooms. Simmer 10 to 12 minutes, stirring occasionally. Transfer to sterile containers and chill in the refrigerator until serving.
Nutritional Information:
Amount Per Serving Calories: 54 | Total Fat: 4.6g | Cholesterol: 0mg
MacGourmet Rating: 5 Stars