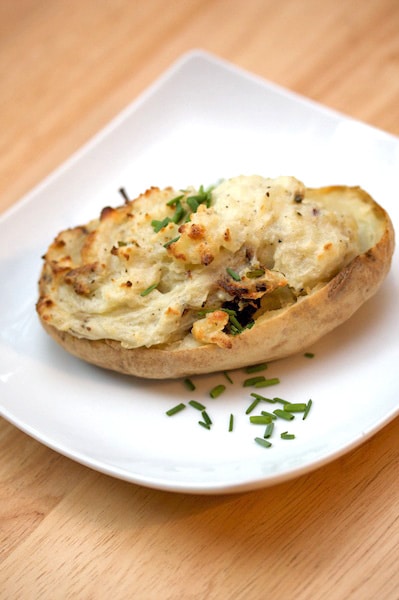 Supper Club: Blue Cheese and Bacon Twice-Baked Potatoes
This post may contain affiliate links, which won't change your price but will share some commission.
This month's Supper Club theme was state foods. We all picked a state name out of a hat and had to make a dish using that state's most popular ingredient (or one of them). I picked Idaho, so of course, I went for potatoes. This recipe was really different than most twice-baked potatoes that I've had. The blue cheese really adds a nice tanginess to this rich potato recipe.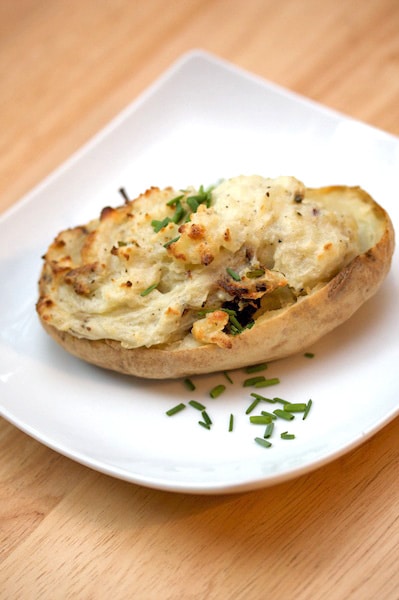 Blue Cheese and Bacon Twice-Baked Potatoes
Cooking Light November 2005
You can stuff and refrigerate the potato shells up to two days ahead. Add about five minutes to the cook time if starting with cold potatoes. Serve with everything from steak to Thanksgiving dinner.
Yield: 8 servings (serving size: 1 stuffed shell)
5 (12-ounce) baking potatoes
1 1/2 cups low-fat buttermilk
1/2 cup (2 ounces) crumbled blue cheese
1/4 cup finely chopped fresh chives
2 tablespoons butter
1 1/4 teaspoons salt
1/4 teaspoon freshly ground black pepper
4 bacon slices, cooked and crumbled
Preheat oven to 375°.
Bake potatoes at 375° for 1 hour or until tender. Cool 10 minutes or until cool enough to handle. Cut each potato in half lengthwise; scoop out pulp, leaving a 1/4-inch-thick shell. Place potato pulp, buttermilk, and remaining ingredients in a large bowl; beat with a mixer at medium speed until well blended. Spoon about 1/2 cup potato mixture into each of 8 shells (reserve remaining shells for another use). Arrange stuffed shells on a baking sheet. Bake at 375° for 20 minutes or until thoroughly heated.
Nutritional Information:
Calories: 264 (25% from fat)
Fat: 7.4g (sat 3.8g,mono 2.7g,poly 0.4g)
Protein: 8.5g
Carbohydrate: 41.7g
Fiber: 3.8g
Cholesterol: 20mg
Iron: 2.3mg
Sodium: 658mg
Calcium: 117mg
MacGourmet Rating: 4 Stars