This post may contain affiliate links, which won't change your price but will share some commission.
I wanted to do something with avocados for our Supper Club, and when I saw this post over on Serious Eats, I knew this was what I wanted to make. This was ridiculously easy to put together, and the "batter" tasted delicious. They turned out nice and refreshing. I really liked the lime flavor in addition to the avocado.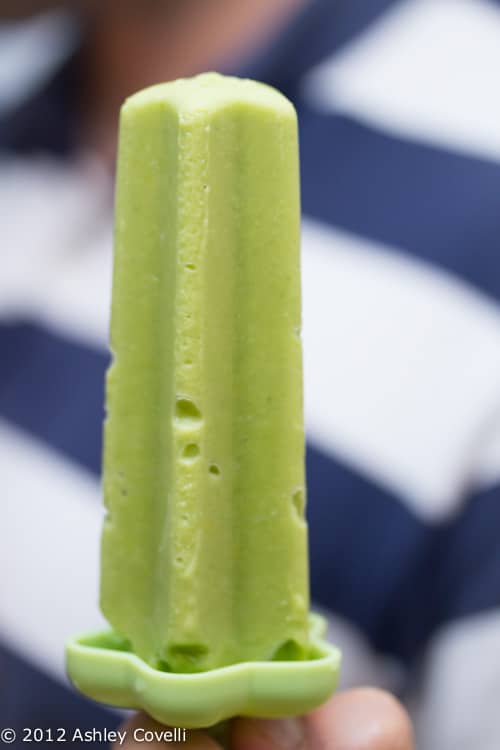 Avocado Paletas
Paletas: Authentic Recipes for Mexican Ice Pops, Shaved Ice & Aguas Frescas - Fany Gerson
The paleta is slightly sweetened and gets its creaminess from the natural avocado oils rather than any dairy.
YIELD: Makes 8 to 10
SPECIAL EQUIPMENT: Paleta molds, sticks
1 cup water
½ cup sugar
2 small ripe avocados
Pinch of salt
2 tablespoons freshly squeezed lime juice
1. Combine the water and sugar in a small saucepan and cook over medium-high heat, stirring, until the mixture comes to a boil and the sugar has dissolved. Let cool to room temperature.
2. Cut the avocados in half lengthwise. Remove the pit and scoop the fl esh into a blender, along with the cooled syrup and salt. Blend until smooth, scraping the sides as needed. Add the lime juice and blend just until combined.
3. If using conventional molds, divide the mixture among the molds, snap on the lid, and freeze until solid, about 5 hours. If using glasses or other unconventional molds, freeze until the pops are beginning to set (1 ½ to 2 hours), then insert the sticks and freeze until solid, 4 to 5 hours. If using an instant ice pop maker, follow the manufacturer's instructions.
Big Flavors Rating: 4 Stars