This post may contain affiliate links, which won't change your price but will share some commission.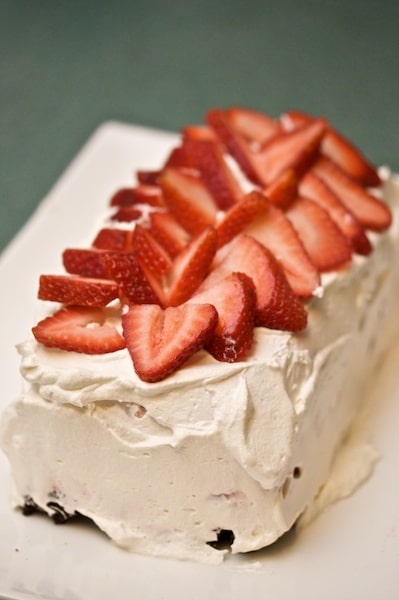 Since it's been so hot here lately, I wanted to make a refreshing, frozen dessert. I found this recipe and thought it looked easy and refreshing. It was a big hit at the dinner party that we brought it to, and it actually stayed frozen on the platter for quite a while. This dessert is great for summer get-togethers.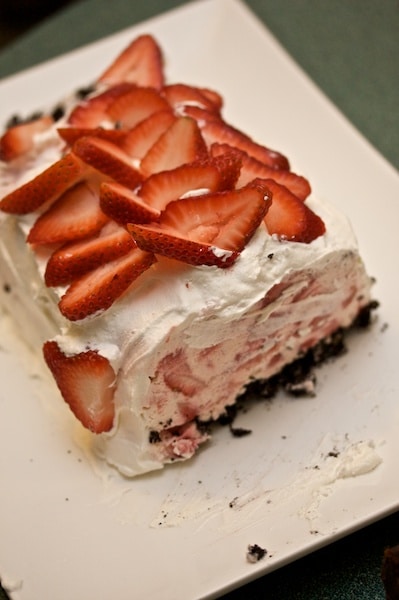 Strawberry Whipped Sensation
Allrecipes - Cool Whip®
"Fresh strawberries in a creamy whipped mixture on a chocolate cookie base are topped with more strawberries for an elegant frozen dessert."
Ready In: 6 Hrs 20 Min
Yield 12 slices
4 cups fresh strawberries, divided
1 (14 ounce) can Eagle Brand® Sweetened Condensed Milk
¼ cup lemon juice
1 (8 ounce) tub COOL WHIP Whipped Topping, thawed, divided
8 OREO Chocolate Sandwich Cookies, finely chopped
1 tablespoon butter, melted
1. Line 9x5-inch loaf pan with foil, with ends of foil extending over sides of pan. Mash 2 cups of the strawberries in large bowl. Add condensed milk, juice and 2 cups of the whipped topping; mix well. Pour into prepared pan.
2. Mix chopped cookies and butter. Spoon over whipped topping mixture. Cover with ends of foil and gently press cookie mixture into whipped topping mixture. Freeze 6 hours or until firm.
3. Invert dessert onto serving plate when ready to serve; remove pan and foil. Spread remaining whipped topping onto top and sides of dessert. Slice remaining 2 cups strawberries; arrange over dessert. Store leftovers in freezer.
Nutritional Information:
Amount Per Serving Calories: 264 | Total Fat: 9.2g | Cholesterol: 14mg
MacGourmet Rating: 4 Stars