This post may contain affiliate links, which won't change your price but will share some commission.
I'm all for easy weeknight meals. Especially with the level of toddler crankiness we've been dealing with as of late.
Terrible twos... they are no joke. He's lucky he's such a cutie 😉
Anyhow, this is a quick and easy weeknight meal that packs a lot of flavor. It's nice and spicy, yet sweet from the orange and honey.
I served these shrimp on top of rice that I cooked in some veggie stock. I tossed a dried bay leaf and a pinch of kosher salt in the rice cooker with it and got on with dinner.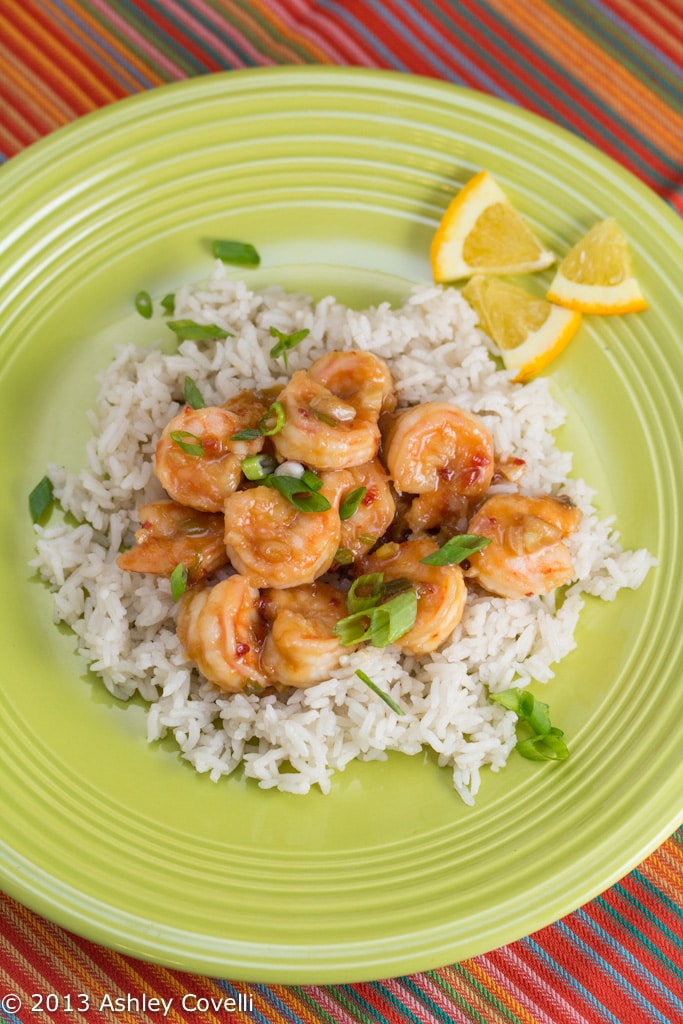 I like keeping a bag of shrimp in the freezer, since they cook up so quickly. It's perfect weeknight meal material. My bag was only a pound, but I didn't bother cutting down the rest of the ingredients. It worked out great!
Stir-Fried Shrimp with Spicy Orange Sauce
Cooking Light August 2007
Yield: 4 servings (serving size: ¾ cup)
1 ½ pounds peeled and deveined large shrimp
1 tablespoon cornstarch
¼ cup fresh orange juice
2 tablespoons low-sodium soy sauce*
2 tablespoons honey
1 tablespoon rice wine vinegar
1 tablespoon chile paste with garlic (such as sambal oelek)
2 tablespoons canola oil
1 tablespoon minced peeled fresh ginger
3 garlic cloves, minced
⅓ cup chopped green onions
Place shrimp in a medium bowl. Sprinkle with cornstarch; toss well to coat. Set aside.
Combine juice, soy sauce, honey, vinegar, and chile paste, stirring with a whisk; set aside.
Heat canola oil in a large nonstick skillet over medium-high heat. Add minced ginger and garlic to pan; stir-fry for 15 seconds or until fragrant. Add shrimp mixture; stir-fry for 3 minutes. Add juice mixture and onions; cook 2 minutes or until sauce thickens and shrimp are done, stirring frequently. Serve immediately.
*Optional: use Gluten Free
Amount per serving:
Calories: 301
Calories from fat: 30%
Fat: 10g
Saturated fat: 1.1g
Monounsaturated fat: 4.6g
Polyunsaturated fat: 3.2g
Protein: 35.3g
Carbohydrate: 16.8g
Fiber: 0.5g
Cholesterol: 259mg
Iron: 4.4mg
Sodium: 621mg
Calcium: 103mg
Big Flavors Rating: 4 Stars