This post may contain affiliate links, which won't change your price but will share some commission.
This year, we decided to go to visit some friends for St. Patrick's Day. I already made the obligatory annual Corned Beef and Cabbage, and I even made Irish Stew, Cheesy Soda Scones and Leprechaun Hugs this year, so I told them I'd bring dessert. I had one bottle of Guinness left in the fridge, and when Joanne mentioned that she was making a Guinness Chocolate Cheesecake...well, I knew that was what I wanted to bring.
Dino is lactose intolerant, so it's best for me to make stuff like cheesecake when we have somewhere else to bring it. I didn't have any Greek yogurt on hand, but I had some plain yogurt, so I strained some to thicken it up and used that instead. This cake made the house smell amazing while it was in the oven. And, there's even about half a beer leftover to enjoy while it's baking.
This cheesecake is ridiculously rich. It tastes like you're eating a giant dark chocolate truffle...which is never a bad thing! Make sure you use a quality brand of chocolate to make this really shine - I used Ghirardelli Intense Dark 86% Cacao Midnight Reverie. Each bar was labeled 3.17 ounces, so I bought 4 of them. I wanted to measure out the 12 ounces, so I got out my kitchen scale and noticed that each bar weighed exactly 2.5 ounces.
That put me under by 2 whole ounces - which I found really interesting. I wrote to Ghirardelli (after double-checking the package to make sure it didn't say that the weight included the packaging) and asked if they could explain this discrepancy to me. I'll definitely report back when they respond.
I highly recommend making this cheesecake. It's well worth the torture that smelling it while it bakes and sits in your house overnight causes. It was a huge hit at the dinner party I attended tonight, and I'll definitely make it again!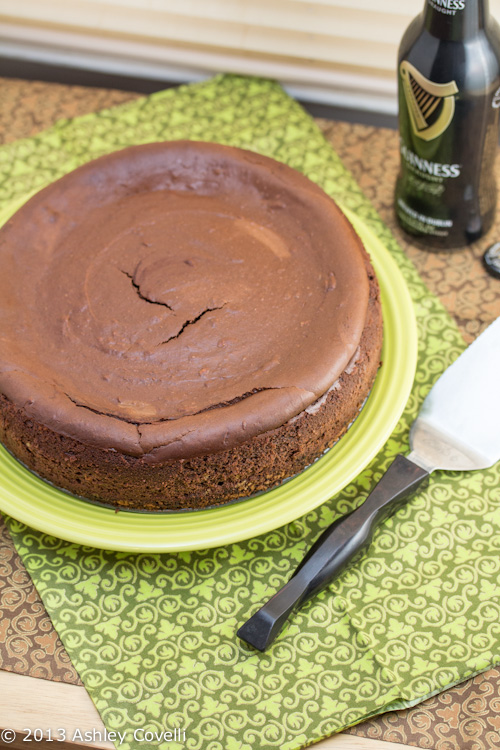 Guinness Chocolate Cheesecake
Eats Well With Others, adapted from Closet Cooking
Makes 1 9-inch cheesecake
Ingredients
1 cup graham cracker crumbs
2 tablespoon cocoa powder
1 tablespoon sugar
2 tablespoon butter, melted
12 oz dark chocolate, chopped
2 tablespoon heavy cream
3 (8 oz) packages of lowfat cream cheese
1 cup sugar
½ cup greek yogurt
3 eggs
1 teaspoon vanilla extract
¾ cup Guinness
Mix the graham cracker crumbs, cocoa powder, sugar and melted butter together in a medium bowl. Pour into the base on a 9-inch springform pan and press down into the bottom of it. Store in the freezer while you make the filling.
Preheat oven to 350.
In a double boiler, melt the dark chocolate and heavy cream, stirring together until combined. Set aside.
In the bowl of a stand mixer fitted with the paddle attachment, cream the cream cheese on medium-high until light and fluffy, about 3 minutes.
Mix in the sugar, greek yogurt, eggs, vanilla extract, chocolate/cream mixture, and guinness, scraping down the sides of the bowl as needed.
Pour this mixture into the springform pan.
Bake for 60 minutes. Turn off the heat and leave the cheesecake in the oven, with a wooden spoon in the oven door to hold it slightly ajar. Let sit for 60 minutes.
Allow cake to cool completely and then chill in the fridge overnight before serving.
Big Flavors Rating: 5 Stars