This post may contain affiliate links, which won't change your price but will share some commission.
This was a nice variation on a stir-fry dinner for us. I don't use eggplant very often, because Dino isn't a big fan of it. But when it's done right, like in this recipe, he really enjoys it. I also really liked that it combined tofu and meat. It was spicy without being too spicy, and it made a great meal over brown rice.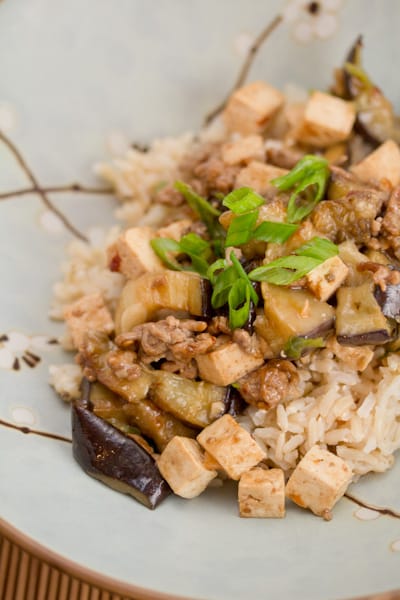 Spicy Eggplant, Pork, and Tofu Stir-fry
Sunset March 2004
Makes 4 servings
1 pound eggplant
1 tablespoon vegetable oil
1 tablespoon Asian sesame oil
1 tablespoon minced ginger
1 tablespoon minced garlic
8 ounces ground pork
¼ cup soy sauce
1 tablespoon sugar
1 tablespoon rice or white wine vinegar
1 ½ teaspoons Asian red chili paste
2 teaspoons cornstarch
8 ounces extra-firm tofu, drained and cut into 1-inch cubes
¼ cup thinly sliced green onions
1. Rinse eggplant and cut crosswise into 1-inch thick rounds. Cut rounds into 1-inch-wide strips.
2. Pour vegetable and sesame oils into a 12-inch nonstick frying pan or a 14-inch wok over medium-high heat. When hot, add eggplant and stir frequently until soft when pierced and lightly browned, about 8 minutes. Transfer eggplant to paper towels to drain.
3. Add ginger and garlic to pan and stir frequently until fragrant, about 1 minute. Add pork and stir until crumbled and brown, about 5 minutes.
4. In a bowl, mix soy sauce, sugar, vinegar, chili paste, cornstarch, and ¼ cup water. Pour into pan and stir until mixture is simmering and thickened, about 1 minute.
5. Gently stir in tofu, eggplant, and green onions until heated through.
Big Flavors Rating: 4 Stars