This post may contain affiliate links, which won't change your price but will share some commission.
This was a tasty steak dish from the newest issue of Cooking Light. I served it with white rice and a simple pineapple and shallot salad.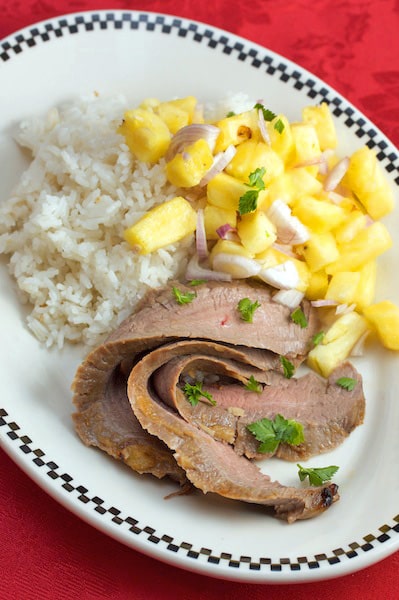 Spicy Asian Marinated Flank Steak
Cooking Light June 2010
When it comes to experimenting with recipes, Marie Meyer encourages friends and family to be fearless. "Some of the things I come up with are not that good," she says. But Meyer found a winner with her spicy Asian marinade. An avid griller, Meyer wanted to create a marinade made with accessible ingredients and versatile enough to apply to a variety of meats. She also uses it with pork tenderloin and cuts of chicken.
Yield: 4 servings (serving size: 3 ounces)
2 tablespoons less-sodium soy sauce
1 tablespoon fresh lime juice
1 teaspoon curry powder
1 teaspoon ground red pepper
2 teaspoons minced peeled fresh ginger
1 ½ teaspoons rice wine vinegar
1 teaspoon olive oil
1 teaspoon dark sesame oil
1 (8-ounce) can crushed pineapple in juice, drained
4 garlic cloves, minced
1 (1-pound) flank steak, trimmed
Cooking spray
¼ teaspoon salt
1. Combine first 10 ingredients in a large zip-top plastic bag. Add steak; seal and marinate in refrigerator 24 hours, turning occasionally.
2. Prepare grill to medium-high heat.
3. Remove steak from bag; discard marinade. Place steak on grill rack coated with cooking spray, and grill for 4 minutes on each side or until desired degree of doneness. Sprinkle with salt, and let stand for 5 minutes. Cut steak diagonally across grain into thin slices.
Nutritional Information:
Calories: 236
Fat: 8.6g (sat 3.2g,mono 3.6g,poly 0.7g)
Protein: 32.2g
Carbohydrate: 5.9g
Fiber: 0.5g
Cholesterol: 49mg
Iron: 2.2mg
Sodium: 365mg
Calcium: 32mg
MacGourmet Rating: 4 Stars