This post may contain affiliate links, which won't change your price but will share some commission.
A few days before Thanksgiving, Dino sent me a link to a really fun article with some offbeat cocktail ideas inspired by Turkey Day. We wanted to try a few of them out, and decided that this would be the first one. I'm not ready for turkey in my cocktail quite yet... Anyhow, the rosemary clove simple syrup is absolutely wonderful in this, and I can see a lot of potential for using it in other cocktails, too.
We both really liked how the flavors worked together here, but I should have blended the squash and apple in the Vitamix to get it extra smooth, as the texture was a little different. This went great with a plate of leftovers from Thanksgiving, and the whiskey in this cocktail and the Bourbon Cranberry Sauce were great together 😉
This is my submission for Week 6 of 12 Weeks of Winter Squash. I can't believe we're already halfway through! Check out more delicious recipes in the roundup below. And, as always, if you've made something delicious with winter squash this week, feel free to join in on the fun!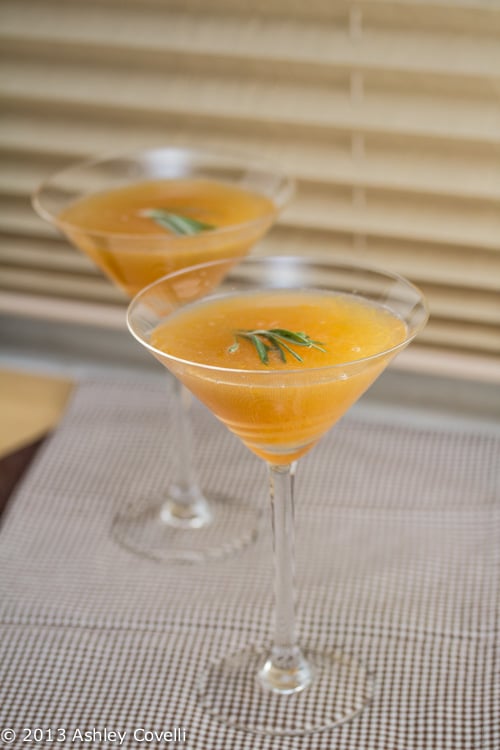 Spiced Butternut Squash Whiskey
Mallory's Kitchen via Mashable
Ingredients: Whiskey, butternut squash purée, apple purée, rosemary clove simple syrup*, lemon, rosemary.
Directions: Peel and chop half of a small butternut squash and half an apple into one-inch cubes. Place squash in a small pot and add enough water to cover it. Boil until tender.
Strain out most of the water, reserving about ¼ cup. purée the squash and apple completely using either a standing blender or an immersion blender. Stir in 2 tsp. brown sugar and allow to cool completely.
In a cocktail shaker, add 2 oz whiskey, one heaping teaspoon of butternut squash apple puree, 1 oz. rosemary clove simple syrup and 1 oz. lemon juice. Shake and strain into a saucer and garnish with a sprig of rosemary.
*Rosemary Clove Simple Syrup: Combine 1 cup white sugar, 2 tablespoons brown sugar and 1 ¼ cups water in a saucepan. Add two to three sprigs of fresh rosemary and 1 tsp. whole cloves. Stir well, bring to a boil and turn down to a simmer. Simmer for 10 minutes, remove from heat and allow to cool. Strain out the rosemary and cloves and store in a glass bottle with a fresh sprig of rosemary.
Big Flavors Rating: 4 Stars