This post may contain affiliate links, which won't change your price but will share some commission.
This pork recipe is pretty simple to make, and it's pretty tasty, but it wasn't too special. It fit the bill for a quick weeknight meal, and that's exactly what I needed.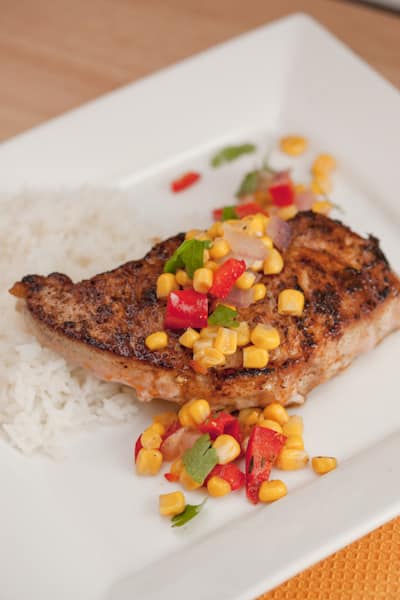 Smoked Paprika Pork Chops with Bell Pepper and Corn Relish
Cooking Light April 2005
1 tablespoon olive oil
½ cup prechopped red onion
2 teaspoons bottled minced fresh ginger
⅓ cup chopped red bell pepper
1 teaspoon ground coriander
¼ teaspoon dried thyme
1 (15.5-ounce) can no salt-added whole kernel corn, drained
1 teaspoon cider vinegar
¾ teaspoon salt, divided
¼ teaspoon black pepper, divided
1 ½ teaspoons smoked sweet paprika
4 (4-ounce) center-cut boneless pork loin chops, trimmed
Cooking spray
Heat olive oil in a large nonstick skillet over medium-high heat. Add red onion and ginger; sauté 2 minutes or until tender. Add chopped red bell pepper, ground coriander, dried thyme, and corn; cook 3 minutes or until the bell pepper is tender, stirring occasionally. Stir in cider vinegar, ¼ teaspoon salt, and ⅛ teaspoon black pepper; cook for 1 minute, stirring constantly. Spoon relish into a bowl.
Combine remaining ½ teaspoon salt, ⅛ teaspoon black pepper, and paprika; sprinkle evenly over pork. Coat pan with cooking spray. Add pork to pan; cook 4 minutes on each side or until done. Serve with relish.
Amount per serving
Calories: 263
Calories from fat: 30%
Fat: 8.9g
Saturated fat: 2.5g
Monounsaturated fat: 4.5g
Polyunsaturated fat: 1.2g
Protein: 27.2g
Carbohydrate: 19.8g
Fiber: 1.4g
Cholesterol: 62mg
Iron: 1.6mg
Sodium: 508mg
Calcium: 39mg
Big Flavors Rating: 3 Stars