This post may contain affiliate links, which won't change your price but will share some commission.
This dish goes to show that oats aren't just for breakfast - they can make a quick and tasty side dish for any meal. The flavors here are straightforward, and the finished dish is nice and fluffy. It's a great alternative to mashed potatoes. I really like peas, so I was glad to add them into this. I didn't bother toasting the walnuts (I assume it would only be better if they were nice and toasted, but they were just fine as is). There's a lot of potential here for mixing different flavors and veggies in with the oats to make a variety of tasty side dishes. You could also use vegetable broth if you wanted to make this vegetarian.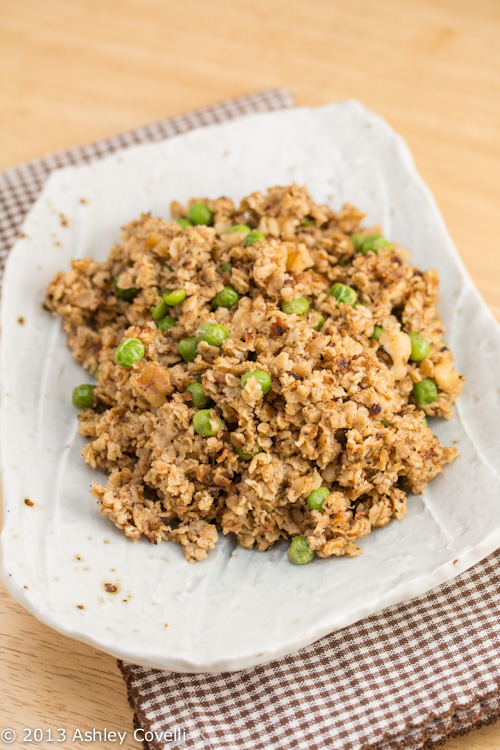 Smoked Paprika Oats with Peas
Whole Grains for Busy People: Fast, Flavor-Packed Meals and More for Everyone - Lorna Sass
I hope that this quick and savory preparation of rolled oats will convince you that it's a good idea to take oatmeal beyond the breakfast category. This recipe creates a soft and comforting side dish--a good choice to stand in for mashed potatoes. Or serve it with a savory omelet and salad for a light supper.
Smoked Spanish paprika, with its complex flavor and striking burnished color, is a great boon to busy cooks. Until recently it was not well known in America, but it's now widely available.
Serves 4
2 cups oatmeal (old-fashioned rolled oats)*
1 ½ tablespoons unsalted butter or olive oil
¾ to 1 teaspoon smoked Spanish paprika, to taste
Pinch of granulated garlic
Scant ½ teaspoon salt
½ cup frozen peas
1 ¾ cups low-sodium chicken broth
½ cup walnuts, toasted and coarsely chopped
Set a heavy 3-quart Dutch oven over medium-high heat. Add the oatmeal and toast it, stirring frequently, until it becomes aromatic, about 2 minutes.
Push the oats to one side of the pot and add the butter to the empty side. As the butter melts, stir in the paprika, garlic, and salt. Stir the seasoned butter into the oats.
Stir in the peas and broth. Bring to a boil. Cover, turn off the heat, and let sit until the liquid has been absorbed, about 5 minutes. Stir in the walnuts and serve.
Other ideas:
-Use fresh or frozen corn kernels instead of the peas.
-Add freshly ground black pepper, to taste.
*Optional: use Gluten Free
Big Flavors Rating: 4 Stars