This post may contain affiliate links, which won't change your price but will share some commission.
Historically, I've had bad luck when it comes to mixing tomatoes and beans in the slow cooker. One of the few meals we've given a 1 star rating to featured canned tomatoes and beans and cornmeal dumplings in the slow cooker. There have been so many others, that I had sworn off the bean-and-tomato slow cooker combo altogether.

But, to quote Sue Ellen Crandell (played by Christina Applegate) in Don't Tell Mom The Babysitter's Dead, "the times, they are a-changin'". This enchilada recipe was fantastic! It took a bit more work than I anticipated upfront (protip: if you're using corn tortillas, warm them up a little first so they don't crumble and fall apart while you're rolling them), but it was oh so very worth it!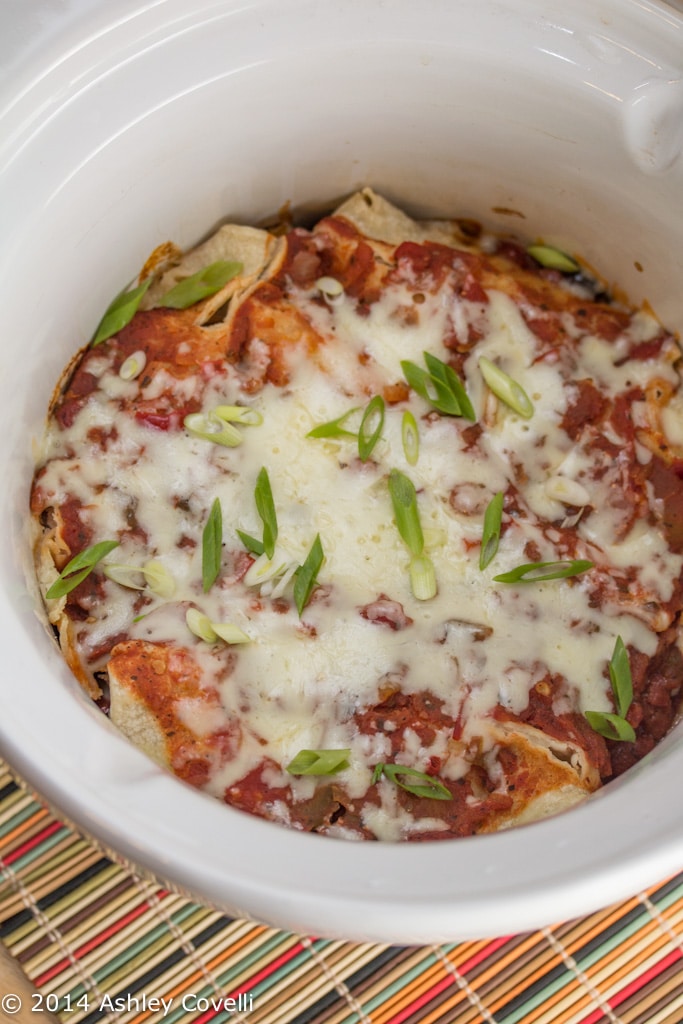 I was only able to fit 5 on each layer (so 10 total), and the top layer definitely comes out more in tact than the bottom layer, but they tasted wonderful! The cool sour cream and salsa at the end made for a perfect garnish. I used Newman's Own Medium Salsa and the flavor and heat level was perfect.
This slow cooker meal (just like the Slow Cooker Spinach Lasagna) really surprised us in a good way. I'm definitely learning to be more adventurous with slow cooker meals.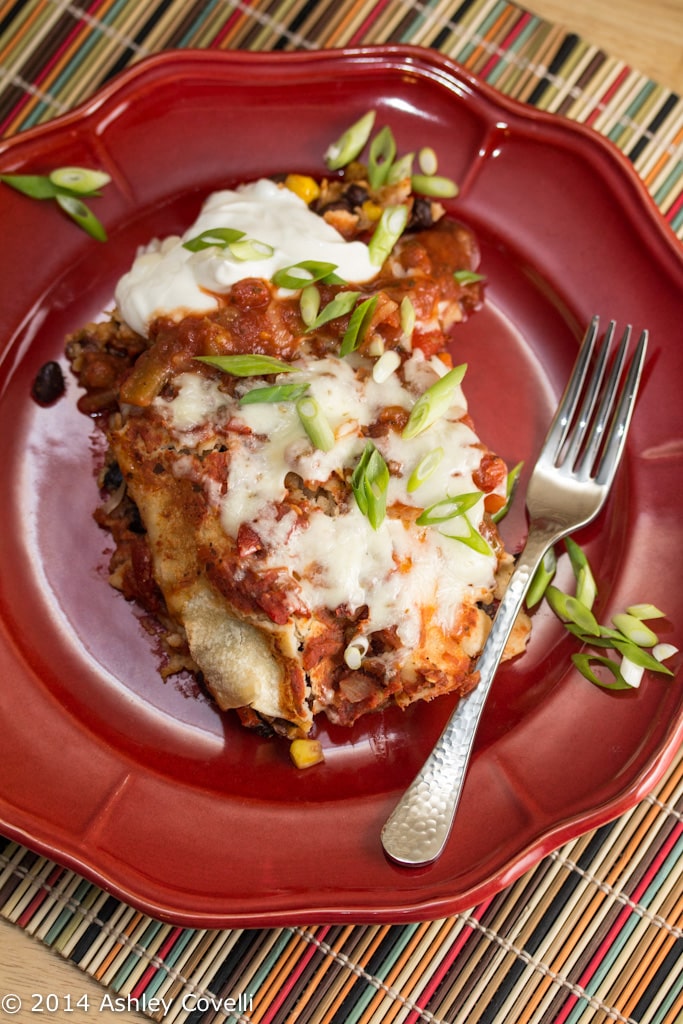 Slow Cooker Enchiladas
The Kitchn
Serves 4-6
½ yellow onion, diced small
½ bell pepper, diced small (any color)
1 16-ounce can black beans, drained and rinsed
1 cup frozen corn
2 teaspoons chili powder
1 teaspoon cumin
1 teaspoon salt
1 ½ cups cheese, shredded and divided - we like monterey jack
2 16-ounce jars of your favorite salsa
12 6"-8" tortillas, flour or corn
Optional: 1 cup leftover meat - chicken, pork, hamburger, or shredded beef
In a medium bowl, mix together the onion, pepper, black beans, corn, spices, meat (if using), and just ½ cup of the cheese. Pour about a cup of salsa (half a jar) into the bottom of the slow cooker and spread it around evenly.
Scoop about ⅓ cup into one of the tortillas, roll it up, and nestle it into the bottom of the crock pot. Repeat with the half of the remaining filling, rolling tortillas until the entire bottom of of the crock pot is filled. Spread another cup of salsa over this layer and sprinkle it with another ½ cup of cheese.
Continue with the remaining filling and tortillas to create a second layer. Top with another cup of salsa, but reserve the remaining ½ cup of cheese for later. Place the lid on the slow cooker and cook on HIGH for 2-4 hours. In the last 15 minutes of cooking, sprinkle the leftover cheese over the top and let it melt.
Serve the enchiladas with the remaining salsa. Leftovers will keep for up to a week in the refrigerator.
Additional Notes:
• You can cook the enchiladas for longer (6-8 hours on LOW), but we found that the tortillas in the middle start to get mushy while the ones touching the sides of the cooker get crispy. Still tasty, though!
• To cook these enchiladas in the oven, layer the rolled tortillas in a 9x13 baking pan and cover with aluminum foil. Bake at 400° for 20 minutes. Uncover, sprinkle with cheese, and bake uncovered for an additional 5-10 minutes.
• We haven't tried it, but we so reason why this recipe couldn't be doubled if your slow cooker is big enough. Just continue creating layers in the slow cooker and bake as usual.
Big Flavors Rating: 4 Stars