This post may contain affiliate links, which won't change your price but will share some commission.
Dino was in the mood for seafood, so we picked up some salmon and I made this simple recipe. The texture of the salmon was like butter, which was really nice. It turned out good, but nothing exceptional. The flavor all sits on top, and it's very mild, so we found ourselves adding salt to it after eating past that top layer. It was super simple though, which was nice after a busy day.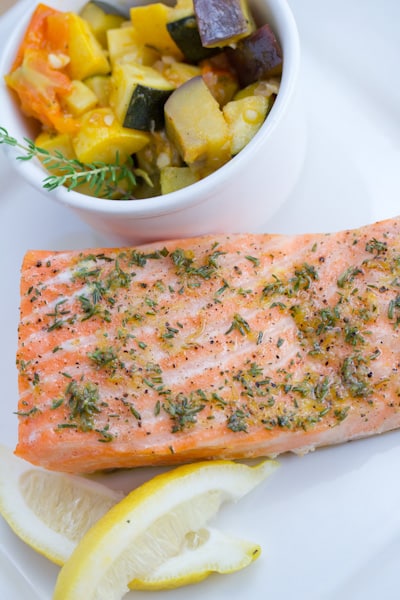 Slow-Baked Salmon with Lemon and Thyme
Bon Appétit May 2011
yield: Makes 4 servings
active time: 15 minutes
total time: 35 minutes
Baking salmon in a low-temperature oven slowly melts the fat between the flesh and leaves the fillets incredibly moist and tender. Lemon and thyme, a classic Mediterranean combination, add another layer of flavor without sacrificing this dish's elegant simplicity.
1 ½ tablespoons extra-virgin olive oil, divided
4 6-to 8-ounces boneless salmon fillets, skin on
1 tablespoon chopped fresh thyme
Zest of 1 lemon
Kosher salt and freshly ground black pepper
4 lemon wedges (for serving)
Preheat oven to 275°F. Line a rimmed baking sheet with aluminum foil. Brush with ½ tablespoon oil. Place salmon fillets, skin side down, on prepared baking sheet. Mix remaining oil, thyme, and lemon zest in a small bowl. Spread thyme mixture over salmon fillets, dividing equally. Season with salt and pepper. Let stand 10 minutes to allow flavors to meld.
Bake salmon until just opaque in center, 15-18 minutes. Serve with lemon wedges.
Big Flavors Rating: 3 Stars