This post may contain affiliate links, which won't change your price but will share some commission.
No, this was not another attempt to get my cauliflower-hating friend Jerry to stop reading my blog. This was one dish with cauliflower that even cauliflower lovers like me and Dino didn't enjoy. But I can't blame the cauliflower. This recipe was all over the place. We didn't feel like the 3 components went together at all. Dino kept saying, "but the scallop part is REALLY good" - but all that portion consisted of was properly pan-searing scallops that were seasoned with salt and pepper. The flavors of the rest of the dish just did not mesh well. The cauliflower portion was way too thin, and it wouldn't have made enough for 4 people. In the magazine, the peas & carrots were listed with the recipe. I definitely won't be making this one again.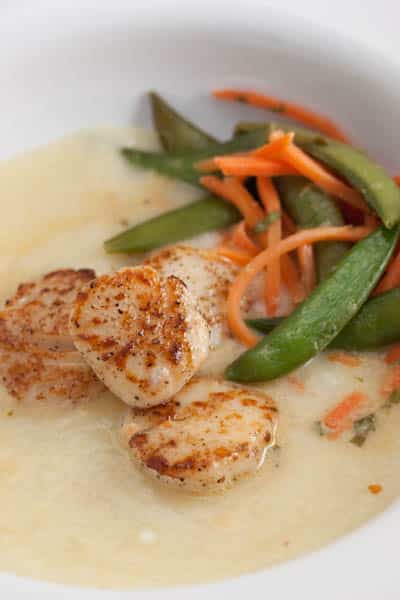 Seared Scallops with Cauliflower Puree
Cooking Light March 2011
Pair sea scallops with a cauliflower and potato puree for an elegant yet weeknight-friendly meal. Tip: Patting the sea scallops dry before cooking helps ensure a great seared crust.
Total: 25 minutes
Yield: 4 servings (serving size: ½ cup puree and about 4 scallops)
2 cups chopped cauliflower florets
1 cup cubed peeled Yukon gold potato
1 cup water
½ cup fat-free, lower-sodium chicken broth
1 tablespoon canola oil
1 ½ pounds sea scallops
¾ teaspoon kosher salt, divided
½ teaspoon coarsely ground black pepper
1 ½ tablespoons unsalted butter
⅛ teaspoon crushed red pepper
1. Bring first 4 ingredients to a boil in a saucepan; cover, reduce heat, and simmer 6 minutes or until potato is tender. Remove from heat. Let stand, uncovered, 10 minutes.
2. Heat a large skillet over high heat. Add oil; swirl to coat. Pat scallops dry with paper towels; sprinkle with ¼ teaspoon salt and black pepper. Add scallops to pan; cook 3 minutes on each side or until desired degree of doneness. Remove scallops from pan.
3. Pour cauliflower mixture in a blender. Add ½ teaspoon salt, butter, and red pepper. Remove center piece of blender lid (to allow steam to escape); secure lid on blender. Place a clean towel over opening in lid (to avoid splatters). Blend until smooth. Serve puree with scallops.
Nutritional Information:
Calories: 232
Fat: 8.9g (sat 3.1g,mono 3.4g,poly 1.5g)
Protein: 23.8g
Carbohydrate: 13g
Fiber: 2g
Cholesterol: 54mg
Iron: 1.1mg
Sodium: 632mg
Calcium: 46mg
Tarragon Carrots and Peas
Yield: 4 servings
1 cup sugar snap peas
⅓ cup water
1 cup matchstick-cut carrot
1 ½ teaspoons butter
1 teaspoon chopped tarragon
1 ½ teaspoons Dijon mustard
1 teaspoon cider vinegar
⅛ teaspoon salt
Place sugar snap peas and water in a saucepan. Bring to a boil; cover and cook for 2 minutes. Add carrot and butter; cover and cook 2 minutes. Stir in tarragon, Dijon mustard, cider vinegar, and salt.
Nutritional Information:
Calories: 41
Fat: 1.5g (sat 0.9g,mono 0.0g,poly 0.0g)
Protein: 0.0g
Carbohydrate: 0.0g
Fiber: 0.0g
Cholesterol: 0.0mg
Iron: 0.0mg
Sodium: 150mg
Calcium: 0.0mg
Big Flavors Rating: 2 Stars