This post may contain affiliate links, which won't change your price but will share some commission.
Tonight's dinner was another quick and tasty recipe from the newest issue of Cooking Light. This comes together in a snap, and is nice, light and fresh. Scallops cook up in no time, and the tangy salad dressing adds just enough flavor without overpowering their innate sweetness. I really liked the addition of crisped prosciutto on top, and cooking that in the pan before the scallops added a nice bit of extra flavor to them. I used a mix of baby greens that included arugula, spinach and tatsoi. I enjoyed mine with a nice cold glass of Riesling.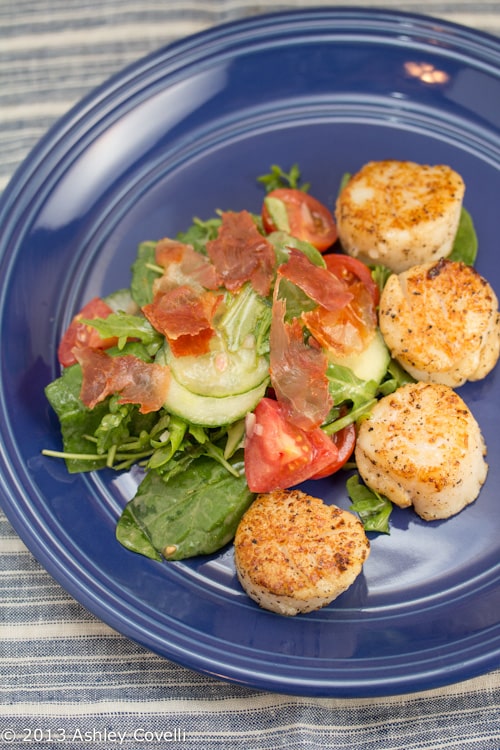 Seared Scallop Salad with Prosciutto Crisps
Cooking Light June 2013
Be sure to pat the scallops dry to ensure an even sear. Also, if serrano ham is available, it makes a tasty substitute for the prosciutto.
5 teaspoons extra-virgin olive oil, divided
1 tablespoon cider vinegar
1 tablespoon minced shallots
2 teaspoons Dijon mustard
4 cups mixed salad greens
2 cups cherry tomatoes, halved
½ cup sliced English cucumber
1 ounce prosciutto, thinly sliced
16 sea scallops (about 1 pound)
½ teaspoon freshly ground black pepper
¼ teaspoon kosher salt
1. Combine 1 tablespoon oil, cider vinegar, minced shallots, and Dijon mustard in a large bowl, stirring with a whisk. Add salad greens, halved cherry tomatoes, and cucumber to bowl; toss gently to coat.
2. Heat a large nonstick skillet over medium-high heat. Add sliced prosciutto to pan; cook 3 minutes or until prosciutto is crisp; coarsely chop. Pat scallops dry with paper towels; sprinkle with freshly ground black pepper and kosher salt. Add remaining 2 teaspoons olive oil to pan; swirl to coat pan. Add scallops to pan; cook 3 minutes on each side or until desired degree of doneness. Place 4 scallops and ⅔ cup salad mixture on each of 4 plates; sprinkle with prosciutto.
Amount per serving:
Calories: 171
Fat: 7.1g
Saturated fat: 1.2g
Monounsaturated fat: 4.5g
Polyunsaturated fat: 0.9g
Protein: 16.7g
Carbohydrate: 10.3g
Fiber: 2.3g
Cholesterol: 31mg
Iron: 1.3mg
Sodium: 493mg
Calcium: 18mg
Big Flavors Rating: 4 Stars