Savory Stuffed Sweet Dumplings
This post may contain affiliate links, which won't change your price but will share some commission.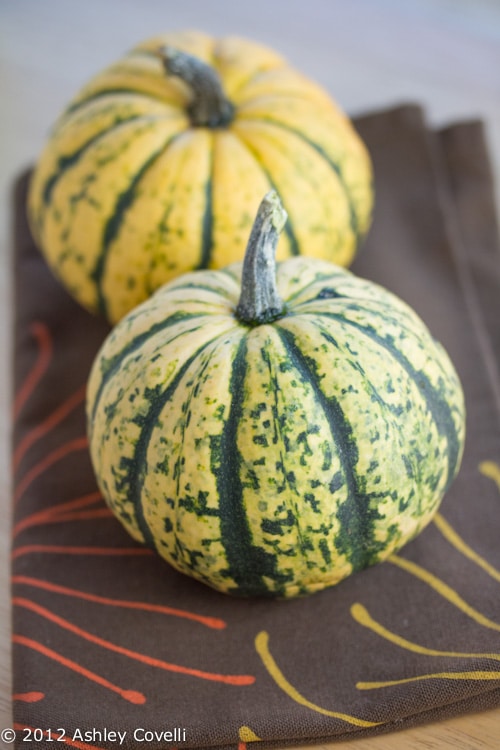 Some friends of mine are out of town for a few days, and because of that, I was the proud recipient of their weekly CSA goodies. One of the things that I received was some sweet dumpling squash. I've never had them before, and was excited to try them. I looked up some recipes, and decided on this one, since it also used some onions, tomatoes and green peppers that I got from the CSA. It also needed some brown rice, and I had some leftover from when I made Orange Chicken with Scallions on Monday. That was great, because I didn't have to bother with cooking any rice. I used 1 cup since I estimated that rice doubles in volume once cooked.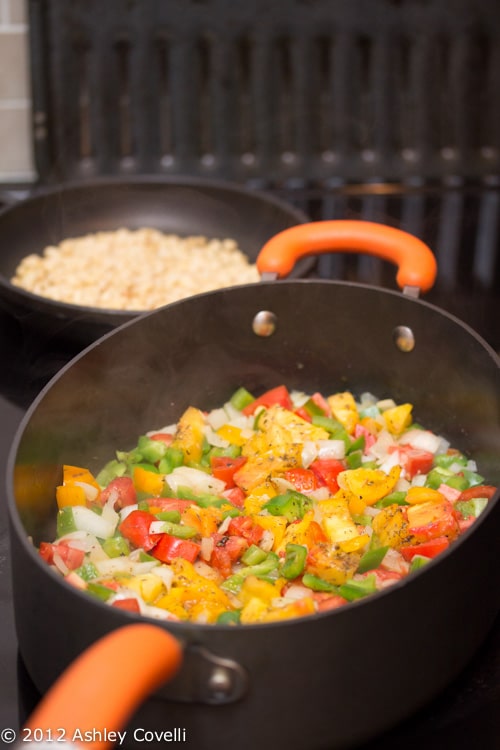 This is a nice recipe – a great way to use up some gorgeous produce. We enjoyed the stuffing, but especially nice is the flavor of the squash. It's almost like a mix between a pumpkin and a sweet potato. I had read that the skin is edible, so I made sure to scrub the squash well before baking it. I ate every last bit of squash…minus the stem!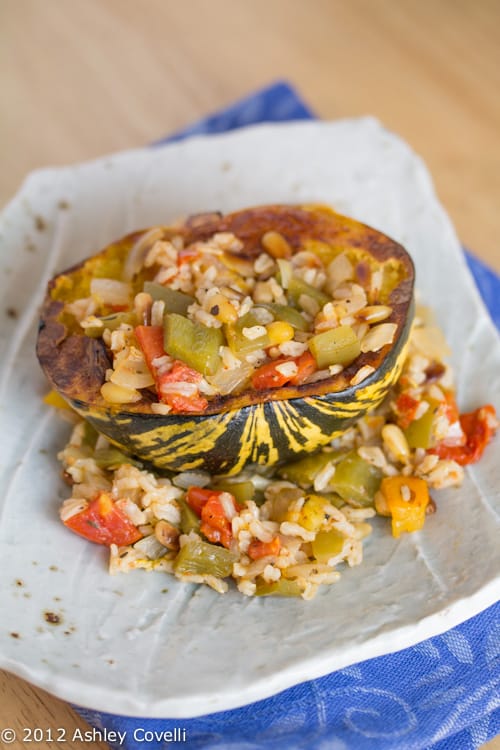 Savory Stuffed Sweet Dumplings
foodreference.com
2 sweet dumpling squashes (approx. 24 ounces)
1/2 cup long-grain brown rice
1 1/4 cup water
2 cups tomatoes, chopped
1 cup onion, chopped
1 cup green bell pepper, chopped
1/4 tsp freshly ground black pepper
1/2 tsp dried thyme leaves
1/2 tsp dried marjoram
1 1/2 tbsp extra virgin olive oil
1/2 cup raw pine nuts, toasted
salt to taste
Cut squashes in half lengthwise (from stem to blossom end). Scoop out seeds, and place the squash cut side down on a baking sheet covered with aluminum foil, shiny side down.
Bake at 400ºF for 40 minutes.
While squashes are baking, combine rice, water, and salt in a 2-quart saucepan.
Cover and bring to a boil over high heat.
Turn heat down to low and steam 35 to 45 minutes until tender.
Combine tomatoes, onion, bell pepper, black pepper, herbs, and olive oil in a large skillet.
Sauté over high heat until onions are softened and transparent, about 5 to 7 minutes.
When rice is cooked, add to ingredients in skillet along with pine nuts and mix well.
Season to taste.
Stuff squash cavities.
Spread the remainder of the stuffing onto the bottom of a lightly oiled 7″ x 9″ baking pan.
Lay squashes on top of stuffing.
Cover baking dish with aluminum foil, shiny side down.
Bake at 350ºF for 25 to 30 minutes.
Nutritional analysis per serving: Calories 325, Fat 9g, Calories From Fat 25%, Carbohydrates 54g Protein 8g, Cholesterol 0mg, Fiber 5g, Sodium 17mg.
CDC.gov – 5 a Day
Big Flavors Rating: 4 Stars