This post may contain affiliate links, which won't change your price but will share some commission.
This was the second side dish that I brought to Easter dinner with my in-laws. It was super simple, and went beautifully with the turkey and stuffing.
These carrots are cooked in a blend of butter and oil and then cooked until just tender. A bit of fresh sage at the end livens this dish up and adds a splash of soft green color.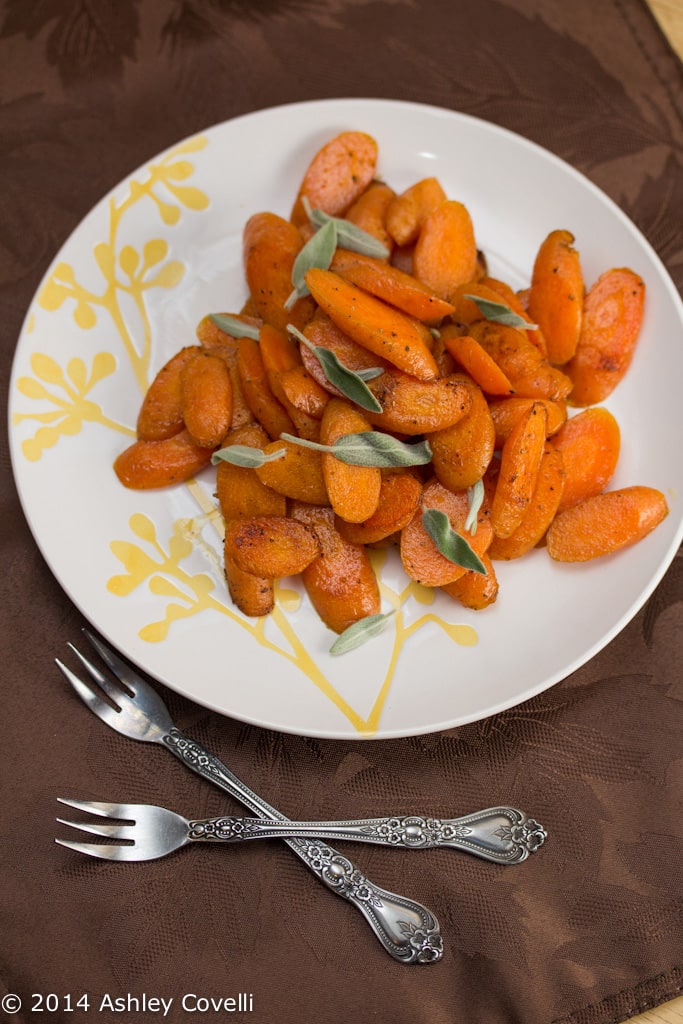 You could substitute dairy-free butter to make this a vegan side dish, fitting for any springtime dinner table!
Sautéed Carrots with Sage
Cooking Light November 2009
1 teaspoon butter
1 teaspoon olive oil
1 ½ cups diagonally sliced carrot
2 tablespoons water
⅛ teaspoon salt
⅛ teaspoon freshly ground black pepper
2 teaspoons fresh small sage leaves
1. Melt butter in a large nonstick skillet over medium heat. Add oil to pan; swirl to coat. Add carrot and 2 tablespoons water. Partially cover pan and cook 10 minutes or until carrots are almost tender. Add salt and pepper to pan; increase to medium-high heat. Cook 4 minutes or until carrots are tender and lightly browned, stirring frequently. Sprinkle with sage.
Amount per serving
Calories: 75
Fat: 4.4g
Saturated fat: 1.5g
Monounsaturated fat: 2.2g
Polyunsaturated fat: 0.4g
Protein: 0.9g
Carbohydrate: 9g
Fiber: 2.6g
Cholesterol: 5mg
Iron: 0.3mg
Sodium: 224mg
Calcium: 35mg
Big Flavors Rating: 4 Stars