This post may contain affiliate links, which won't change your price but will share some commission.
This was a great vegetarian dinner. The mushrooms are nice and meaty, and the goat cheese and caramelized onion flavor combination is awesome. I used whole grain rotini instead of ziti. It takes a while to make this because the onions take some time to caramelize, but it's worth it.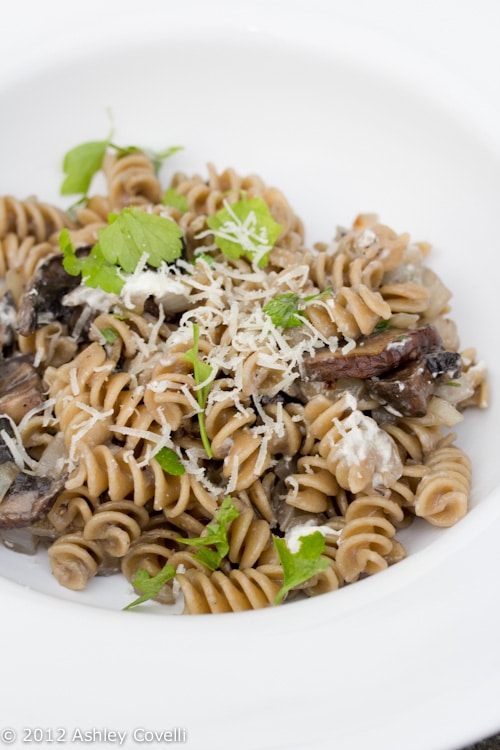 Ziti with Portobello Mushrooms, Caramelized Onions, and Goat Cheese
Food & Wine
SERVINGS: 4
Meaty mushrooms are enhanced by sweet caramelized onions and just enough tangy melted goat cheese in this delicious year-round pasta.
2 tablespoons butter
4 tablespoons olive oil
3 onions, chopped
1 teaspoon salt
½ teaspoon sugar
1 pound portobello mushrooms, stems removed, caps halved and then cut crosswise into ¼-inch slices
3 tablespoons chopped fresh parsley
¼ teaspoon fresh-ground black pepper
¾ pound ziti
3 ounces soft goat cheese, such as Montrachet, crumbled
3 tablespoons grated Parmesan cheese, plus more for serving
1. In a large frying pan, melt 1 tablespoon of the butter with 2 tablespoons of the oil over moderate heat. Add the onions, ½ teaspoon of the salt, and the sugar and cook, stirring frequently, until the onions are well browned, about 20 minutes. Remove from the pan.
2. In the same pan, melt the remaining 1 tablespoon butter with 1 tablespoon of the oil over moderate heat. Add the mushrooms and ¼ teaspoon of the salt and cook, stirring occasionally, until tender and brown, about 8 minutes. Add the reserved onions, the parsley, the remaining ¼ teaspoon salt, and the pepper.
3. In a large pot of boiling, salted water, cook the ziti until just done, about 13 minutes. Reserve ¾ cup of the pasta water and drain. Toss the ziti and ½ cup of the reserved pasta water with the mushroom mixture, the remaining 1 tablespoon oil, the goat cheese, and the Parmesan. If the pasta seems dry, add more of the reserved pasta water. Serve with additional Parmesan.
SUGGESTED PAIRING
While the mushrooms need a red wine, the goat cheese goes best with a wine that has plenty of acidity. A Pinot Noir from Oregon is an ideal choice for both.
Big Flavors Rating: 4 Stars