This post may contain affiliate links, which won't change your price but will share some commission.
We had a chicken in the fridge that was already cut into pieces, and I asked Dino if he would be interested in coming up with a spice rub and making dinner. He came up with a really great mixture, and cooked it in the convection oven. It turned out super moist and flavorful, with a nice, golden brown skin. He served it alongside frozen spinach that he cooked on the stovetop according to the directions (adding it to a cup of boiling water), and then seasoned it with curry powder, butter and salt. I ended up sprinkling some raisins on mine at the end, which added a nice bit of sweetness. It was great coming home to such a nice meal, without having to cook it myself!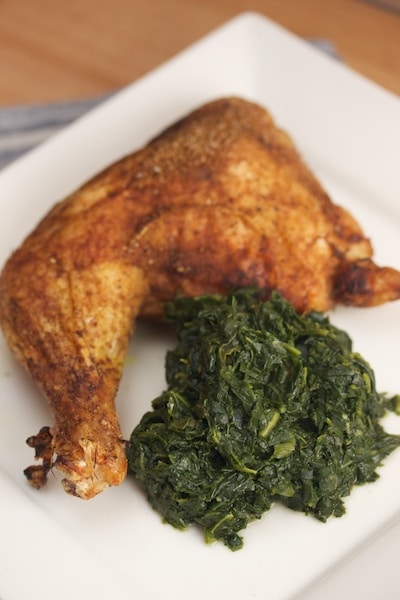 Roasted Chicken w/ Dry Rub
Dino Covelli
1 whole, bone-in chicken, cut into pieces
Dry Rub:
¼ c dark brown sugar
1 T ground black pepper
1 T kosher salt
1 T cumin
½ t allspice
½ t rubbed sage
½ t turmeric
Combine dry rub ingredients in a bowl. Pat chicken dry, and rub spice mixture over chicken pieces, making sure to cover all of the surface area. Cover chicken and refrigerate for 1 hour.
Bake chicken in 425°F oven for about 45 minutes, or until juices run clear.
Big Flavors Rating: 5 Stars