This post may contain affiliate links, which won't change your price but will share some commission.
This dish was really easy to put together, and it packed a lot of flavor. My chicken needed to cook for much longer than 20 minutes, but I was only able to find big pieces at the store. The spices are really nice, and the textural difference between the tomatoes and chickpeas is an added bonus.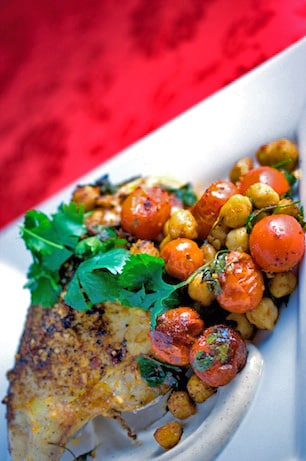 Roast Chicken Breasts with Garbanzo Beans, Tomatoes, and Paprika
Gourmet May 2008
Use leftovers for sandwiches the next day: Place shredded chicken, garbanzos, and tomatoes in a pita bread and top with the yogurt sauce.
Prep: 15 minutes; Total: 35 minutes
¼ cup extra-virgin olive oil
4 garlic cloves, pressed
1 tablespoon smoked paprika*
1 teaspoon ground cumin
½ teaspoon dried crushed red pepper
½ cup plain yogurt or Greek yogurt
4 chicken breast halves with bones
1 15-ounce can garbanzo beans (chickpeas), drained
1 12-ounce container cherry tomatoes
1 cup chopped fresh cilantro, divided
Preheat oven to 450°. Mix first 5 ingredients in medium bowl. Pour 1 teaspoon spiced oil mixture into small bowl; whisk in yogurt and set aside for sauce. Place chicken on large rimmed baking sheet. Rub 2 tablespoons spiced oil mixture over chicken. Add beans, tomatoes, and ½ cup cilantro to remaining spiced oil mixture; toss to coat. Pour bean mixture around chicken. Sprinkle everything generously with salt and pepper.
Roast until chicken is cooked through, about 20 minutes. Sprinkle with ½ cup cilantro. Transfer chicken to plates. Spoon bean mixture over. Serve with yogurt sauce.
*Sometimes labeled Pimentón Dulce or Pimentón de La Vera Dulce; available at some supermarkets, at specialty foods stores, and from tienda.com.
Servings: Makes 4 servings
Nutritional notes:
Per serving: 405 calories, 24g fat (5g saturated), 59mg cholesterol, 286mg sodium, 22g carbohydrates, 5g fiber, 25g protein
MacGourmet Rating: 4 Stars