This post may contain affiliate links, which won't change your price but will share some commission.
This recipe is simple to put together if you use store bought sausage and ricotta. I used hot sausage and whole wheat pasta, and it turned out great. It was pretty easy for a weeknight meal.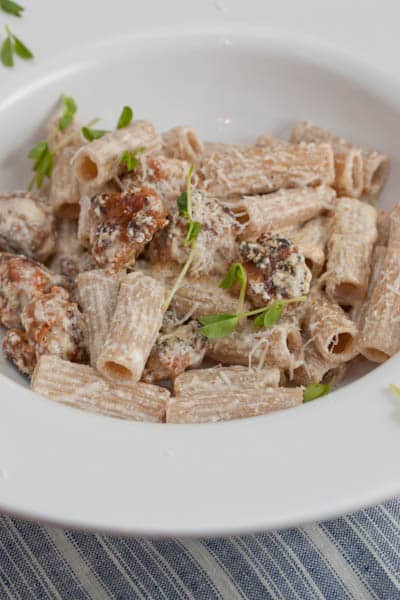 Rigatoni alla Pastora (Shepherd's Style Rigatoni with Ricotta and Sausage)
My Calabria - Rosetta Costantino
Serves 6 to 8
¾ pound (350 grams) fresh sweet or hot Italian sausage or Fresh Homemade Fennel Sausage Calabrian Style (page 211)
2 tablespoons extra virgin olive oil
1 pound (450 grams) Homemade Ricotta (page 14) or store-bought whole-milk ricotta
Kosher salt and freshly ground black pepper
1 pound (450 grams) rigatoni or penne rigate
Freshly grated pecorino cheese, optional
Ground hot pepper, optional
Remove the sausage casings. With a table knife, break the sausage up into small chunks about the size of an olive. Heat the olive oil in a 12-inch (30-centimeter) skillet over medium heat. Add the sausage and cook until browned all over, about 2 minutes. Keep warm.
Press the ricotta through a sieve into a large serving bowl. Add salt to taste and several grinds of black pepper.
Bring 5 quarts (5 liters) of water to a boil in an 8-quart (8-liter) pot over high heat. Add ¼ cup (35 grams) of kosher salt, then add the pasta and cook, stirring occasionally, until al dente, about 10 minutes. Just before the pasta is done, whisk a few tablespoons of the hot pasta water into the ricotta to warm it and make it creamy and saucelike.
Set aside ½ cup (125 milliliters) of the pasta cooking water, then drain the pasta. Add the pasta to the skillet with the sausage and toss over high heat just until hot throughout. Transfer the pasta and sausage to the bowl with the ricotta and mix well, adding some of the reserved pasta cooking water if needed to moisten the pasta. Add pecorino and hot pepper if desired. Serve immediately.
Big Flavors Rating: 4 Stars