This post may contain affiliate links, which won't change your price but will share some commission.
Finally! I have found the salsa recipe. You know, the one that is served at Mexican restaurants that always makes you gorge yourself on chips and salsa, and then you end up taking ¾ of your meal to go? OK, maybe that's just me. But still... I love this stuff. So when I came across this recipe, I figured it was worth a try. And let me tell you: it... is... AWESOME! I had to pulse the large can of tomatoes first, dump them into a big bowl, and then pulse the rest of the ingredients together. Then I added it to the other tomatoes and stirred it to combine. It was really difficult to wait for an hour to let it chill, but I knew that this was an important step to allow the flavors to mingle. It's tangy, smooth and has just the right amount of heat. This makes a ton of salsa. And that's a good thing... this is gonna be around for a few days, and I'm thrilled!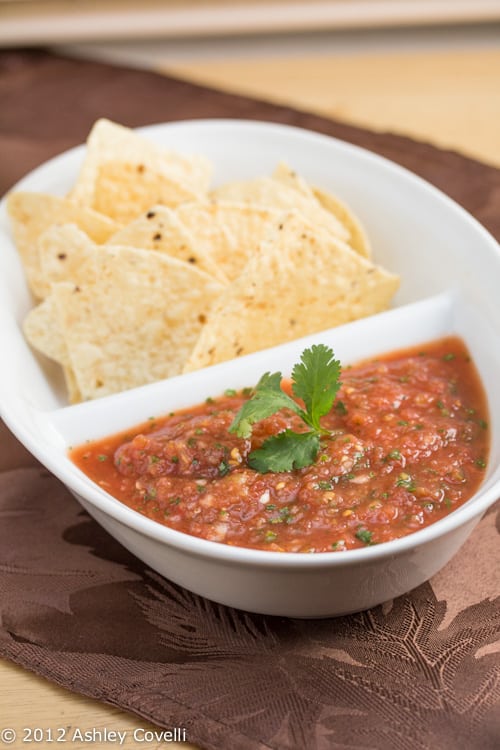 Restaurant Style Salsa
The Pioneer Woman Cooks: Food From My Frontier by Ree Drummond
Yield: Serves 12
Prep Time: 10 minutes
Homemade restaurant style salsa that will MAKE you eat an entire bag of chips. It's that good!
1 can (28 Ounce) whole tomatoes with juice
2 cans (10 Ounce) Rotel (diced tomatoes and green chilies)
¼ cup chopped onion
1 clove garlic, minced
1 whole jalapeño, quartered and sliced thin
¼ teaspoon sugar
¼ teaspoon salt
¼ teaspoon ground cumin
½ cup fresh cilantro (more to taste)
½ whole lime, juiced
1. In a large food processor or blender, combine whole tomatoes, Rotel tomatoes, onion, jalapeno, garlic, sugar, salt, cumin, lime juice, and cilantro. Pulse until you get the salsa to the consistency you'd like. Taste and adjust seasonings, if necessary.
2. Refrigerate salsa for at least an hour. Serve with tortilla chips.
Big Flavors Rating: 5 Stars