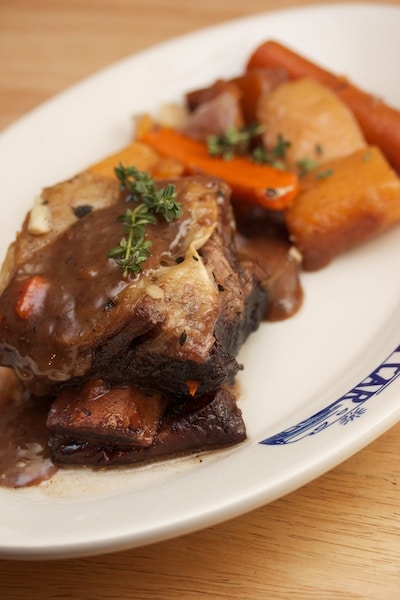 Red Wine Braised Short Ribs with Root Vegetables and Thyme
This post may contain affiliate links. Thank you for supporting the brands that keep me creative in my tiny kitchen!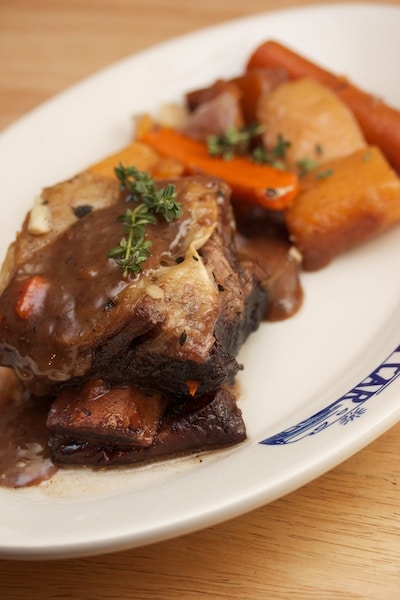 I picked up some beef short ribs a while back from the Farmers' Market that have been in the freezer, and this was the perfect night to cook with them. I thawed them out, patted them dry with paper towel, sprinkled them with salt and pepper, and seared them on all sides in olive oil in a dutch oven. Once they were nice and brown, I poured in 1/2 cup of red wine (I used a Cabernet Merlot blend) and 1/2 cup water, and tossed in some chopped carrots, red onions, turnips and a few whole cloves of garlic. I added a few sprigs of thyme, lowered the heat and let it simmer, covered, for about 2 hours, until the meat was tender. I took the meat and veggies out of the pan and brought the liquid up to a boil, added a bit of flour and let it thicken into a nice sauce. I seasoned the sauce with salt and pepper and dinner was ready! It was a really low maintenance meal, and it turned out really tasty!