This post may contain affiliate links, which won't change your price but will share some commission.
This was a really tasty dinner. The warm bean salad underneath the chicken packed a lot of flavor. The chicken was really moist and the lemon really brightened the dish up. It made a really comforting meal.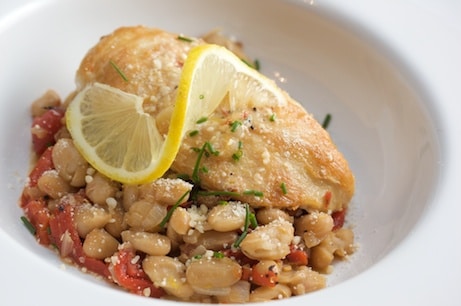 Red-pepper Lemon Chicken
Sunset February 2008
Prep and Cook Time: about 30 minutes.
Yield: Makes 4 servings
2 tablespoons olive oil
4 boned skinned chicken breast halves (8 oz. each)
2 large shallots, minced
3 garlic cloves, minced
½ cup reduced-sodium chicken stock
1 jar (7 oz.) roasted red peppers, drained and sliced
1 can (15 oz.) cannellini beans, rinsed and drained
About ½ tsp. salt
About ¼ tsp. freshly ground black pepper
½ teaspoon red pepper flakes
1 tablespoon lemon juice
Shredded zest of 1 lemon
¼ cup freshly and finely shredded parmesan
1. Preheat oven to 375°. Heat olive oil in a large, heavy ovenproof frying pan (not nonstick) over high heat until oil is hot but not smoking. Add chicken breasts, top side down, and cook until golden, 2 to 3 minutes. Turn chicken over.
2. Add shallots and garlic to pan with chicken, stirring occasionally so garlic doesn't burn, until shallots are soft and translucent, 3 to 4 minutes. Add chicken stock, roasted red peppers, cannellini beans, ½ tsp. salt, ¼ tsp. pepper, and red pepper flakes and cook until mixture begins to boil, about 1 minute.
3. Cover pan and put in oven. Bake 14 to 16 minutes, or until chicken is just cooked through (cut to check). Transfer chicken to a plate.
4. Season roasted red pepper-cannelini bean-stock mixture with salt and pepper to taste and stir in lemon juice and zest. Divide vegetables among 4 rimmed plates or shallow pasta bowls, top each with a piece of chicken, and spoon sauce over all. Garnish with parmesan.
MacGourmet Rating: 4 Stars