This post may contain affiliate links, which won't change your price but will share some commission.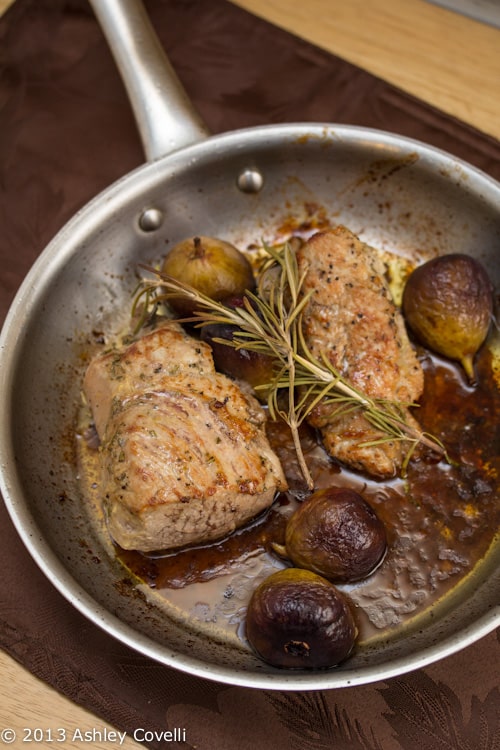 Pork tenderloin sounds fancy, but it's a great cut of meat to work with on a busy weeknight! Fruit and pork pair so well together, and I've never roasted whole figs like this before. They were nice and soft and warm throughout, and added a nice sweetness to the savory pork. The dijon adds the perfect amount of tanginess to balance the dish out. This recipe was great because I put the marinade together early in the day, and when it was time for dinner, I just seared it, added the figs and rosemary sprigs and baked it for 20 minutes, and dinner was almost done. I only used one piece of pork tenderloin, but left the amounts on everything else (except the figs) the same as if I was making two. When I took the pork out, there was a decent amount of juice in the pan, so I brought it up to a boil when I added that last bit of balsamic to help thicken it a bit. It was simple and elegant. The reduced sauce was a great accent to the meat. I served it with some rice that I cooked in homemade vegetable broth (that I made out of leftover frozen veggie bits in the slow cooker yesterday) instead of water, topped with black beans and minced red onion. It was an awesome meal. It was soooo close to getting 5 stars, but since we don't give half stars, it sits at a 4. Dino wanted to give it 5, in case you're wondering. It'll be interesting to see what influence our toddler has on ratings in the future! Ha!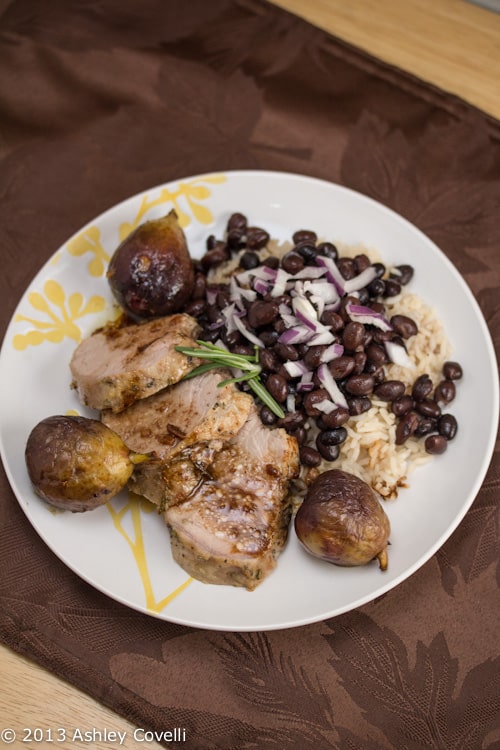 Pork Tenderloin with Roasted Figs
Mom's Kitchen Handbook
Makes 6 to 8 servings
2 cloves garlic, minced
1 teaspoon finely chopped fresh rosemary, plus 2 big sprigs
1 tablespoon Dijon mustard
2 teaspoons pure maple syrup
½ teaspoon salt, plus more to taste
Black pepper
2 1 to 1-1 /4 pound pork tenderloins
1 tablespoon extra-virgin olive oil, divided
1 basket fresh figs (about 16 figs)
1 tablespoon balsamic vinegar, divided
Preheat oven to 400 degrees.
Remove pork from the refrigerator ½ hour before cooking.
In a small bowl mix together the garlic, rosemary, Dijon mustard, maple syrup, salt, and a few healthy cracks of black pepper from a pepper grinder. Use your hands to coat the 2 tenderloins with the marinade. If you are marinating the pork a few hours ahead of time, wrap and refrigerate it until ½ hour before you are ready to cook.
Heat 2 teaspoons of the oil over high heat in an oven-proof skillet large enough to comfortably accommodate both tenderloins. Add the meat to the pan and cook on all sides until nicely browned. This will take a few minutes per side.
While the meat is browning, toss the figs in a medium bowl with the remaining 1 teaspoon of oil, 1 teaspoon of the balsamic vinegar and a pinch of salt. Once the meat is browned, add the figs to the pan, nestle the two rosemary sprigs in there and put in the oven.
Cook until done. The time will vary depending on the thickness of the tenderloin and how you like your meat. Test for doneness by inserting an instant-read thermometer in the center of the thickest part of the tenderloin. For pinker tenderloin, remove it at 140 to 145 degrees degrees*. For more well done, cook it to 150 to 155 degrees. This will take 20 minutes, give or take a few.
Remove the pan from the oven and transfer the meat to a carving board. Let it rest for at least five minutes. Cut the meat crosswise into ½-inch thick slices and arrange on a platter with the figs. Add the dripping from carving the meat to the pan along with the remaining 2 teaspoons of balsamic vinegar and stir it together. Drizzle these pan drippings over the meat and figs, season with more salt and fresh black pepper. Serve immediately.
* The USDA recommends cooking pork to 145 degrees
Big Flavors Rating: 4 Stars