This post may contain affiliate links, which won't change your price but will share some commission.
This recipe was pretty easy to put together, and it was good. The only thing I didn't like about it was that this was the first time I used anchovies instead of anchovy paste. They dissolve, but for some reason, the bones ended up bugging me. Anyway, we enjoyed the sweetness and crunch from the bell peppers, and the balsamic at the end finished it off nicely. I served it with some Israeli couscous with garlic, peas and Parmesan.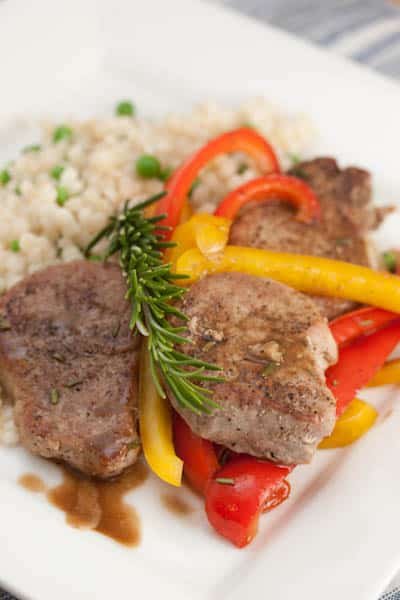 Pork Tenderloin with Red and Yellow Peppers
Cooking Light January 2011
Total: 20 minutes
Yield: 4 servings (serving size: 3 ounces pork and about ½ cup bell pepper mixture)
1 (1-pound) pork tenderloin, trimmed and cut crosswise into 1-inch-thick medallions
½ teaspoon kosher salt
½ teaspoon freshly ground black pepper
1 tablespoon extra-virgin olive oil
1 ½ teaspoons chopped fresh rosemary, divided
4 canned anchovy fillets, drained and mashed
3 garlic cloves, thinly sliced
1 red bell pepper, cut into 1 ½-inch strips
1 yellow bell pepper, cut into 1 ½-inch strips
2 teaspoons balsamic vinegar
1. Heat a large skillet over medium-high heat. Sprinkle pork with salt and pepper. Add oil to pan; swirl to coat. Add pork to pan; cook for 5 minutes. Reduce heat to medium; turn pork over. Add 1 teaspoon rosemary, anchovies, garlic, and bell peppers; cook 7 minutes or until peppers are tender and pork is done. Drizzle with vinegar. Top with remaining ½ teaspoon rosemary.
Nutritional Information:
Calories: 215
Fat: 10.1g (sat 2.7g,mono 5.4g,poly 1.2g)
Protein: 25.2g
Carbohydrate: 5g
Fiber: 1.4g
Cholesterol: 78mg
Iron: 2mg
Sodium: 441mg
Calcium: 26mg
Big Flavors Rating: 4 Stars