This post may contain affiliate links, which won't change your price but will share some commission.
I've used cauliflower to make gluten-free pizza before, and it was fantastic. But when I saw this post from Ashley (who has an awesome name! Ha!) over at Quarter Life (Crisis) Cuisine for cauliflower as a low carb/paleo friendly way to make fried rice, I was intrigued. I had one pack of bacon left from the three that I picked up at the wholesale club for my Father's Day bacon-palooza, so I figured now would be a good time to try this recipe out. It was phenomenal! I couldn't believe how satisfying it was, even without all the carbs! One thing I did to make this easier on myself was to use the food processor to grate/chop the veggies. Grating an entire head of cauliflower by hand on a box grater sounded like a form of torture to me. Messy, messy torture. So I did it in batches in the food processor and it worked out great! I used it for the onion and carrots, too. Perfect. This has just the right amount of Sriracha to give it a bit of kick. I ended up scrambling the eggs in a separate pan while the veggies were cooking, which was fine, since I threw in some extra to give to my son. Next time, I'll scramble them in the pan before I start the bacon, that way I don't have as many dirty pans. I'm all about streamlining 😉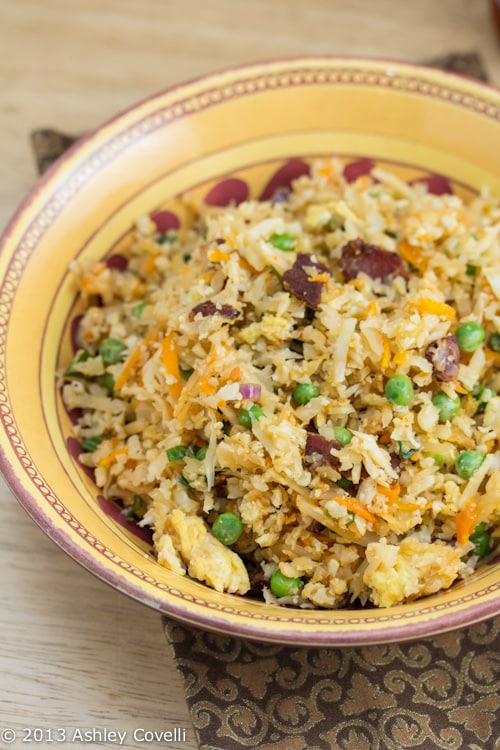 Pork Fried "Rice"
Quarter Life (Crisis) Cuisine
1 large head cauliflower
5-10 slices of bacon, diced
1 small onion, diced
3 garlic cloves, crushed
1 tbs grated ginger
½ cup shredded carrot
¼ cup frozen peas
2 green onions, sliced into rings
2 eggs, scrambled
1-2 tbs soy sauce* (shoyu sauce if you're really being paleo/low carb)
1 tbs Sriracha sauce
-Using a cheese grater, grate as much of the cauliflower head as you can. This will be about 4-5 cups of shredded cauliflower--this will be your "rice."
-In a large skillet or wok, cook the bacon pieces over medium-high heat. Remove to paper towel to blot off excess grease and remove all but a few tablespoons of bacon grease from the pan, saving a few tablespoons in a bowl to use if needed.
-Using the reserved bacon fat to fry the onions over medium heat. When onions are just translucent add the garlic, ginger, and carrot. Cook for about five minutes, until carrots have begun to get soft. Add the cauliflower and cook for another five minutes.
-Slowly add the eggs, stirring constantly so that the egg pieces are incorporated entirely into the rice mixture. Add the soy sauce, Sriracha, green onions, peas, and return the bacon to the pan. Cook until the peas are warmed through and the sauces are evenly combined.
*Optional: use Gluten Free
Big Flavors Rating: 5 Stars