This post may contain affiliate links, which won't change your price but will share some commission.
I can't believe it's already been a year since we celebrated 12 Weeks of Winter Squash! I've made a lot of tasty, squash-filled dishes with this group, and am excited to join in on the fun again this year.
I had some pork tenderloin in the freezer, and I turned to the latest issue of Cooking Light for inspiration.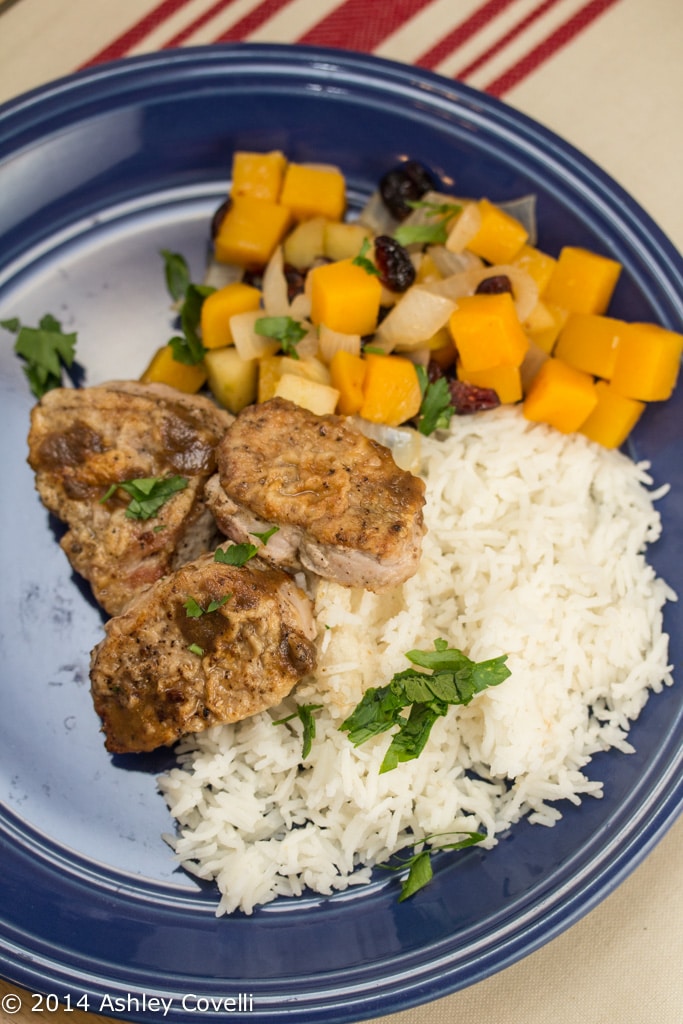 This dish is spicy and comforting - perfect for the cool autumn weather. The combination of apples and squash with the tartness of dried cranberries makes for a perfect accompaniment. The pork was juicy and tender, and it reheated beautifully the next day, too - bonus!
I served this with some steamed basmati rice, and it really hit the spot.
Pork Cutlets with Butternut Squash, Apple, and Cranberry Sauté
Cooking Light November 2014
Serves 4 (serving size: 3 pork medallions, 2 tablespoons sauce, and 1 cup squash mixture)
3 cups precut peeled butternut squash
1 cup dried cranberries
1 (1-pound) pork tenderloin, trimmed and cut into 12 thin medallions
¾ teaspoon kosher salt, divided
¼ teaspoon freshly ground black pepper
2 tablespoons all-purpose flour
1 tablespoon olive oil, divided
1 cup unsalted chicken stock
1 tablespoon unsalted butter
1 cup chopped onion
1 cup chopped peeled Granny Smith apple
2 teaspoons sugar
¼ teaspoon ground red pepper
2 tablespoons chopped fresh parsley
1. Place squash and cranberries in a microwave-safe dish. Add water to a depth of ¼ inch; cover with plastic wrap. Microwave at HIGH 7 minutes; drain.
2. While squash cooks, heat a nonstick skillet over medium-high heat. Sprinkle pork with ½ teaspoon salt and black pepper. Place flour in a shallow dish; dredge pork in flour. Add 1 ½ teaspoons oil to pan; swirl to coat. Add half of pork; cook 2 minutes per side. Transfer cooked pork to a platter. Repeat with remaining oil and pork.
3. Add chicken stock to pan; cook until liquid is reduced by half, stirring occasionally.
4. Melt butter in a skillet over medium-high heat. Add onion, apple, sugar, and red pepper to pan, and toss to coat; sauté 4 minutes. Add squash, cranberries, and remaining ¼ teaspoon salt; toss and remove from heat. Pour pan sauce over pork, and serve with squash mixture; garnish with chopped parsley.
Calories 379
Fat 9.4 g
Satfat 3.2 g
Monofat 4.2 g
Polyfat 1.2 g
Protein 27 g
Carbohydrate 50 g
Fiber 5 g
Cholesterol 81 mg
Iron 3 mg
Sodium 461 mg
Calcium 80 mg
Big Flavors Rating: 4 Stars
Interested in checking out what else we've been cooking up for this year's 12 Weeks of Winter Squash?