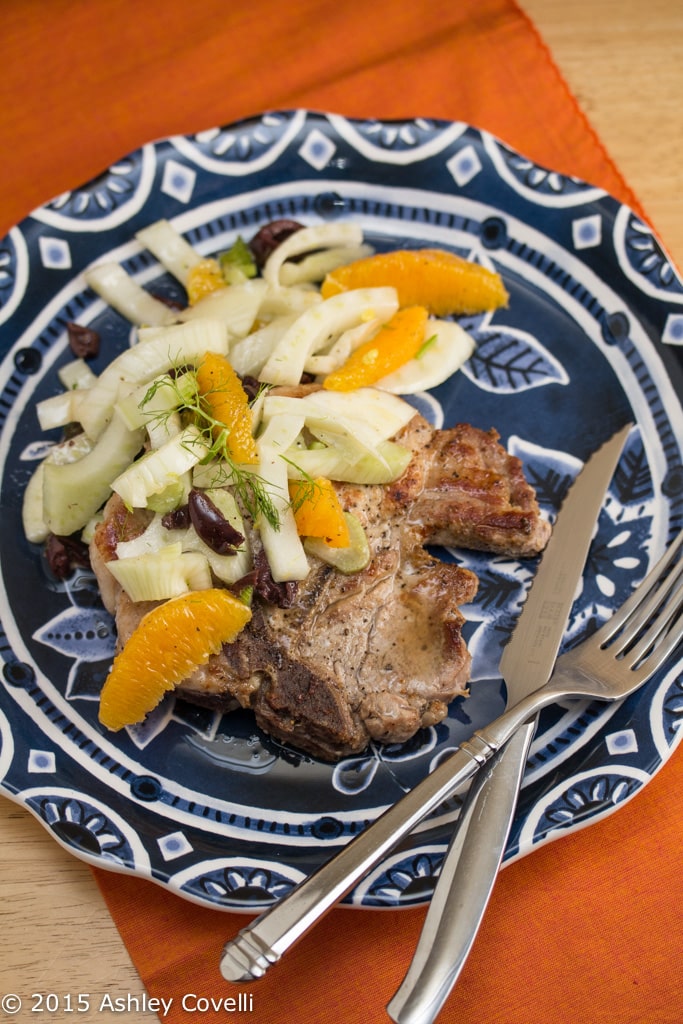 Pork Chops with Fennel, Orange, and Olive Salad
This post may contain affiliate links. Thank you for supporting the brands that keep me creative in my tiny kitchen!
Pan-seared pork chops are paired with a crisp, refreshing salad for a quick and easy weeknight meal.
This recipe from the April issue of Cooking Light pairs quick cooking pork chops with a sweet-and-salty citrus salad. It was simple to put together, and we really enjoyed the flavor combination here.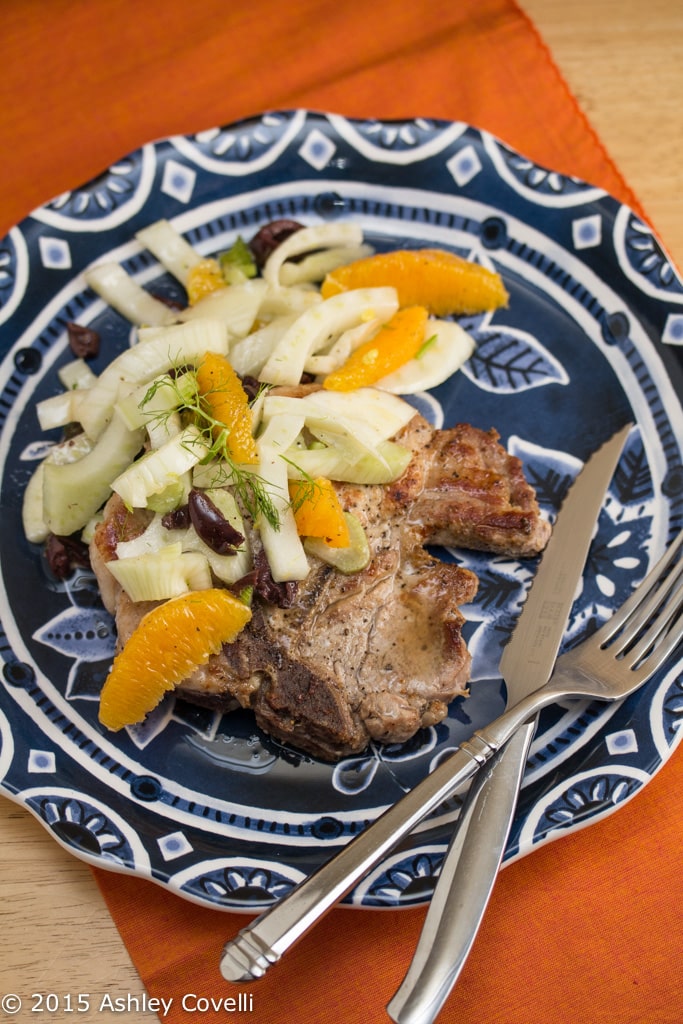 Bright, colorful salads like this are a really nice way to add some excitement to cuts of meat or fish that are otherwise pretty plain.
Pork Chops with Fennel, Orange, and Olive Salad
Cooking Light April 2015
4 (serving size: 1 pork chop and about 1/2 cup salad)
4 (6-ounce) bone-in center-cut pork chops
3/4 teaspoon kosher salt, divided
1/2 teaspoon freshly ground black pepper, divided
2 tablespoons extra-virgin olive oil, divided
2 navel oranges
2 teaspoons honey
2 teaspoons white wine vinegar
2 cups thinly sliced fennel bulb (about 1 large)
1/4 cup fennel fronds
1/3 cup sliced pitted kalamata olives
1. Sprinkle pork chops with 1/2 teaspoon salt and 1/4 teaspoon pepper.
2. Heat a large skillet over medium-high heat. Add 1 1/2 teaspoons oil to pan; swirl. Add pork; cook 3 minutes on each side or until done. Let stand 5 minutes.
3. Peel and section oranges over a large bowl, reserving juice; add segments to bowl. Add remaining 1 1/2 tablespoons olive oil, honey, vinegar, remaining 1/4 teaspoon salt, and remaining 1/4 teaspoon pepper to bowl. Add fennel, fronds, and olives; toss gently to combine. Serve pork with salad.
Calories 446
Fat 21.2 g
Satfat 4.8 g
Monofat 10.9 g
Polyfat 2.3 g
Protein 47 g
Carbohydrate 16 g
Fiber 3 g
Cholesterol 143 mg
Iron 2 mg
Sodium 597 mg
Calcium 98 mg
Big Flavors Rating: 4 Stars